Concordia artist Samuel Meech examines the effects of gentrification on Manchester's textile factories
His Crusader Mill collection looks at how the city's South Asian knitwear community was pushed out of spaces they'd occupied for decades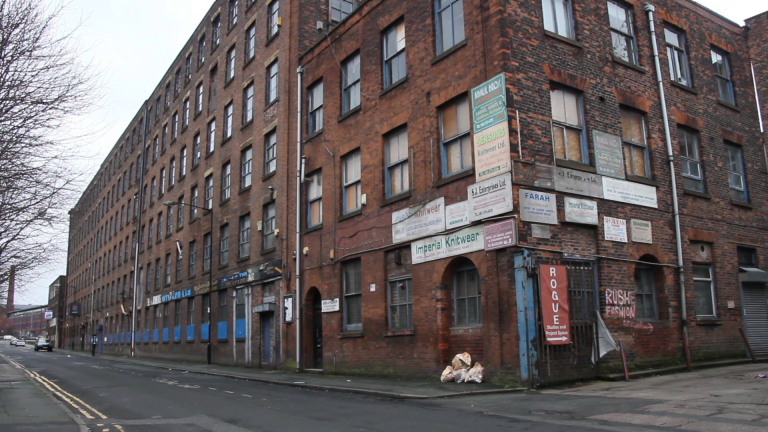 If it hasn't already, the discussion surrounding gentrification is coming soon to a city near you.
How we transform and renew our urban environments raises all kinds of crucial issues related to history, money, culture and local community.
Many people will say that the transformation of historic or industrial neighbourhoods by developers is inevitable and that the positives outweigh the negatives.
Yet Samuel Meech, a visual artist and lecturer in Concordia's Department of Studio Arts, has had a different experience. A former resident of Manchester, United Kingdom, he has spent the last few years documenting the closure and displacement of knitting factories in the city's Crusader Mill building by real-estate developers Capital & Centric.
Through a series of playful works that include several knitted installations, an animation and a documentary, Meech has commented on and responded to the struggle between Crusader Mill's tenants and the developers.
"My aim was to puncture their narrative, which they're very good at controlling, and say, 'That's not the whole story,'" he explains. "They have so much power and influence with city council that they've been able to shape their own narrative, leaving out any mention of the knitting factories from the history of the building."
Manchester has a past rich with textile manufacturing, and the factory closures at Crusader Mill have primarily affected South Asian businesses, whose workshops kept the historic building from dereliction.
But after Capital & Centric bought the building in 2015, the businesses faced enormous pressure from developers to pack up and leave. Of the seven factories operating in the Crusader Mill building in 2015, only two remained by 2017.
'I'm still angry about it'
The techniques developers use exist in a grey area of legality. After buying, they might raise rents or insurance.
In one case, a business was locked out of its workshops in a dispute over the terms of the lease, during which an arson attempt took place in the factory. Thankfully sprinklers quelled the blaze and no one was hurt. Although the fire was started intentionally, no culprits were found or charges laid.
"I'm still angry about it, and I'm still in touch with one of the factories," Meech says. "For me, the issues surrounding gentrification, the erasure of our industrial heritage and the displacement of vulnerable communities are still as pertinent as ever."
This anger motivated him to get out of his comfort zone and write an academic article for the journal Textile, Cloth and Culture about his artwork and the textile businesses of Manchester's South Asian working class.
"Fabrications: Using Knitted Artworks to Challenge Developers' Narratives of Regeneration and Recognise Manchester's South Asian Working Class Textiles Businesses" was published in October.
Meech describes it, only half-jokingly, as his first and last academic article.
"I haven't written a journal article before," he says. "It's something I wrote for myself because I had to, outside of work. And it was hard! So yeah, I don't fancy doing it again."
The article looks at the history of textile manufacturing in Manchester, the artworks Meech produced in response — which include a series of knitted portraits of the textile workers — and the ways the developers have controlled the story surrounding their project and appropriated the building's history for their own purposes.
An example of artwashing
Meech points to the "artwashing" of the developers, a concept used to describe how they capitalize on the cool factor attached to a building or a neighbourhood by engaging local artists.
In a housing-crisis context, where cities are growing fast and are strapped for cash, many municipalities look to partner with developers in the private sector to accomplish two things at once: fill their coffers and build more housing units.
Yet as Meech can attest, it's all about how it's done. Local heritage and historical tenants have to be taken into account, otherwise vulnerable and vibrant communities risk displacement.
"My main concern is about how developers have so much power and free rein and lack of scrutiny," Meech says. "I think you'll find analogies in a lot of cities related to who gets displaced and who has any agency."
Read the cited article: "Fabrications: Using Knitted Artworks to Challenge Developers' Narratives of Regeneration and Recognise Manchester's South Asian Working Class Textiles Businesses" and learn more about Concordia's Department of Studio Arts.
---