Mackenzie Thornbury and Sara Matovic are Concordia's latest Vanier Canada Graduate Scholarship winners
The pair have been recognized for their respective work on acid-resistant yeasts and adverse childhood experiences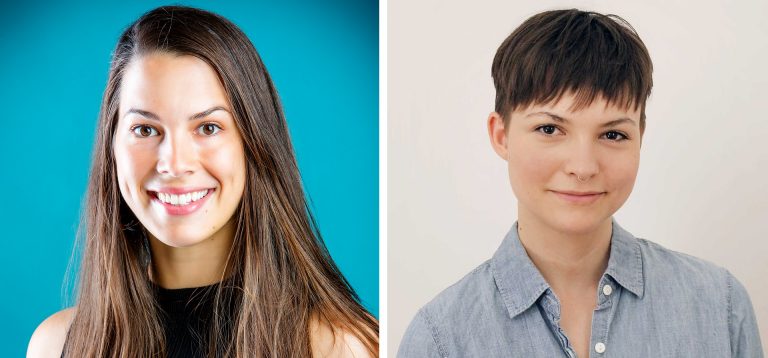 Molecular biology student Mackenzie Thornbury and psychology student Sara Matovic are the latest Concordia doctoral researchers to be awarded Vanier Canada Graduate Scholarships.
Thornbury was recognized for her work on yeast engineering and organic acids. Matovic was meanwhile honoured for her research into adverse childhood experiences and their impact on emotional well-being later in life.
Launched in 2008 by the Government of Canada, the Vanier scholarship program aims to position Canada as a global centre of excellence in graduate research.
Every year, the program awards up to 166 PhD researchers from across the world Vanier scholarships in the social sciences, humanities, natural sciences, engineering and health. Each scholarship is valued at $50,000 per year for three years.
Engineering yeast from dairy industry waste
Nearly everything we eat, buy and consume these days contains compounds and chemicals produced by fossil fuels. While many of these chemicals are made in nature, they are currently too expensive to market.
Thornbury is hoping to change this.
"The future, in the context of global warming, was already weighing on my mind," she says.
"This brought me to Concordia's Centre for Applied Synthetic Biology and to Vincent Martin's lab. His team is working on using microbes, like yeast, as factories to produce specialty chemicals, fuels and pharmaceuticals."
Worldwide production of these compounds requires a large carbon footprint. By producing them in yeast or bacteria using common sugars as their food, the process is more sustainable.
"My project is based on that equation: I'm working on producing organic acids in yeast. Organic acids are a class of compounds sometimes referred to as 'building-block chemicals' because their specific characteristics make them useful for forming industrially relevant compounds," she explains.
"As we hopefully move away from petroleum as an energy source, we need to find alternatives for production. I'm working on modifying a species of yeast that can eat lactose, the sugar in milk, to become a platform for organic acid production. To make it more green, we're diverting waste by using a by-product of the milk production."
The impacts of early life adversity on emotional well-being
Matovic's work looks at the long-term impacts of adverse childhood experiences and how this stress is carried over into adulthood.
"I'm studying the emotional well-being of adults who are experiencing chronic life stressors such as taking care of a child with a disability," she says.
"Some individuals show incredible resilience despite these stressors, while others are more vulnerable. One factor I'm looking at to explain this is adverse childhood experiences, which can mean traumatic events like abuse and neglect early in life."
Research suggests that people who experience stress or trauma in childhood have a harder time dealing with stress later in life. They also tend to have a harder time forming supportive relationships and engaging with their social environment.
As a former high-performing rower and coach, Matovic brings something of a personal bent to her research.
"I experienced first-hand how sport can be both a safe haven for athletes who experience life challenges and how poor mental health can impact sport performance," she says. "I hope to study the factors that increase the risk of mental health decline in performing populations and what we can do as clinicians and coaches to make sure we identify these risks early and intervene when necessary."

Learn more about Concordia's School of Graduate Studies and how to apply for the Vanier Canada Graduate Scholarships.
---