13-year-old Haneen Yousef joins her high-achieving family members at Concordia this fall
The Department of English is ready to welcome the exceptional teenager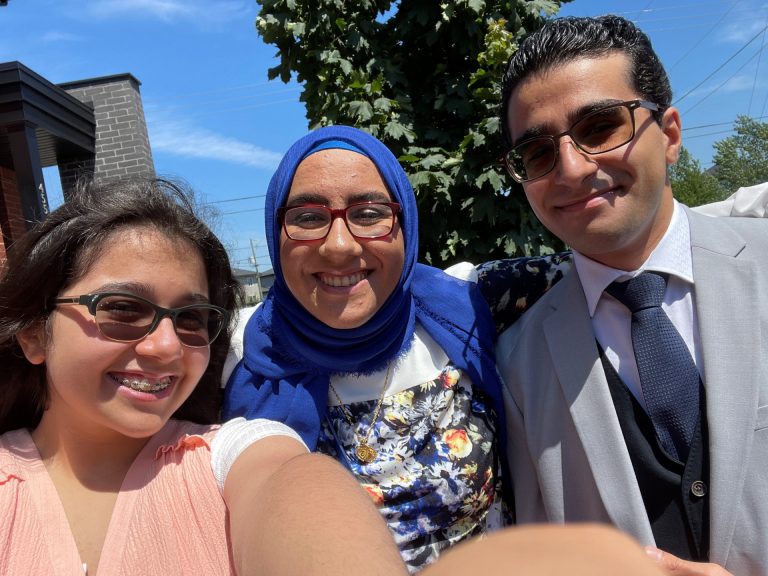 When Doaa Abou Sharbin says of her family, "We're very ambitious, we have aspirations — lots of them," she's not exaggerating.
Remarkably, Abou Sharbin's youngest child, Haneen Yousef, aged 13, will begin studies in the English Literature program in Concordia's Faculty of Arts and Science in September.
Haneen Yousef was eligible to apply to Concordia at her age after graduating from an online high school. She attended elementary school in person in the United States, where she skipped two grades. After the family moved back to Montreal in 2020 during the COVID-19 pandemic, she was able to complete her four-year high school requirements in under a year.
Even at that speed, Abou Sharbin says she had to encourage Haneen to slow down. "If I let her go at her own pace, she would have done the whole four years in four months."
Haneen is actually following in the footsteps of her siblings, who also both graduated high school early. Zainah Yousef, 20, is entering her third year, now in finance at the John Molson School of Business after starting at the Gina Cody School of Engineering and Computer Science. Sami Yousef, 17, is in his second year of the Aerospace Engineering program but is also interested in switching to finance.
Abou Sharbin herself studied computer science at Concordia in the 1990s and recently returned part time, also in finance.
"I started with a few courses, then took some time off to help Haneen with her studies and to give her emotional support," she says. "When Haneen goes to Concordia full time, I think I will join full time as well."
'I really liked how alive it felt'
In a few weeks, Haneen will be entering first year along with mostly 18-year-olds — yet she's not intimidated. "I feel like it's just another school year, in all honesty."
She adds that since she jumped ahead two years in elementary school, "I've always been dealing with people older than me. I think it'll be pretty easy for me to make friends and meet new people."
"Haneen is not only academically gifted or advanced, she's emotionally mature," her mother says. "The way she interacts with people, the way she deals with people around her, I feel comfortable that she's doing what she's doing."
While her siblings and mother are pursuing finance and engineering courses, Haneen is taking a very different direction, into English lit. "Growing up, I was mostly interested in math and science, and I even wanted to be a dentist," she recalls.
"But then in high school I really experimented with a ton of different classes and electives. I started to find that I was feeling more myself in English because I like to be creative, and I have a very active imagination," Haneen says.
"I also found myself enjoying the books that I read and I found myself liking essays. Now I'm writing my own book."
And why Concordia? "I really liked the choice of courses in English literature," she says.
"Also, since my family's going there, I have been able to go onto campus and experience the bustle. I really liked how alive it felt and that it was a really great environment for me. So I'm very excited."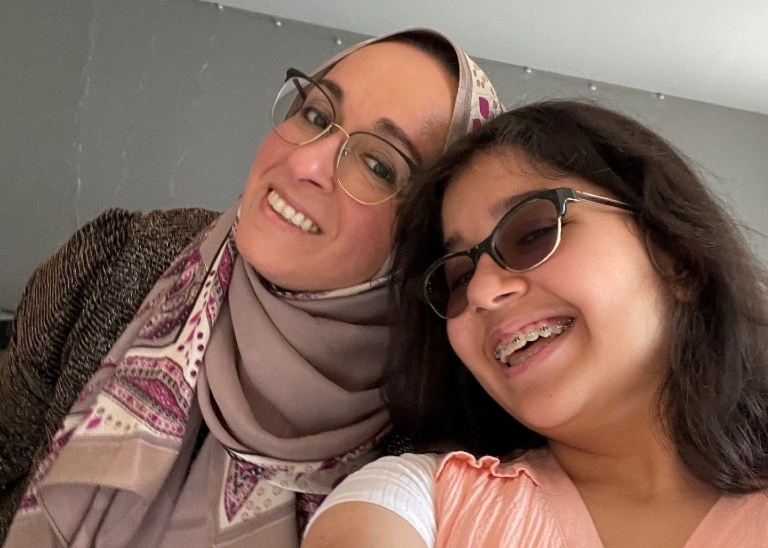 Doaa Abou Sharbin and Haneen Yousef celebrate Haneen's high school graduation.
Concordia is prepared
The university is ready to help ensure Haneen makes the smooth transition to university life.
"Haneen is entering a program that welcomes and fosters variety. Our students range from gifted teenagers to gifted senior auditors, and our classes benefit from their range," says Darragh Languay, senior lecturer and undergraduate academic advisor ​in the Department of English.
"I'll be advising Haneen as well as introducing her to our undergraduate student society and the Student Success Centre. In our department, Haneen will be studying with peers pursuing concentrations in literary studies, creative writing and professional writing, and she may wish to involve herself in all these related areas. I look forward to finding out!" Languay says.
"From Alice in Wonderland to Anne of Green Gables, English literature gives expression to the experience of precocious youth, and Haneen will bring that to our classes."
"Students at Concordia come from very diverse backgrounds and experiences," says a university spokesperson.
"There is no typical student profile and we aim to help every student thrive at Concordia. We are looking forward to welcoming Haneen into the Concordia community and to help her succeed in her studies."
Multiple interests
Abou Sharbin reveals the mystery ingredient of their exceptional family's secret sauce. "We're so close, so we get motivated by each other, being around each other all the time, doing things together," she says.
"And they're really fast, they're motivated, they like to do things, they like to feel productive."
Abou Sharbin emphasizes that even with Haneen and her siblings' advanced academic achievements, all three have interests outside of school. "People think we're only studying or only reading, but we have hobbies, we have our own talents."
Haneen is working on a fantasy novel and has her own graphic design business, Lollipop Design Corner. "I really like painting too. It helps me express my imagination," she says, adding that she may take fine arts courses as electives at Concordia.
Among other interests, Zainah also enjoys writing and has her own webpage, while Sami makes documentary films, posted on his YouTube channel. And the four contribute to their family's own online newspaper, The DZSH Group.
The year ahead
Abou Sharbin looks forward to beginning the academic year with Haneen, commuting together from their off-island home to the downtown Sir George Williams Campus. And she has nothing but praise for Concordia.
"When I was there during my 20s, the whole atmosphere and the culture of the teachers were phenomenal," Abou Sharbin says. "I just loved it, I felt connected, I felt that I belonged there, and I still do. I'm a big fan."

Learn more about Concordia's Department of English, Department of Finance and Gina Cody School of Engineering and Computer Science.
---