Concordians shine at the 2022 Montreal Printed Arts Festival
FAIMTL runs from May 12 to 22 and features a special exhibition at the university's FOFA Gallery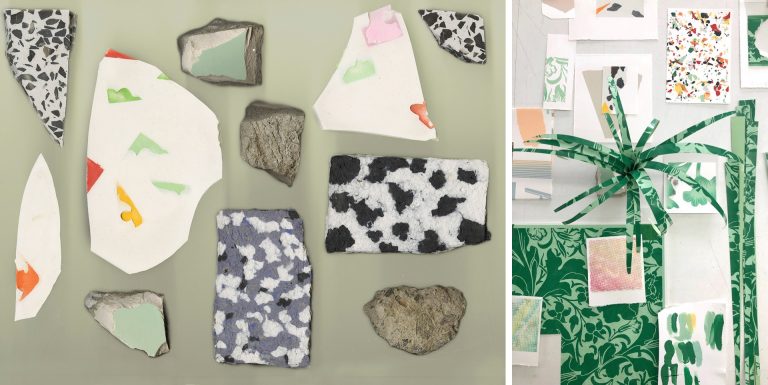 The third edition of the Montreal Printed Arts Festival (Festival des arts imprimés de Montréal, FAIMTL) features 11 Concordia MFA students. Their exhibition, All Conceivable Sources, is on now until May 23 at the FOFA Gallery.
Mitch Mitchell, associate professor of print media who is curating the show, says the festival is prioritizing student participation this year. Mitchell, who is also acting chair of the Department of Studio Arts, was tapped by organizers to take charge of that student programming — a challenge he feels they've met well.
"The students and the festival were given carte blanche by the gallery, allowing each of the participants' practice to express itself individually," Mitchell notes.
This year, FAIMTL brings together more than 50 print artists through several events, including workshops, conferences, guided tours of print art installations and exhibitions.
The festival, which is taking place across a dozen venues, has become the largest event of its kind in Quebec. It emerged from a "lack of showcase" as expressed by local artists and art centres in this growing field.
Grande Print Art Fair
The biggest and most popular of the festival's events is their Grande Print Art Fair. The fair is a commercial event, held at the WIP gallery, where the general public can meet with artists and purchase their work.
Concordia students and alumni will be exhibiting at the fair, including Stéphanie Bourgault (BFA 20) and Michelle LaSalle (MFA 20). The full list of exhibitors will soon be available on the event's web page.
"I find it really interesting that year after year FAIMTL tries to diversify their programming, adding educational events and students. It's a great opportunity," says Ann Karine Bourdeau Leduc, a Concordia print media MFA student who will be part of All Conceivable Sources.
Bourdeau Leduc will present "Funfetti fossiles," an abstract sculptural installation that's like a collage of various motifs and textures inspired by architectural and natural forms, made especially for the exhibition.
The Concordia student-run Queer Print Club (QPC) will also host an event, a zine workshop at the multidisciplinary venue Nouvel Établissement. The event will be curated and led by QPC executive members Koi Katigbak, Micha Paradis, Lauren Falvo and Jillian Beedell.
It will also feature the launch of the club's collaborative publication, Love Letters to My Young, Queer Self.

To learn more about the full programming of the Festival des arts imprimés de Montréal, visit its website.
To learn more about the exhibition All Conceivable Sources, visit the event's web page and follow FOFA Gallery's social media for updates.
---