Concordia's Journalism program partners with CBC Montreal
Students learn to pitch and produce local stories with a solutions angle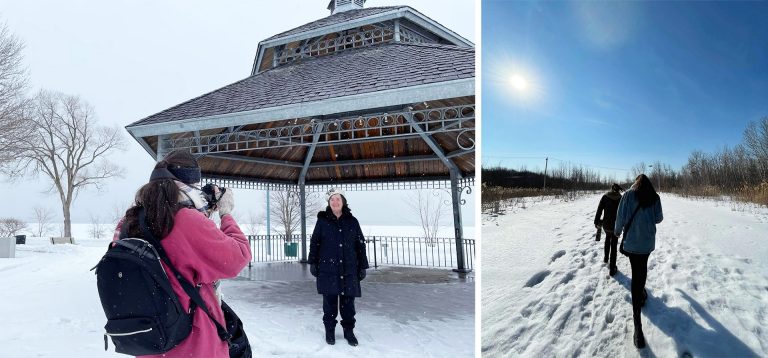 Every year, students in Concordia's JOUR 528 – The Digital Magazine class collaborate with CBC Montreal to create multimedia stories based on a topic assigned by their professor.
Amélie Daoust-Boisvert, assistant professor in the Department of Journalism in the Faculty of Arts and Science, tasked her students with writing stories with a solutions journalism angle this winter.
Daoust-Boisvert says while journalists serve the role of a "fourth estate" or "watchdog" of society, her goal with this class was to teach students that there is another way to approach stories.
"With a solutions standpoint, students can potentially influence policy and even motivate the public to take action in different ways," she explains. "I see journalists doing this more and more, especially since the pandemic, and I think it's because many of them realized the public needs positive stories."
Daoust-Boisvert trained her students how to write stories with a solutions journalism angle and pitch them to CBC Montreal. She created five teams of four, each composed of students from different backgrounds and various strengths in writing, photojournalism and video.
"Some of them knew the term and at first I think they felt it wasn't going to be that difficult," Daoust-Boisvert says. "But as they began working on their stories, many of them realized it is automatic to look at the problems."
For example, one story focused on a citizen's group in Dorval, Quebec, working to increase green spaces such as parks and tree cover.
As the story reported, the issue goes beyond simple beautification — the rising temperatures in the summer are intensified by the lack of greenery, creating a heat-island effect. So to tackle the problem, the group is partnering with a non-profit dedicated to sustainable development to remove sick trees and plant healthy ones.
'An absolute dream'
Abigail Dawn, a student in Daoust-Boisvert's class, says it was one of the best experiences she had in the department.
"At first, I couldn't wrap my head around solutions journalism," she says. "I always wanted to go toward the problem instead of the solution. Now, I find myself gravitating toward solutions journalism when I write new pieces."
Mélina Lévesque, another student in the class, felt that this experience emulated a professional setting.
"It didn't feel like a class, in the traditional sense, but more like a dedicated and practical career-building workshop. The opportunity to work with the CBC to eventually be published on their website was an absolute dream," she says.
Fellow student Kendra Sharp also says she enjoyed the structure of the class paired with Daoust-Boisvert's approach.
"This class was a challenge because the stakes were higher than we were used to. Because we were collaborating with the CBC, we knew our stories had the potential to make a real impact," Sharp notes.
"We tended to slip back into looking at stories from a problem perspective, as I'm sure many journalists do. But we began looking for efforts that are driving issues forward, rather than just at the issues themselves."
Daoust-Boisvert says she's proud of her class for succeeding in having all their stories published.
"The five stories are excellent; they are filled with complexities and students told me they really felt this class was the closest they got to a professional experience," she shares. "This was a big experience for them. I'm excited to see what this cohort will become."
David Secko, chair and professor of journalism, says he knew this year would be different for students in the Visual Journalism program.
"We hired Amélie to push the boundaries of solutions journalism," he says. "This gave the class a real challenge. I really appreciate the students, Amélie and CBC Montreal working together to present local solutions."
Read the students' stories on the CBC Montreal website:

Find out more about Concordia's Department of Journalism Graduate Diploma programs.
---