Sage Duquette is the first Concordian named a McCall MacBain Scholar
The political science student and leader among his peers will pursue a fully funded law degree at McGill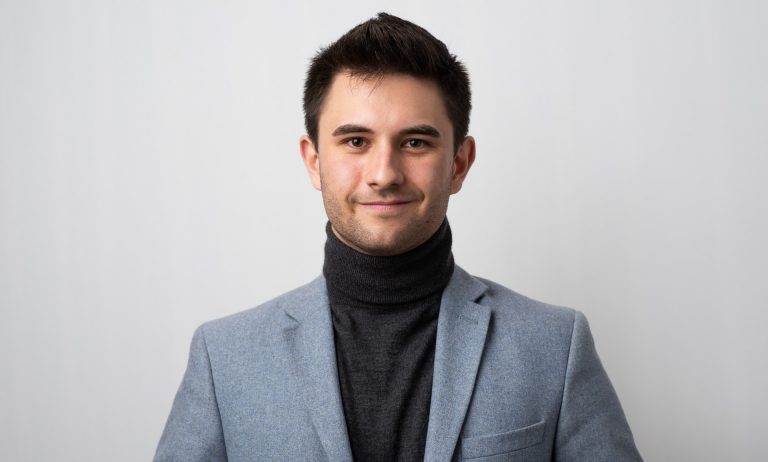 Concordia student Sage Duquette will soon become a McCall MacBain Scholar. He joins a class of 20 chosen from nearly 700 Canadian applicants through a rigorous seven-month process involving two rounds of interviews.
Duquette is the first Concordia student to earn this award, which provides a fully funded master's or professional degree at McGill University.
"I was at home when I got the news. I was in shock. It didn't feel real — it still doesn't," Duquette says. "It's just too good to be true."
As a McCall MacBain Scholar, he will study law at McGill while connecting with mentors and participating in an intensive leadership development program. The scholarship funding covers the program's tuition and fees, as well as a living stipend of $2,000 per month.
As a political science student at Concordia, Duquette led the Garnet Key Society and helped shift its focus to student projects and fundraising for social causes. The student society doubled its membership applications in this time.
He has also been working to integrate equity, diversity and inclusion into the society's policies and activities.
"I owe a lot to my professors at Concordia and even more to the Garnet Key Society," Duquette says.
"My professors exposed me to ideas and fields of study I had never considered before and infected me with their passion and curiosity. The society gave me a strong connection to my school and the Concordia community, which has been the most rewarding revelation of my degree."
'We need inclusive, collaborative and forward-thinking leaders'
Duquette also volunteers with a political association in his district and serves as deputy leader for the Parlement jeunesse du Québec, a youth parliament simulation. He is currently working at Concordia's Center for Research on Values, Attitudes and Societies (CEVAS).
"I am intensely interested in exploring Indigenous law and constitutional orders, and I am confident I'll discover new activities beyond the classroom to get to know the McGill community," Duquette says.

Each scholar was chosen based on their character, community engagement, leadership potential, entrepreneurial spirit, academic strength and intellectual curiosity.
"We need inclusive, collaborative and forward-thinking leaders in all sectors and fields," says John McCall MacBain, who, together with his wife Marcy McCall MacBain, created these scholarships through a historic gift to McGill in 2019.
"With this scholarship, students will expand their networks, deepen their leadership skills and benefit from full funding to pursue their dreams of improving their communities — and the world. Congratulations to these students and the hundreds of candidates across Canada who were considered for this scholarship."

Concordia students interested in applying for a 2023 McCall MacBain Scholarship are invited to attend an information session on June 2.
---