Grad students throw technical language out the window at Concordia's Three Minute Thesis Competition
From oil-eating bacteria to traffic jams in cells, finalists sum up their research and why it matters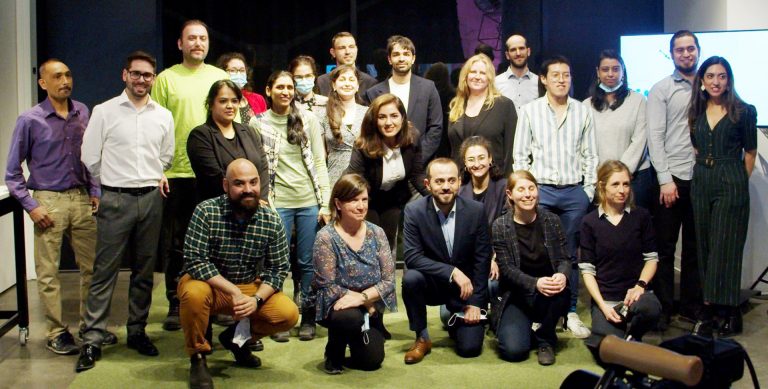 Concordia graduate students competed before a live audience on March 18 at the 11th edition of the university's Three Minute Thesis (3MT) and Ma thèse en 180 secondes (MT180) competitions. Of the event's 21 finalists, who were selected from a group of 47 grads who received 3MT coaching and resources, five took home top honours and cash prizes.
The annual competition challenges current master's and doctoral students to distil complex research into a clear, jargon-free presentation that engages a non-specialist audience — all in just three minutes and using a single PowerPoint slide.
Co-hosted by Concordia's GradProSkills and 4THSPACE, this year's event used a blended format — in-person and online — to reach a record number of viewers, nearly 400 sign-ups.
Students gain confidence and skills to talk about their research
In preparation for their 180 seconds in the spotlight, students worked closely with GradProSkills coaches, incorporating feedback and perfecting their pitch.
"From the initial drafts and through the fine-tuning sessions all the way to the final presentations, it was impressive to see how everyone improved their skills week after week," says Sylvie Ouellette, one of this year's coaches, the 2020 doctoral runner-up and 2021 event host.
"Participating in the 3MT competition not only boosts students' confidence in public speaking, but it also provides skills they will use in their future careers," adds GradProSkills coach Christiane Meyer.
Concordia alumni Susan Tantawi (BSc 05) and Aydin Matlabi (BFA 07, MFA 10) and faculty member Philippe Caignon, professor of Études françaises, evaluated the grads on comprehension, audience engagement and communication.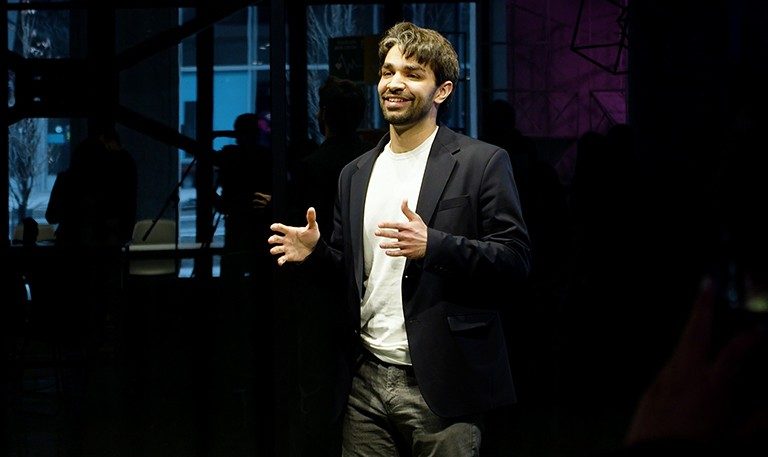 Concordia's 3MT competition winners
In the master's section of the competition, chemical engineering student Ameer Nizami took first place for his presentation "A state-of-the-art coating." He summarized his research on a specialized coating for lithium-sulphur batteries that has the potential to improve their reliability and longevity.
"Simplifying my complex work into a three-minute speech for the general public was quite the effort. But after several drafts and the feedback from coaches, friends and family, I knew I had something that stuck well," Nizami says.
Maryam Rezaei's presentation "Bacteria can eat oil" earned her the People's Choice Award and runner-up spot. Rezaei, a civil engineering student, shared key findings from her research on environmentally friendly ways to dispose of oil waste.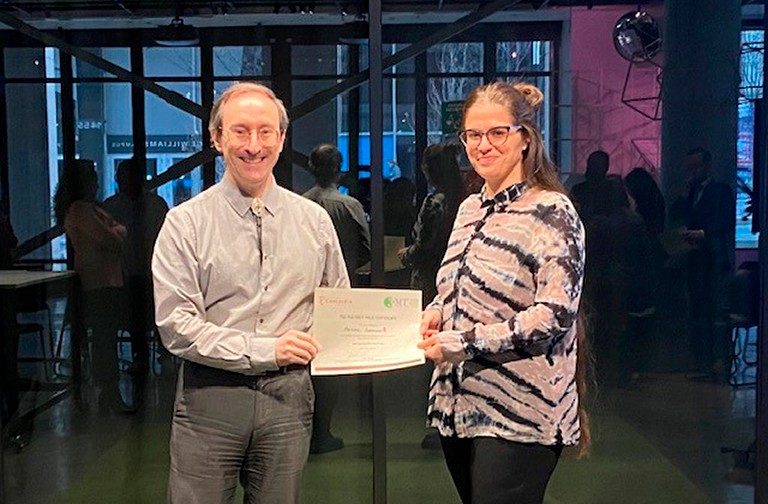 'An opportunity to practice talking about your research in a simple and accessible way'
In the doctoral section, psychology student Maxine Iannuccilli won for "Let's talk smarts," sharing her research on how parental feedback shapes gendered intelligence beliefs in young children.
"3MT is a great opportunity to practice talking about your research in a simple and accessible way," Iannuccilli points out. "I had a lot of fun. It was as if we all had our own mini TED Talks."
Iannuccilli will represent Concordia at the upcoming Northeastern Association of Graduate Schools 3MT Virtual Competition and the 3MT Eastern Regional Competition.
Biology student Hashem Almousa was the doctoral runner-up for his presentation "Traffic jam in our cells compromises brain development." Almousa studies two genes in the body's cell delivery system and the implications when they are damaged or delayed.
The doctoral section's People's Choice Award went to chemistry student Victor Quezada for his presentation "New hope for the degradation of mustard gas, a chemical weapon." His research focuses on transforming the gas into a non-toxic product.
Louis Lazure, a biology student and 2021 Public Scholar, took home the MT180 award for "Trouble-fêtes ou génies incompris: la cognition des ratons-laveurs dans les aires protégées," explaining his work on human–raccoon interactions in Quebec's protected areas.
"Having a specific audience in mind while preparing for the competition helped me select the relevant information to share," says Lazure, who will represent Concordia at the French-language MT180 at the 89th Congress of the ACFAS in May.
In 2008, the first 3MT competition was held at the University of Queensland in Australia and it has since become an international event, with competitions taking place in 900 universities in 85 countries worldwide.

Learn more about Concordia's GradProSkills and School of Graduate Studies.
---