Concordia's Next-Generation Cities Institute welcomes seven new partner organizations
The members will work together with NGCI on diverse projects such as developing smart and sustainable infrastructure and designing zero-carbon urban solutions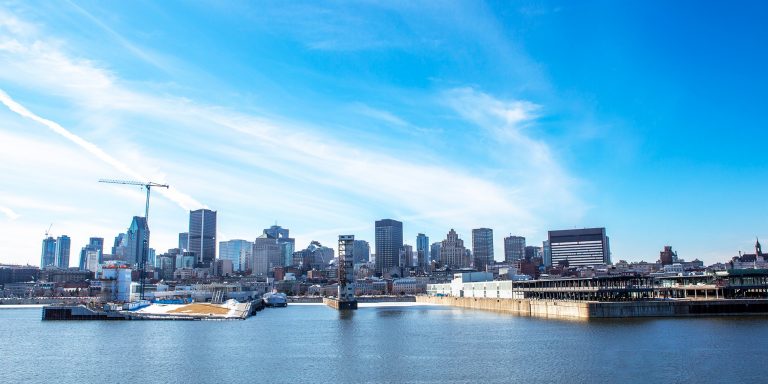 Concordia's Next-Generation Cities Institute is one step closer to enabling smart, resilient and sustainable cities thanks to new partnerships with key stakeholders.
Signing on as the institute's new members are transit authority Autorité régionale de transport métropolitain, community organization Le Conseil régional de l'environnement de Montréal, business development corporation Montréal centre-ville, Technology and smart infrastructure company Siemens Canada, national platform for Canadian city building Canadian Urban Institute, B-Corp certified developer Gestion Immobilière Quo Vadis, and the educational charity organization CityStudio Vancouver.
The Next-Generation Cities Institute, which launched in 2020, leverages the combined strength of Concordia's cities research capacity to enhance collaboration, communication, education and interaction within the community.
The new partners will outline their main challenges and innovation needs. They will then work with the institute and its graduate students to address real-world problems such as developing smart and sustainable infrastructure, finding innovative ways to stimulate the downtown core while also making it greener, designing zero-carbon retrofit solutions for industrial heritage buildings and analyzing urban data to monitor progress of climate action plans.
"Each of the partners' work is linked to the others in a kind of systemic way, so we want to bring the partners to the table to develop innovative projects on sustainable urban development, energy use and generation, waste management, transport or other domains," says Ursula Eicker, founding co-director of the institute and Canada Excellence Research Chair in Smart, Sustainable and Resilient Communities and Cities.
Next-generation university
Cities and sustainability are among Concordia's priority areas as a next-generation university and are at the heart of the institute's partnerships. As the Next-Generation Cities Institute's website describes, "cities, with their high density, can be the most sustainable form of human development, are loci of innovation and productivity, and are essential drivers for sustainable future development."
And while these new partnerships represent crucial parts of the city system, the goal is to continue to build connections with organizations from a wide variety of sectors to help forge the path towards a sustainable future.
"There are many actors in sustainable urban development projects no matter what scale, and sometimes their needs are at odds with each other. But because they are all interrelated there are many possible solutions, so we need to get everyone to look at the problems in an integrated manner," says Carmela Cucuzzella, Next-Generation Cities Institute founding co-director, professor of design and computation arts, and Concordia University Research Chair in Integrated Design, Ecology and Sustainability for the Built Environment (Tier 2).
"This is the start of a collaborative process where solutions to partner challenges can be co-developed and we hope to motivate more partners to join us."
The institute boasts 200 Concordia researchers from across faculties, working under three research clusters: Built and Natural Environments; Mobile, Secure and Sharing Cities; and Design, Art, Culture and Community.
Many of the researchers will be part of the project discussions with the new partners, whose membership fees will allow the institute to hire and train more graduate students to assist with the work.
Eicker, who is also a professor of building, civil, and environmental engineering at the Gina Cody School of Engineering and Computer Science, adds that access and powerful visualisations of data combined with simulation scenarios will help bolster research and evidence-based decision-making, and optimize the solutions that can be created.
Embrace the City, Embrace the World
Embrace the City, Embrace the World is one of Concordia's nine strategic directions, and is centred on achieving "public impact through research and learning."
Paula Wood-Adams, interim vice-president of research and graduate studies, says addressing society's biggest challenges is often at the forefront of the transdisciplinary research being done every day across faculties.
"Concordia prides itself on being a next-generation institution that draws not only top research, student and staff talent, but also innovative partnerships with industry and community stakeholders," she says.
"Ultimately, these partnerships, and the work to come as a result, will benefit society as a whole."

Learn more about Concordia's Next-Generation Cities Institute.
Read more about Concordia's Strategic Directions.
---