Black History Month offers a time to reflect on a year of progress and change
'The magnitude of the challenges ahead has yet to change but our efforts have taken root'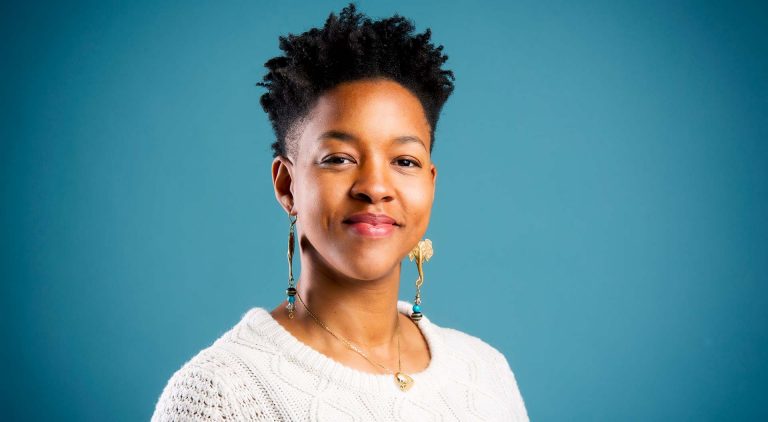 Annick Maugile Flavien is is the founding coordinator and manager of Concordia's Black Perspectives Office.
Overall, I love Black History Month, but I also tend to enter this time with apprehension.
As celebrations of Black history and knowledges take centre stage, we also often see a rise of misrepresentation, tokenization and essentialization during this month. There is also an unfortunate tendency to gloss over the continuous work of Black community members and their allies who have been dedicated to Black engagement, advancement and integration all year.
To appease this apprehension, I've started a practice of viewing Black History Month as a checkpoint and opportunity for yearly review that can renew my dedication to promoting and advocating for Black perspectives.
What have we been able to accomplish?
What were some recurring challenges? Have our priorities or vision shifted? Where do we want to be channelling our efforts for this coming year?
Within the Black Perspectives Office (BPO), this past year has been a time of exponential growth, having hired three new staff members. Office assistant Christine White is a key front-facing support in triaging the needs of the community. Project coordinator Teeanna Munro leads our student programming and most directly engages with our Black students. And facilitator Isabelle St-Louis leads our community in learning about and integrating Black perspectives in their sectors, as well as offering culturally relevant engagement support to our Black students, staff and faculty.
With these new positions we've been able to further develop our services for the Concordia community and create student employment opportunities to extend our outreach.
Growth of services that provide student support
One great example of this growth has been our team of student ambassadors and interns who trained in peer support and active listening to offer Peer Support sessions to any Black student at Concordia. This program has been a wonderful success and we are continuously learning from how students engage with and support one another.
We've also had the opportunity to offer 15 awards and scholarships over the last year and have invested more than $15,000 in funding projects led by Black students, staff and faculty. One of my most memorable highlights was hosting our very first Black Graduation Celebration and delivering graduation gifts to our students all over the city.
Looking back on these successes I can see that the overall picture is quite beautiful. But in reviewing this past year, I'm also acutely aware of the challenges we faced and the barriers that we have yet to overcome.
Daily impacts of systemic racism and the need for accountability
In connecting more deeply with our community we also learned about the daily impacts of systemic racism in their parcours and the lack of access that we have barely addressed. Our students are in urgent need of culturally safe advising from people who believe in their continued success. Our community needs Black spaces on campus where they can connect, belong and be their full selves. As a university we urgently need to understand why our community members aren't managing to access the full potential of services and resources. As we've had the chance to grow and root ourselves in an office, I am redirecting my focus toward this need for collaboration, space-making and resource-sharing to really expand our impact.
I have also been reflecting on the collective and aligning efforts across our university that continue to reinforce our work. This last year we saw the launch of the Equity Office, which has been a key partner in addressing systemic oppressions and further developing an intersectional approach to our work. The preliminary recommendations from the President's Task Force on Anti-Black Racism and their university-wide consultative survey to better understand the community's lived experiences of anti-Black racism at Concordia have also been a guiding light to keep us accountable to the needs and desires of the community.
A few positive steps forward
These efforts coupled with Angelique Willkie's appointment as special advisor to the provost on Black integration and knowledges has allowed us to really think of Black perspectives beyond offering remedial services and toward long-term recognition, acknowledgment and integration of Black knowledges and practices.
What is more significant is that Concordia is not only aiming to lead our university forward but is also participating in a national shift in higher education institutions. Most recently Concordia joined more than 40 universities and colleges nationwide to address anti-Black racism with the signing of the Scarborough Charter on Anti-Black Racism and Black Inclusion in Canadian Higher Education: Principles, Actions and Accountabilities.
When summarized in this way, it feels like a lot has happened over the last year. And I would add that a lot has been happening over the past few years, and generations, for us to be here now. Compared to 2020 or 2021, I feel a sense of stability and rootedness in the work we are doing. The magnitude of the challenges ahead has yet to change but I can feel that our efforts have taken root, which gives me confidence and faith in the future.
Read the story behind Black History Month, and take part in events at Concordia. Find out more about Concordia's Black Perspectives Office.

---