Concordia biology professor named editor-in-chief of Ecological Monographs
After a highly competitive search, Jean-Philippe Lessard will step into the role for one of the field's leading journals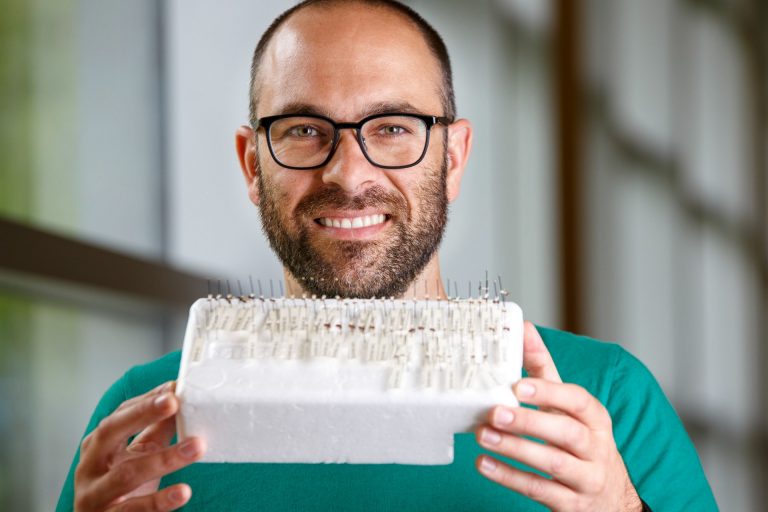 Jean-Philippe Lessard, associate professor in the Department of Biology in Concordia's Faculty of Arts and Science, has been named the new editor-in-chief of the American-based Ecological Monographs, considered one of the most influential journals in ecology.
In his role, Lessard will lead Monographs in publishing research that elaborates on new directions for the field.
"It is a tremendous honour, a privilege and a great challenge to spearhead this historically prestigious journal into new and exciting directions while preserving the formula that made it successful," says Lessard, who is also Concordia University Research Chair (New Scholar) in Biodiversity and Ecosystem Functioning.
Launched by the Ecological Society of America (ESA) in 1931, Monographs features research publications providing integrative documentation of major empirical and theoretical advances in the field. It consistently ranks in the top 10 journals in the ecology subcategory of the Journal Citation Reports, published by Clarivate Analytics.
"The leadership role I will play as an editor-in-chief will allow me to advance the standing of the journal and diversify its editorship and readership, as well as the membership of the Ecological Society of America as a whole," Lessard says. "I hope to work toward a more equal, diverse and inclusive community of ecologists, raise awareness and find solutions to the challenges faced by minorities."
Lessard's work in the Community Ecology and Biogeography Lab investigates the maintenance and distribution of biological diversity from local to global scales. He uses theoretical and empirical approaches to study how species coexist, and how historical and contemporary processes interact to generate uneven distributions of life forms across the globe.
"With his impressive research background and previous involvement with ESA's journals, Dr. Lessard is in a unique position to ensure that the journal continues to excel," says Catherine O'Riordan, ESA's executive director. "I am confident that he will serve the journal's community of authors well."
Lessard will step into the new role on January 1, 2022, and says he can't wait to get started.
"As the next editor-in-chief, I aim to consolidate its position as a leading journal in the field while rejuvenating aspects of it and encouraging and helping scientists from every corner of the world to publish their best work in it."
Learn more about the work of Jean-Philippe Lessard's lab.
---