Public Scholar Louis Lazure goes deep into the study of animal behaviour
The PhD candidate in biology is currently looking at human–raccoon interactions in Quebec's protected areas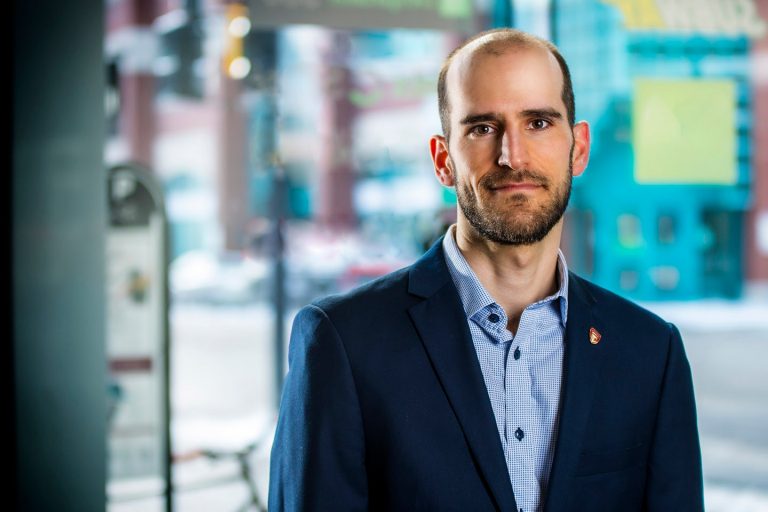 If you've ever wondered what it's like to wade through a pool of bat dung while thousands of the creatures swarm all around you, just ask Louis Lazure.
One of this year's cohort of Public Scholars, the doctoral candidate in biology has travelled all over the world to study animals in their native ecosystems. And he hasn't been afraid to get his hands dirty for the research that he's so passionate about.
With a background in ecology, zoology and animal behaviour, Lazure has encountered both friendly and not-so-friendly critters on just about every continent on the planet.
Now under the supervision of Concordia's Robert Weladji, professor of biology, Lazure is focusing on a species commonly found in North America — the raccoon. Through them, he hopes to learn more about human–wildlife interactions in protected areas.
"Our relationship to familiar mammals like bats and raccoons is a dialogue," he says. "They shape us as much as we shape them."
'Raccoons have incredible behavioural flexibility'
What got you interested in biology and the study of animal behaviour?
​Louis Lazure: I was interested in animals as a kid. I remember buying a magazine about animals every week for a few years and wanting to be a veterinarian for some time. But it wasn't until CEGEP that I decided to go into biology.
A trip to Costa Rica for an introduction to tropical ecology course made the difference for me. The prof was passionate and the tropical forest teeming with life blew my mind.
You're specifically looking at human-raccoon interactions in protected areas. What are some examples of these protected areas and how do you observe these interactions?
LL: I collaborate with Sépaq (Société des établissements de plein air du Québec) for my research. So far, I've conducted my experiments in four parks in the south of the province.
There are three sources of data for the field portion of my research: camera recordings of animals interacting with my experimental devices — puzzles, photos from a camera-trap within campsites and events recorded by park employees.
I compare individuals and groups of raccoons based on some variables. My main variable of interest is comparing raccoons living in the campgrounds with those that live in the more "wild" parts of the parks.
In general, are we now witnessing more human–wildlife conflicts worldwide?
LL: There are probably more species involved in conflicts now than a few decades back.
It seems logical that because we occupy more and more space and extract more resources, there is less space and fewer resources for wildlife — resulting in more interactions.
So, we're interacting more with wildlife and not just in urban environments. Resource extraction can have tremendous impact on wildlife, as can all types of infrastructure — roads, railways, high-power lines, etcetera.
Less dramatically, recreational activities can disturb animals in pristine and even protected habitats.
You've done fieldwork in ecosystems all over the world and studied different species such as bats and peccaries. What have been some of your favourite species and places to study?
LL: OK, I need to control myself here and limit the list to a few items: crawling in bat poop with thousands of bats flying around in Florida; visiting a research station studying slow lorises in Indonesia — and seeing a colugo on the same trip; going on 10-to-12-day autonomous missions in Côte d'Ivoire searching for chimpanzees, elephants and leopards; sitting in the dark alone in a national park in Taiwan hoping to record bat echolocation sounds; and petting a surprisingly friendly tapir in the Atlantic rainforest of Brazil — peccaries are not friendly.
I have to say that our own raccoons are no slouches, compared to more exotic species, when it comes to their incredible behavioural flexibility.
Can you tell us a little about the provincial bat recovery team that you work on?
LL: When a species or group of species obtains a threatened status at the provincial level, the government can set up a recovery team. In 2015, a team was set up to work with bats. It is made up of around 15 experts representing the government, independent researchers, non-profit organizations, businesses and First Nations.
There are people from all over Quebec — because bats are everywhere, except in the northern half of the province. So far we published a recovery plan for the three most-threatened species of bats, out of eight in Quebec, and are working on another one. The team does outreach, research and conservation actions such as distributing bat houses, monitoring colonies and general trends in population, and helping citizens deal with bats that they find.
Join Louis Lazure on December 2 for his online event The raccoon next door: A discussion on animal intelligence and human-wildlife coexistence.
Could you be Concordia's next Public Scholar? PhD students can now register for the new, qualifying communications training by January 26, 2022.
Find out more about Concordia's Department of Biology.
---