Concordia officially launches the Indigenous Futures Research Centre
A first of its kind, the centre will support work led by and for Indigenous peoples and communities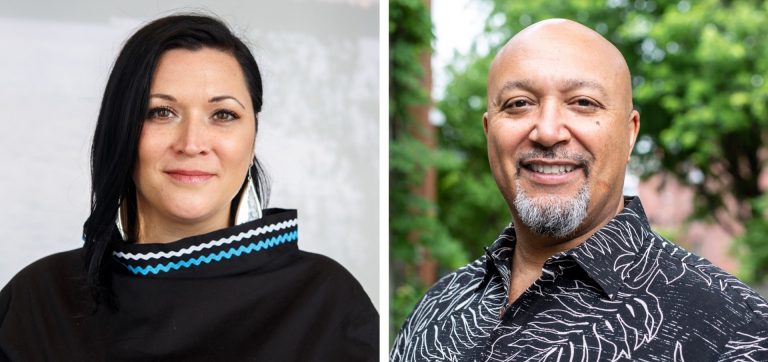 Concordia marked an important milestone on November 17: the launch of its first university-recognized Indigenous research centre.
For the two co-directors of the Indigenous Futures Research Centre (IFRC), it represents years of hard work and a huge collective leap forward for Indigenous-led scholarship at the university.
The IFRC is helmed by Jason Edward Lewis, Concordia University Research Chair in Computational Media and the Indigenous Future Imaginary (Tier 1), and Heather Igloliorte, Concordia University Research Chair in Circumpolar Indigenous Arts (Tier 1). 
"Our plan is to expand outward and touch every aspect of the university as we go forward," Igloliorte says. "With new Indigenous faculty joining the university and future positions realized, we will grow in dynamic ways. We're both really foregrounding in our research the support of the next generations that are coming after us."
Community engagement is built into the foundation of the IFRC, adds Lewis, and they are looking to grow and strengthen that tradition.
"This could be with urban Indigenous communities, or reserve based or rural Indigenous communities. We want to be in conversation with them to help understand what they see as their priorities and where they might need the sorts of expertise, energy and resources that we can bring to the table."
Graham Carr, president of Concordia, notes that the new centre supports the university's Indigenous Directions Action Plan and all Concordians should feel proud of this accomplishment.
"This new centre demonstrates that, in tandem with our commitment to advance truth and achieve reconciliation, we are equally determined to support the creation of new knowledge, new training and new mentorship opportunities that express our ambition to be a next-gen research university," he says.
"We're building new relationships with indigenous communities so that, together, we can have a meaningful impact on society."
Indigenous research capacity across Concordia has been growing rapidly in the last few years, says Paula Wood-Adams, Interim VP, Research and Graduate Studies.
"The IFRC regroups active, engaged and well-funded scholars and artists who ground their research in Indigenous issues. From management to theatre, design and the humanities, I admire the diverse disciplines that have come together under this dynamic research umbrella."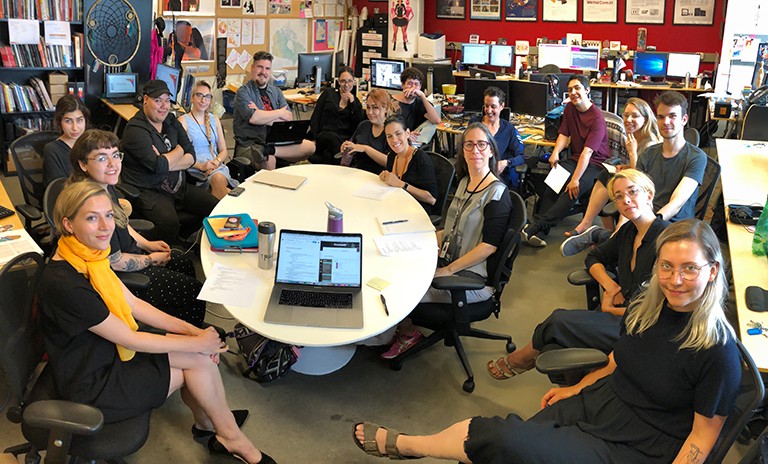 "Our plan is to expand outward and touch every aspect of the university as we go forward."
'An environment where people can walk in and assume a shared set of knowledge'
The IFRC evolved from the Indigenous Futures Cluster, formed in 2015 within the Milieux Institute for Arts, Culture and Technology. Milieux served as an incubator for Lewis's lab, Aboriginal Territories in Cyberspace, and Igloliorte's lab, Inuit Futures in Arts Leadership.
The jump to university-recognized status provides additional access to funding support for general operations, infrastructure and management. It's a recognition of a robust cross-disciplinary research program, a critical mass of Concordia researchers, significant training of graduate students and other highly qualified personnel, as well as extensive research output and substantial external funding.
The centre's members currently come from the Faculty of Fine Arts and the Faculty of Arts and Science, from such diverse disciplines as applied human behaviour, art history, English, First Peoples studies, theatre, management and more. They are currently supervising 31 undergraduate research assistants, 16 master's students and 11 PhD students.
The IFRC is anchored by four chairs in Indigenous research areas, including Lewis and Igloliorte as well as Nadia Myre, Canada Research Chair in Indigenous Material Practice, and Natasha Blanchet-Cohen, FRQSC Youth Network Chair.
"We're trying to create an environment where people can walk in and assume a shared set of knowledge. It's not 'Indigenous 101.' You can advance your own knowledge at the centre, really push forward on what it is that you want to know and work on the research that the communities that you work with are interested in," Lewis says.
'We hope that it will propel us well into the future'
Michelle McGeough, assistant professor of art history, is another member of the IFRC.
"Being Métis, being queer, I am hoping that my students see that as a possibility for different kinds of knowledges to be celebrated within academic community and within our communities. I have always seen what I do as opening up space. It's not only my story, there are many other stories out there," she says.
"How do we show that we value that? How do we bring that into places like the university, the museum, the archive? Now is the time. We are riding on this crest and I hope that it will propel us well into the future."
At the virtual launch, assistant professor of studio arts Mark Igloliorte showed an excerpt from his video work entitled Eskimo Roll (2017). In it he learns to do a kayak roll in the Vancouver harbour.
 "I want experiences where I get to connect with my ancestry. To take possession of that kayak and that maneuver, to relearn it after a few generations have gone without being able to, and to put it into a video piece, was significant," he shared.
"I think about other Inuit and future generations and how they might take possession of that themselves. Finally, I think about my students. Learning starts with failures and repetition and then finally success. The striving and the failures are a part of the success and they are to be embraced."

Find out more about Concordia's new Indigenous Futures Research Centre.
Watch the virtual launch event that happened on November 17, 2021.
---