Sabine Plummer is Concordia's newest Rhodes Scholar
The undergrad in chemistry credits her multidisciplinary education for paving her way to Oxford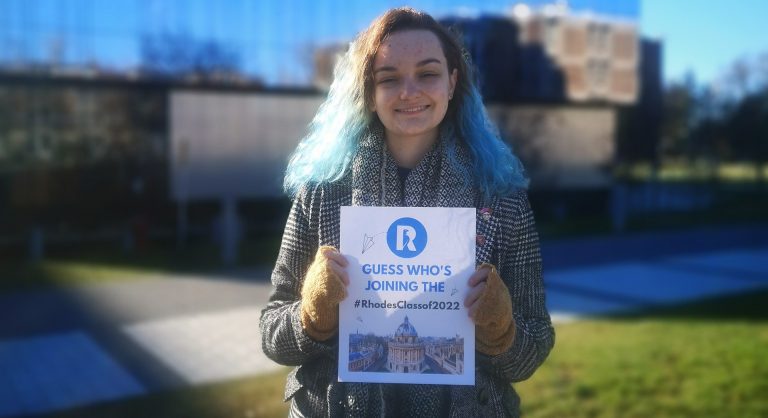 Concordia undergraduate Sabine Plummer has been awarded a prestigious Rhodes Scholarship. The student is completing a BSc in chemistry with minors in multidisciplinary sciences and art history.
Plummer will head to the University of Oxford in the United Kingdom in October 2022 to join a class of more than 100 scholars from around the world. There they will undertake fully sponsored graduate studies and become part of a global community of people determined to make a positive difference in the world.
Based at Oxford since 1903, the Rhodes Scholarship is the oldest international graduate scholarship program in the world.
Plummer discusses her road to Concordia, how her research and studies have evolved over time and her involvement outside of the classroom, as well as her plans for Oxford. She is just the 11th Concordian to become a Rhodes Scholar.
'I can't wait to explore my multidisciplinary interests'
What led you to pursue such a multidisciplinary undergraduate degree?
Sabine Plummer: When I was in CEGEP, I really liked chemistry and was very interested in neuroscience. After college I did an internship related to neuroscience at the University of London but realized it wasn't for me.
I then registered at Concordia in the Department of Chemistry and Biochemistry. Early in my undergraduate career I joined the Institute for Co-operative Education and the Science College, where I was paired with a mentor to help me refine my research interests.
Kelly Burchell-Reyes (BSc 20) helped guide me and open my eyes to research in areas outside my domain. Going into chemistry, I thought I would mainly be studying in pharmaceuticals. But this revelation has led me to do research in areas such as psychology as well as mathematics and statistics, and finally settle on art history as a minor.
Talk about your current research.
SP: On the chemistry side of things, I was awarded the Natural Sciences and Engineering Research Council Undergraduate Student Research Award last summer.
As part of the Howarth Lab, led by assistant professor of chemistry and biochemistry Ashlee Howarth, I am researching what are known as metal–organic frameworks (MOFs). MOFs have many uses and wide-ranging applications such as wastewater treatment. My research focused on making new MOFs.
Studying MOFs also translated to my research in art history, where I am looking at applying them to art conservation. Old works of art are often mounted using old glues. Such glue can damage the original work and change the original colour of the paint. I'm looking at how we can use MOFs to apply solvent that will reduce damage caused by glue.
What activities did you take part in outside of the classroom?
SP: I was on the ground for the founding of the Concordia chapter of Stronger Than Stigma with Jillian Caplan (BSc 21). The main purpose of this group is to reduce stigma surrounding mental health and to provide students with resources so they can manage their well-being while studying at the university.
I was also a part of the Science College Student Association and am currently a member of the Garnet Key Society. These were great experiences that allowed me to meet new people and broaden my university experience.
Next October you will be off to Oxford to pursue a new chapter in your academic life. What are you looking forward to?
SP: It will be something new and I'm really looking to take it all in. There will be numerous open lectures and I can't wait to explore my multidisciplinary interests.
I'm also excited for all the art. Oxford is home to such rich art history and I will get to live it.
Also, I can't wait to travel to Europe, as I will be so close!

Find out more about Concordia's Department of Chemistry and Biochemistry.
---