Concordia and Ericsson Canada team up to integrate and enhance applied AI research and development
University experts will help Ericsson employees further expand artificial intelligence and machine learning knowledge with project-based applied learning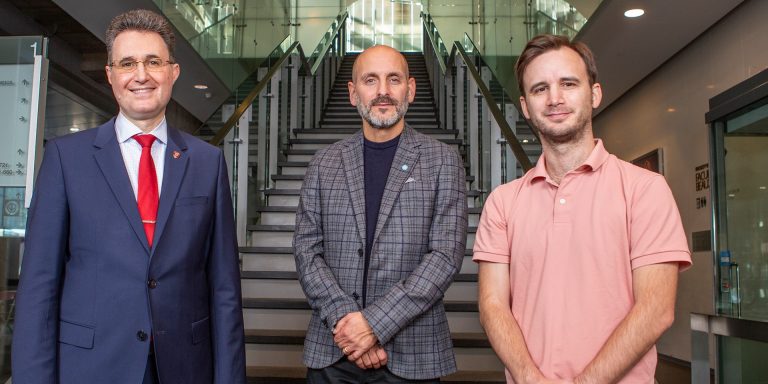 Hundreds of Ericsson Canada employees will have the opportunity to enhance their artificial intelligence (AI) and machine learning (ML) technology skills thanks to a collaboration with a team of specialized researchers and graduate students from Concordia's Gina Cody School of Engineering and Computer Science and Faculty of Arts and Science.
The training will give the cohort a new set of tools to implement AI projects at Ericsson. The tailor-made training, co-developed with Ericsson's Global Artificial Intelligence Accelerator (GAIA), consists of lectures and project clinics that cover big data, programming, machine learning, deep learning and infrastructure.
"Technology changes on the frontlines quickly, and ensuring our workforce has the right skill set is critical for our industry and business to stay competitive in a global economy," says Paul Baptista, head of Montreal research and development for Ericsson Canada.
"Our long-standing partnership with Concordia University is pivotal in bridging the gap to providing our workforce tools to help them and the business grow."
Lifelong collaborative learning
Beyond an exciting opportunity for professional development, the program promises a unique and unparalleled occasion for data science experts to exchange knowledge.
Concordia researchers will collaborate with Ericsson employees on projects in tailored clinics to apply their learning in real time. Whereas in a traditional setting students attend class to learn concepts and then return to work and apply those new concepts, this program allows them to bring their work challenges to class, where professors tailor the concepts to bring resolutions.
This unique collaborative project would not have been possible without the expertise of Concordia's Lifelong Learning team, who helped from instructional design and project management to partnership support and clientele service.
"It shows how a dedicated team of high-level professionals specialized in industry customized trainings is a game changer," says Isabel Dunnigan, associate vice-president of lifelong learning at the university. "This is a testament to Concordia being a next-gen university: we can create responsive and accessible upskilling opportunities in all contexts."
Among the Concordia team is Tristan Glatard, associate professor in the Department of Computer Science and Software Engineering and Canada Research Chair (Tier II) in Big Data Infrastructures for Neuroinformatics.
"I'm really excited about this program. I'm really looking forward to exploring applied AI projects with Ericsson employees," says Glatard. "Through this training, Ericsson and Concordia are bringing AI out of the lab and into the real world."
A unique AI ecosystem
Ericsson has been leveraging the Montreal AI ecosystem, one of the most advanced globally, to accelerate the execution of Ericsson's focused strategy by using AI and automation technologies to create data-drive, intelligent products and services.
In addition to the dedicated GAIA teams and data scientists who work on AI and ML, this program will empower Ericsson's 5G and wireless-domain experts across Canada with AI and ML tools.
Cross-sector partnerships like this are common in Montreal, where a network of private entities, research centres, universities and high-potential startups is well established. At the centre of this collaboration is Scale AI, a Montreal-based consortium supporting the acceleration of the integration of AI across all industries and principal funder for the Concordia-Ericsson training.
"We are providing upskilling to our existing staff so that they can integrate AI into the products and services they support," explains Anders Caspár, director of external research relations for Ericsson. "Making applied AI practitioners through a custom training like this one, we can retain highly talented people that understand our existing challenges and corporate culture."
Partnership for the future
Ericsson, a global leader in information and communication technology, understands the power and applicability of AI to 5G networks. With a focus to continue implementing AI in 5G, in 2019 the company established its GAIA, an innovation hub in Montreal focused on research and development in AI and automation to leverage innovative technologies and create data-driven, intelligent and robust systems for automation, evolution and growth.
Ericsson Canada and Concordia share a long history of academic and industrial collaboration. In 2020, Concordia, Ericsson and ENCQOR 5G created a new Industrial Research Chair in Cloud and Edge Computing for 5G and Beyond, which aims to increase the performance of the 5G network by relying on cloud and edge computing technologies and AI. The chair is held by Roch Glitho, a professor and cloud-network expert at the Gina Cody School.
In 2019, Concordia and Ericsson, along with the Natural Sciences and Engineering Research Council of Canada, founded the Industry Research Chair in Software-Defined Networking and Network Functions Virtualization Security, bringing together industry and academia to proactively strengthen cybersecurity for networks of the future.
"Collaboration with industry is a cornerstone of the innovation we produce at the Gina Cody School," explains Mourad Debbabi, dean of the Gina Cody School and NSERC/Hydro-Québec Thales Senior Industrial Research Chair in Smart Grid Security.
"The collaboration of our researchers and graduate students with experts from industry will provide players on all sides focused time and effort to foster innovation and creative solutions that will expedite the use of AI driving the economy."

Learn more about Concordia's Department of Computer Science and Software Engineering.
---