Freestyle skier and Concordian Marion Thénault soars closer to the Beijing Winter Olympics
The Gina Cody School aerospace engineering student won her first career aerials gold last month in Kazakhstan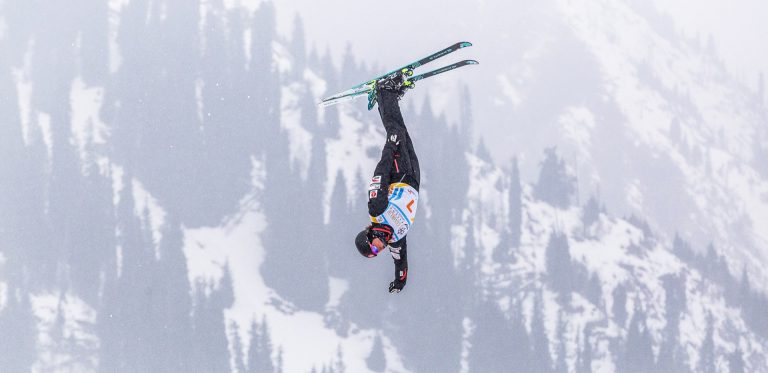 Competing as an international athlete while pursuing university studies is no small accomplishment. But Concordia student Marion Thénault is up for the challenge.
She started her first term in the Aerospace Engineering (BEng) program at the Gina Cody School of Engineering and Computer Science while on the freestyle skiing World Cup circuit in aerials.
"Competitive aerial skiing requires a complex track for national athletes to follow," Thénault says. "There are schedules, training, regiments and a set framework to follow. It takes discipline to reconcile the demands of the sport with personal aspirations."
Thénault climbed to the top of the podium for the first time in her World Cup career at the final event of the season, in Almaty, Kazakhstan, on March 13. The gold medal qualifies her for the Beijing Winter Olympics next year.
Her journey to gold
Sport was a big part of Thénault's upbringing in Sherbrooke, Quebec. Her mother excelled in gymnastics and was eager to share that passion with her daughter. Thénault trained for 14 years in the sport and competed at the national level.
In 2017, at age 17, she discovered her knack for aerial skiing and joined the competitive track. Just four years later, Thénault claimed her World Cup gold medal, opening the door to Beijing 2022.
"Many of my fellow competitors have a similar athletic background, where gymnastics started it all," Thénault says. "You develop skills and movements that are critical to completing the tricks required in aerials. But it takes a strong mind to actually make the jumps."
The keys to success
Thénault credits two programs for helping make her academic ambitions a reality alongside her athletic ones: Quebec's Alliance Sport-Études and the Canadian Olympic Committee's Game Plan provided her with a network of mentors and support.
"The governments of Quebec and Canada go out of their way to provide the resources needed for competitive athletes to continue their studies. All you need is a will, and there is a way."
Together with her mentor from Game Plan, which advises athletes during and after their athletic careers, Thénault made a list of what her ideal university experience would consist of.
"I wanted a hands-on university curriculum that would combine all of my strengths," she says. "I knew that Concordia had a world-recognized aerospace program and I was so excited to see that the university was part of Alliance Sport-Études."
The network of 45 colleges, Cégep à distance and nine universities works with the schools to offer adapted postsecondary educational experiences to high-performance athletes.
"Concordia has a human approach that is both welcoming and solutions-oriented. The university's recruitment team worked with me to develop a plan for how I can manage the pursuit of my dream degree around the sport I love."
What's next?
On her return to Canada after her golden win, Thénault completed Canada's 14-day mandatory quarantine. "It all worked out perfectly," she says. "I can now focus on studying for midterms without competing priorities."
Thénault's athletic journey will continue to the next Winter Olympics. "I have always wanted to be able to say that," she adds.

Learn more about Concordia's Gina Cody School of Engineering and Computer Science.
Explore the Department of Mechanical, Industrial and Aerospace Engineering (MIAE).
---