Public Scholar and John Molson PhD student represents Concordia at the 3MT semi-finals
DEC. 9: Erica Pimentel talks about how the accounting industry is being challenged by emerging technologies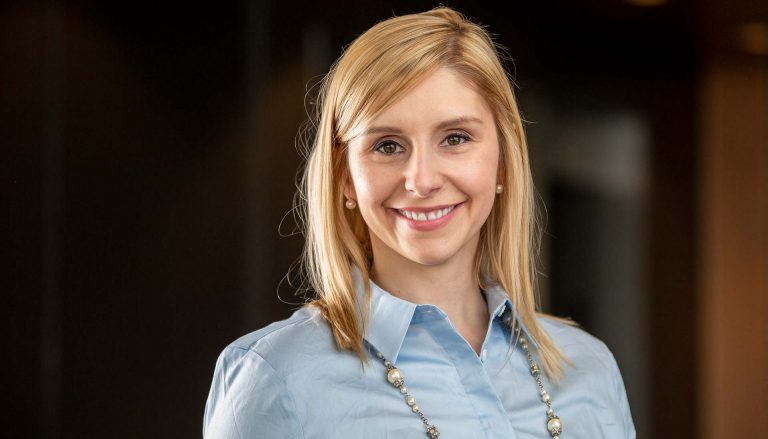 This month, Public Scholar and John Molson School of Business PhD student Erica Pimentel will represent Concordia at the 2020 Three Minute-Thesis Competition (3MT) semi-finals. The event is being hosted online December 9 by the Northeastern Association of Graduate Schools. Winners will then proceed to the American national competition at the Council of Graduate Schools.
Pimentel, whose PhD research looks at how professionals create meaning when their expertise is challenged by technological and societal change, won first place in Concordia's competition in June. She impressed the judges and audiences alike with her timely and polished presentation, "What do you do?"
Her thesis specifically explores how the accounting industry has been challenged by emerging technology such as artificial intelligence and blockchain, and how a realignment of meaning can bring new value to the profession. It's a pressing concern, given that some researchers believe the traditional work of accountants could be automated away in the next 15 years.
"Participating in the 3MT competition has been a transformative experience," Pimentel says. "The competition has enhanced my communication skills by teaching me how to translate my research from academic language into something we can all connect with."
She adds, "I am humbled to represent Concordia on the big stage. The competition is going to be fierce but I'm working hard to craft a compelling message. I hope it will engage the viewers to think differently about how work fits into their lives, especially during a global pandemic."
The semi-finals competition airs online from 3 to 5 p.m. on Wednesday, December 9.

Register here to watch the 3MT semi-finals competition live and cheer on Concordia's Erica Pimentel!

---