Concordia's reuse centre wants to deliver some free inspiration
CUCCR teams up with the dean of students for a creative care package initiative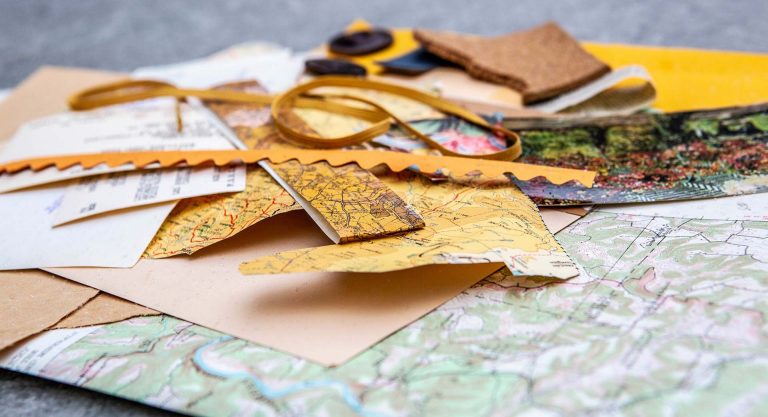 Update: Sign-up is now closed due to capacity reached after coverwhelmingly positive response.
The Concordia University Centre for Creative Reuse (CUCCR) team is missing their community. After months of being closed to its regular group of artists and makers, they are reaching out — all the way to the homes of those interested in a little remote creation.
CUCCR is pronounced "succor" — as in, assistance and support in times of hardship and distress. With that in mind, the group's current initiative comes as no surprise.
"We're dedicated to diverting usable materials from Concordia's waste-stream and offering them to the wider community," explains Arrien Weeks (BFA 06), CUCCR's material and tool literacy coordinator. "Though we haven't been able to invite people to go through our shelves because of COVID 19, we're still collecting materials from the university and our shelves are overflowing. We want to share this abundance."
"In normal times, we give gifts all day long. Right now, we're feeling that need to give even more acutely," says Anna Timm-Bottos (MA 17), founder and project coordinator of CUCCR.
"For that reason, we're hoping to send out hundreds of creative care packages. We want people to join us however they can, to make something fun for themselves and, hopefully, a second creation to give to someone else."
The Office of the Dean of Students is picking up the tab for postage as its own act of rebellion against isolation. Those interested can fill out the request form to receive a free CUCCR package.
"The idea for the project came over the summer, during a walk by all our nearly empty spaces," says Andrew Woodall, dean of students.
"It was painful to consider a campus without students, artists and other creative minds — all those resources untapped because of the pandemic. We wanted to find a way for people to make something beautiful and share some love using what we have sitting within our buildings."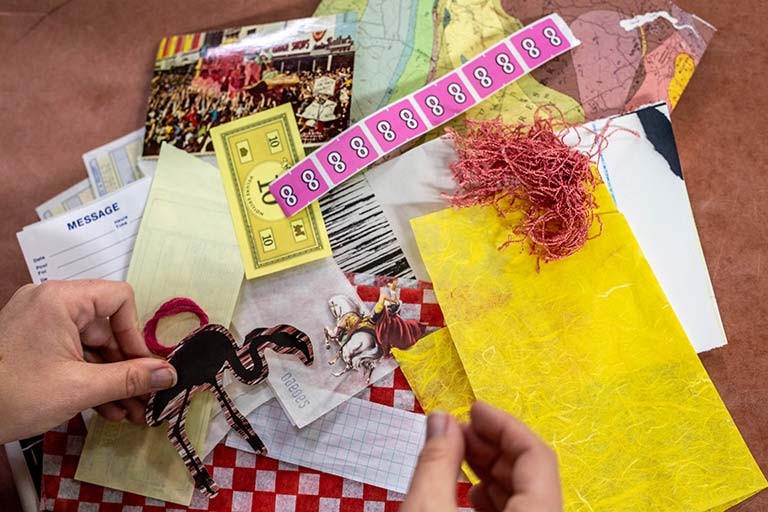 The shelves runneth over
Before COVID 19-imposed controls on campus access, CUCCR members would walk into the space with their ideas, peruse the materials on the shelves, then take what they need to realize their vision — for free.
"If they needed to do a bit of problem-solving, we could usually help with that too. CUCCR has become a warm and welcoming gathering place for people to do more than just get free materials. We have built an amazing community. We miss that, we miss all of them," Timm-Bottos says.
The larger community was also previously invited to take advantage during events at the Art Hive or during themed-based activities, like the "Don't Buy That" DIY holiday gift-making sessions, organized in partnership with Sustainable Concordia and the Dish Project.
Update: Sign-up closed but all still welcome for virtual creative sessions
For the past few years, CUCCR has run a winter artist residency program, providing undergraduate fine arts students with a chance to dive into the group's reserves, then exhibit their works through the VAV Gallery. The COVID-19 pandemic has interrupted that initiative but bolstered the idea of inviting a wider range of people to create from the university's leftover materials.
"We are asking everyone to join us in making something new with reused materials," Timm-Bottos says.
Concordia students, faculty, staff, alumni and external community members who signed up for the packages by December 11 will see them delivered to their home between mid-December and early January. Those who weren't able to sign up on time can still take part in virtual creation sessions using materials they find in their homes. Details will be available in the coming weeks through the 4TH SPACE website and concordia.ca/events.
"Our Zoom sessions will be less discussion and more about what we can do together with some music, paper, fabric, wood and inspiration," says Weeks.
He's also hoping that people will share their ideas by and creations by:
Tag CUCCR @cuccr
Use the hashtag #cuccrcares
Message CUCCR: facebook.com/cuccr
Check out the 4TH SPACE: @cu4thspace
Join the Making Group on Facebook: facebook.com/groups/carepackage
Email CUCCR at reuse@concordia.ca
---