Concordia professor becomes president of the Canadian Society for Civil Engineering
Catherine Mulligan also became a fellow of the Canadian Academy of Engineering earlier this year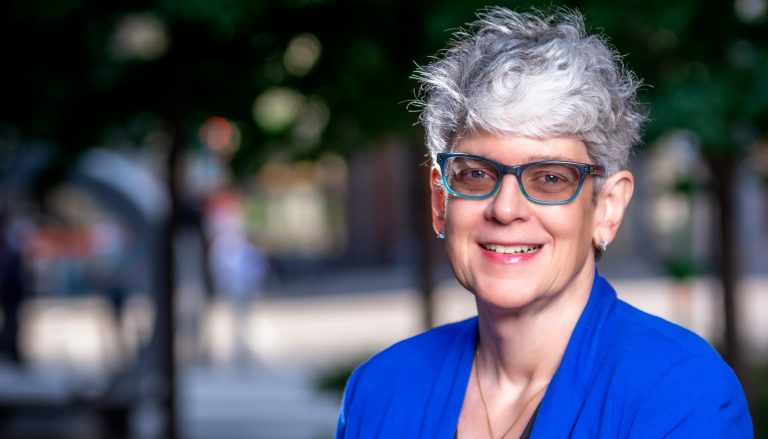 Contaminated soil, polluted harbours, toxic sediment — these are all-too-common problems for a society that's struggling to clean up the environment while searching for eco-friendly energy supplies.
Thankfully, environmental engineers like Catherine Mulligan are on the job.
Mulligan, professor in the Gina Cody School of Engineering and Computer Science, is a pioneer of green remediation technologies as well an internationally recognized expert in the decontamination of water, soil and sediments.
Now, she is the first Concordian to become president of the Canadian Society for Civil Engineering (CSCE) — and the third woman in that role.
A 4-year commitment
"I'm delighted and honoured to represent Concordia at the national level," says Mulligan, a Concordia University Research Chair in Geoenvironmental Sustainability.
Previously, she was senior vice president and president elect, respectively. After her year as president, she will be the past president for 12 months.
"It's a four-year commitment, in total," she notes. "That allows you to make an impact."
Mulligan wears the honour humbly, as she did when she became a fellow of the Canadian Academy of Engineering earlier this year. In 2018, she also received the coveted John B. Stirling Medal for career achievement from the Engineering Institute of Canada.
"When I started studying to be a chemical engineer, people were using biological surfactants to bind with oil to remove it from tanks and fields. But I was the first to use biological surfactants to remove metal contaminants from soil," says Mulligan, the author of Sustainable Engineering.
"It was exciting to be at the forefront of that field."
Mourad Debbabi, interim dean of the Gina Cody School, is thrilled to hear of Mulligan's appointment to president of the CSCE.
"It's a fitting role for a researcher of her stature and continued dedication to innovation," says Debbabi, holder of the NSERC/Hydro-Québec/Thales Senior Industrial Research Chair in Smart Grid Security.
"Decontamination — soil washing to remove metal — put her on the map in the field of geoenvironmental engineering. Then Dr. Mulligan gained more than 25 years of research experience in government, industrial and academic environments. I can't think of a more dynamic, deserving candidate. Her appointment raises Concordia's profile as an institution that supports innovation."
Rolling up her sleeves
As the founding director of the Concordia Institute for Water, Energy and Sustainable Systems (CIWESS), Mulligan continues to research new systems, technologies and solutions for water, energy and resource conservation.

The CIWESS launched with a Natural Sciences and Engineering Research Council of Canada (NSERC) six-year CREATE grant, focusing on socially conscious and eco-friendly engineering practices that educate students in methods of preserving our planet.
Eight years later, the institute has trained more than 70 students into highly qualified personnel. It's home to 12researchers at Concordia.
"We're looking at low-energy water treatments, how to make methane from wastewater and how to design water treatment in collaboration with communities," explains Mulligan, who works in the Department of Building, Civil and Environmental Engineering.
"In gold mining areas, where they use cyanide to leach gold from ore, we're researching how to remove nitrogen from wastewater using microorganisms."
Cleaning Lac Caron and Lac Johanne
This summer, Mulligan is engrossed in a project in the Sainte-Anne-des-Lacs region of Quebec.
She's the lead on a three-year NSERC-funded initiative with industry partner Titan Environmental Containment, who make geomembranes, among other things.
"We're focusing on two at-risk lakes, Lac Caron and Lac Johanne," Mulligan says. "One lake has an overgrowth of algae and the other lake is brownish from degraded organic materials in the water."
Mulligan and her team are running tests at the two lakes and feeding water into the filtration systems made in part of geotextiles.
"The idea is to monitor changes in the water, then strategically place the filter where it will be the most effective and efficient, most likely near the wetlands that feed into Lac Johanne," explains Mulligan.
She recently published an article titled "Energetic and economic feasibility of a combined membrane-based process for sustainable water and energy systems" in Applied Energy.
Mulligan is teaching this summer while replying to daily emails from executives and members of the CSCE.
"I've ramped up to this job over the last two years, so hopefully there are no big surprises," she says. "It's humbling to have the opportunity to serve the community in this way."

Learn more about the Department of Building, Civil and Environmental Engineering and the Gina Cody School of Engineering and Computer Science.
---