Concordia professor partners with Cree to protect 30,000+ square kilometres of Indigenous territory
A recent book documents a decades-long project of protected area creation in the James Bay region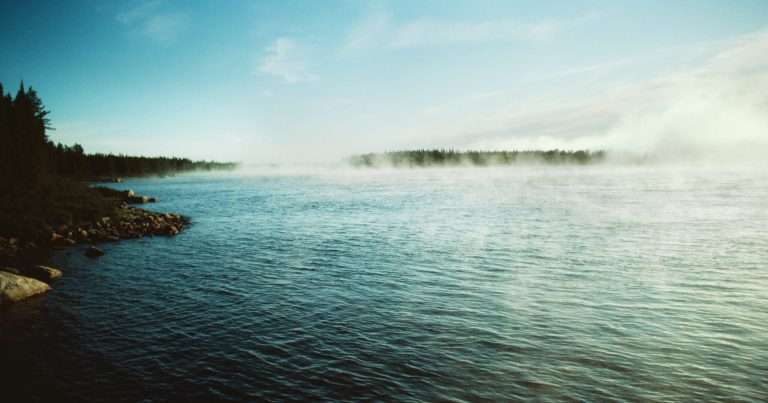 How can Indigenous communities best protect their lands and waters, and what role do settler-allies have to play?
In a project that goes back more than two decades, members of the Cree community of Wemindji, located on the coast of James Bay, Quebec, worked with Monica Mulrennan and a multidisciplinary team of academic researchers to protect part of their traditional territory from large-scale resource development.
"Taking a partnership approach that responded to Cree priorities and aspirations for environmental protection was so important," says Mulrennan, associate professor of geography, planning and environment in Concordia's Faculty of Arts and Science. She is also associate vice-president of research, development and outreach in the Office of Research and Graduate Studies.
The Social Sciences and Humanities Research Council of Canada (SSHRC)-funded research partnership brought natural scientists and social scientists together with community members to explore ways to protect their land in the context of growing pressure from extensive development.
The results of this collective project are recounted in Caring for the Eeyou Istchee: Protected Areas Creation on Wemindji Cree Territory, a book edited by Mulrennan alongside Colin Scott and Katherine Scott from McGill University.
Eeyou Istchee refers to traditional homeland of the James Bay Crees of northern Quebec.
Published in November 2019 by UBC Press, the book features 14 chapters penned by 29 contributors, including two Cree co-authors and two Concordia graduate students.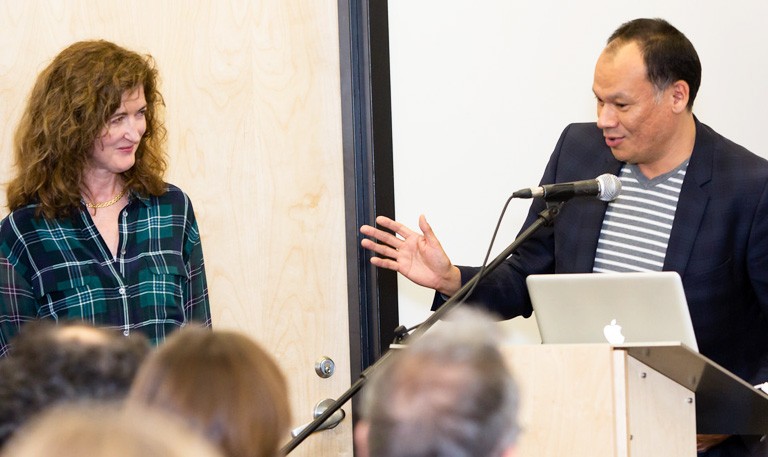 Monica Mulrennan and Rodney Mark.
'We took it all the way!'
Faced with the difficult decision to approve a large gold mine, the community of Wemindji sought ways to ensure that one fifth of their territory would be protected from development.
Today, two important watersheds comprising 4,500 square kilometres are protected in perpetuity by the Paakumshumwaau-Maatuskaau Biodiversity Reserve. A further 25,000 square kilometres of marine territory is under consideration by Parks Canada and the Grand Council of the Crees for a National Marine Conservation Area.
"This book is important to the community as it illustrates that working with researchers from university institutions is beneficial to both parties," says Rodney Mark, former chief of Wemindji and current director of social and cultural development for the Cree Nation Government. He and Colin Scott are the project's co-leads.
"What's unusual about this story was that we went beyond the research," Mulrennan says. "We took it all the way. We worked with the community and with the province to put the protected area in place!"
Mulrennan, along with graduate students in her research group, continues to support efforts to advance Indigenous-led conservation. She is currently the research lead on Indigenous conservation governance for the SSHRC-funded Conservation through Reconciliation Partnership program and the Centre for Indigenous Conservation and Development Alternatives, funded by the Fonds de recherche du Québec – Société et culture.
Staying connected
Mulrennan, together with her students and often her family, regularly visits Eeyou Istchee.
"It's beautiful," says Mulrennan of the protected region. "And it contributes in vital ways to the maintenance of Cree connections to territory as well as Cree land-based activities, knowledge, language and customs."
The project is a response to calls for a far-reaching rethinking of conservation premised on recognition of the continuing authority of Indigenous peoples for stewardship of their lands and waters. University researchers can play an important role in this rethinking.
Mark is proud of the years-long research project's results.
"These collaborations engage us in research that is meaningful and that sets the agenda for the community in terms of protected areas and development."

Learn more about Caring for the Eeyou Istchee: : Protected Areas Creation on Wemindji Cree Territory, co-edited by Monica Mulrennan.
Find out more about Concordia's Department of Geography, Planning and Environment.

---