Learn how Concordia is jetting to the forefront of aerospace
MAR. 2 – APR. 7: 4TH SPACE hosts Take-off/Touch-down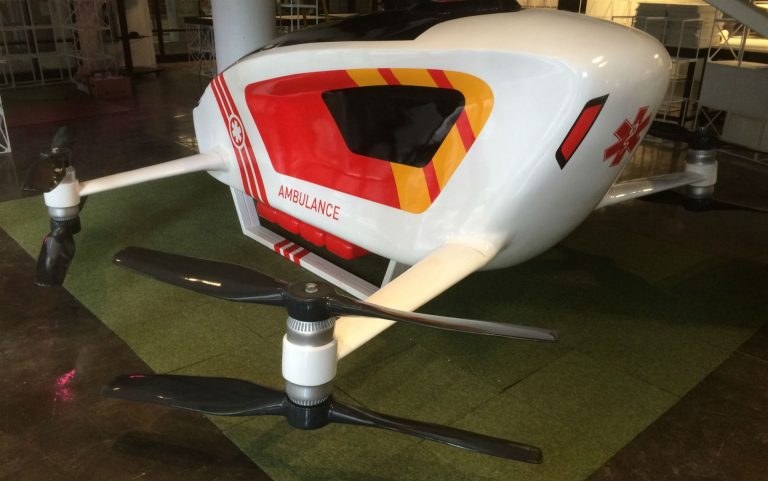 From a pilot eye-tracking simulator to roundtables on sustainability and more, the Take-off/Touch-down programming at Concordia's 4TH SPACE from March 2 to April 7 will make the high-flying world of the aerospace industry accessible to the university community and public at large.
Many Concordia researchers are engaging with the far-reaching and interdisciplinary field of aerospace.
With developments in engineering, science and technology, however, come questions for the environment, social sciences and regulatory bodies: what is the human experience of controlling flight? Why aren't there more women in the industry? Who are the people pioneering the field? As a high polluting industry, how is aviation turning green? Who governs flight?
"There are so many challenges facing the industry," says Nadia Bhuiyan, Concordia's vice-provost of partnerships and experiential learning.
"Imagine that by 2037, the International Air Transport Association is predicting that the number of passengers will increase to more than eight billion. Now imagine the impact of this on the environment, on airports, on communities living near airports, on aircraft design, on the cost of travel and so on."
And the competition for these passengers will be intense.
"China is expected to surpass the United States as the world's largest air passenger market. Concordia researchers are at the forefront of developing more efficient, effective and connected aircraft and optimizing the processes needed to design and develop them. They are looking to find ways to reduce fuel consumption in airports and to better schedule flights to reduce congestion and wait times," Bhuiyan adds.
"Our researchers are also developing space-related technologies in an effort to better understand what lies beyond our atmosphere. And to continue to tackle these challenges well into the future, we need to build our 21st-century workforce — one that could benefit from a lot more women."
Grounding aerospace in 4TH SPACE
For the duration of Take-off/Touch-down, 4TH SPACE will house drones, planes, wind tunnels, simulators and aspects of the historical development of aerospace, as well as foreground Concordia's cutting-edge research via videos and interdisciplinary roundtable discussions.
Visitors to the event will receive a travel passport fashioned to guide them as they encounter planes designed and built by Concordia's Society of Automotive Engineers, a spherical drone from UAV Concordia, drones from the Concordia Chapter of the American Helicopter Society and a variety of rockets and prototypes from Space Concordia.
4TH SPACE visitors will also encounter the Ambular drone developed by staff from the International Civil Aviation Organization (ICAO). The Ambular 2.0 is a quick, safe and versatile response unit that can easily navigate the diversity of the built and natural environment, rapidly moving a person facing a medical emergency to the nearest hospital.
The Ambular's accompanying virtual reality experience allows visitors to navigate the drone through different terrains and feel what it would be like to be the pilot.
"The Ambular research project is a partnership between ICAO staff, Concordia and other collaborators. The ICAO team has designed the vehicle prototype featured at 4TH SPACE," explains Luis Rodrigues, professor of electrical and computer engineering in the Gina Cody School of Engineering and Computer Science.
"The project will focus on the development of air mobility systems capable of performing optimal trajectory planning, emergency response and trajectory re-planning in real-time, energy management and battery recharging, air traffic management and virtual reality and augmented reality based on real-time video streaming," he says.
"All of these capabilities are expected to be on board a fleet of autonomous electrical vertical takeoff and landing vehicles in the future of air mobility. This research project gives an important step in that direction."
Stripping down aviation to its materiality, the Concordia Centre for Composites (CONCOM) is bringing in an aeroplane tail rotor made of carbon fibre. The choice of material reflects the needs for lighter materials in aerospace design, moving from aluminium to carbon fibre that is tested at CONCOM to understand if the strength is enough for industrial needs.
Material from this lab has been used for research at Concordia, including for parts of Space Concordia's Rocketry Division, and testing is done with an automated fibre placement machine with a robotic arm, the only one of its kind.
Brainstorming the future of aerospace
Alongside the fixed installations, researchers, professionals and students will come together each week for roundtable discussions that highlight a different aspect of aerospace.
Aerospace engineering classes will also activate the space, giving an insight into the technical facets of the industry.
On March 2, at the first in the series of roundtables, Susan Liscouët-Hanke, associate professor of mechanical, industrial and aerospace engineering, will moderate a discussion on green aviation with participants from Bombardier, ICAO, CIADI and the Gina Cody School.
The conversation will relate to solar power for aircrafts, thermal analysis, composite materials and biofuels, as well as waste reduction in design, manufacturing and supply chain.
On March 10, Bhuiyan will facilitate a discussion on how to increase the number of women in Aerospace by panellists from ICAO, SAE Aero, CAE, Pratt & Whitney Canada, the John Molson School of Business and the Gina Cody School.
Rodrigues will lead a conversation on March 16 by participants including members of the Department of Psychology and Marinvent Corporation on the challenges related to drones and mobility, regulatory issues and the human experience of aviation.
The final roundtable in the series, to be held April 3, will look at the future of space research at Concordia. The roundtable will connect student associations and faculty members to explore Concordia's upcoming efforts in space exploration.
Throughout the programming, 4TH SPACE will also host classes on design structure, avionics systems and the final design review for the aircraft design capstone project.
The showcase will culminate on April 7 with Aerospace Day, dedicated to air and space mobility, at the Concordia University Conference Centre on the ninth floor of the John Molson Building, MB-9, 1450 Guy St.

Stop by 4TH SPACE during the Take-off/Touch-down programming to soar through the universe of aerospace — to infinity and beyond!
---