Concordia leads the way in creating a global network of immigration and refugee experts
FEB. 5 - APRIL 16: The Centre for the Study of Politics and Immigration presents its winter speaker series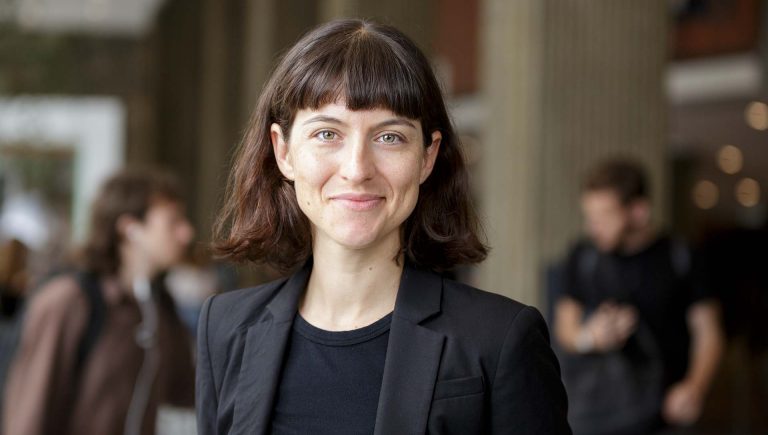 Many countries today grapple with questions surrounding immigration, such as how many migrants should be allowed in, what kind of profiles should they have and how should they be integrated into their new homeland? The debates surrounding these issues can be divisive.
Concordia's Centre for the Study of Politics and Immigration (CSPI) winter speaker series aims to address many of these topics through a wide range of local and invited guests.
"Immigration is important," says Mireille Paquet, associate professor of political science in the Faculty of Arts and Science and Concordia University Research Chair on the New Politics of Immigration.
"It is crucial that we stimulate new research to develop a better understanding of this subject," she adds.
Director of the CSPI, Paquet says that part of its mandate is to engage with the community and disseminate research to a network of interested researchers.
"This winter's event series does that by exploring important themes associated with the governance of immigration."
The series will advance the centre's mission to create an international network of experts. Audiences can expect to see some familiar Concordia faces as well as high-profile visiting speakers.
The bilingual series runs from February 5 to April 16 and covers a wide variety of immigration-related topics.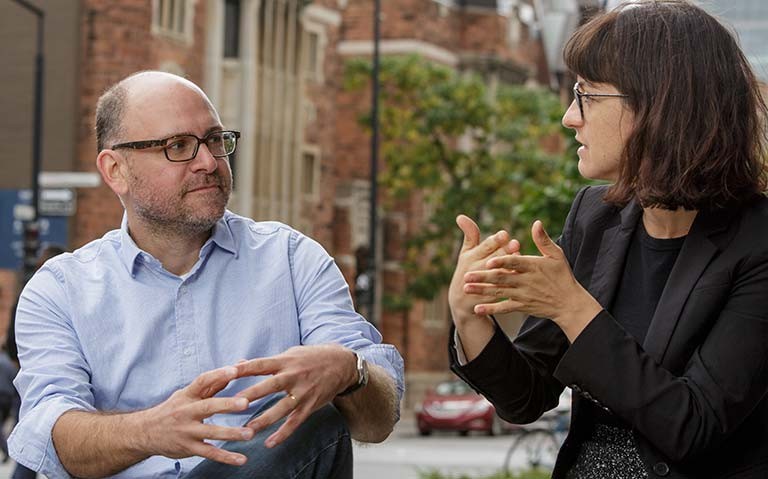 From left: Antoine Bilodeau with Mireille Paquet.
Examining attitudes at the national and sub-national level
First up, on February 5, is Concordia's Antoine Bilodeau. The professor of political science and CSPI co-director will examine the different points of view people can hold at the national and local levels when it comes to immigrants, using Canada as a model.
His presentation, Attachements nationaux et attitudes envers la diversité ethnoculturelle dans les provinces canadiennes, examines the relationship between attachment and attitudes toward ethnocultural diversity in the contexts of political communities at several levels.
"We argue that researchers must take into account the 'double expression' of attachment to the country and attachment to its territorial units," Bilodeau explains.
The French presentation will be followed by a bilingual discussion.
Canada, the U.S. and Australia — how do we compare?
On February 12, Yasmeen Abu Laban, professor of political science at the University of Alberta, will use examples from Canada, the United States and Australia to assess whether policy and policy-makers contribute to the humanization or dehumanization of refugees.
Refugee Policies and Discourses will look at examples spanning 2015 to 2020.
"This is a critical examination of the global displacement crisis," Paquet says. "One of the questions we want to ask is, is Canada doing its part?"
A woman's take at a local level
On February 13, Alexandra Charette, recently named a full doctoral fellow at Concordia, will examine how immigrant women in Montreal relate to citizenship through their civic engagement practices. The presentation is entitled Engagement civique et rapport à la citoyenneté chez les femmes immigrantes à Montréal: une étude exploratoire.
"Alexandra is exploring new, cutting-edge research at a local level," Paquet says. "This lecture will shine a light on a lesser-known reality for a huge section of Montreal's immigrant population."
The French presentation will be followed by a bilingual discussion.
Managing messes on a global scale
On March 4, renowned scholar Anna Triandafyllidou, professor in Ryerson University's Department of Sociology, offers her take on the global approach to migration and asylum-seekers.
The Global Governance of Migration and Asylum: Risk, Uncertainty and Mess Management explores how an emerging paradigm emphasizes orderly, safe and regular flows of migration, when the realities on the ground are often anything but.
"We will look at global governance of migration, such as a new global compact for refugees," Paquet says.
"As countries are trying to collaborate more, there is pressure from governments to try to work together on these complex issues."
Can private citizens make a difference? A case study
Patti Tamara Lenard, associate professor of public and international affairs at the University of Ottawa, and her colleague Stéfanie Morris, will round out the series on April 16. They will discuss their research into the work of members of the St. Joseph's Parish Refugee Outreach Committee.
Local Activism with Global Impact: A Case Study of St. Joseph's Parish Refugee Outreach Committee examines an organization, housed in an Ottawa parish, that has sponsored, settled, advised and advocated for refugees and asylum seekers for 30 years.
"The idea of private resettlement, of private sponsorship of refugees, is a model that originated in Canada," Paquet notes. "Now, we see it is being exported to other countries."

Concordia's Centre for the Study of Politics and Immigration winter speaker series is free and open to the public. To learn more, visit the CSPI website.
---