Concordia's Simone de Beauvoir Institute introduces a Major in Interdisciplinary Studies in Sexuality
'Our hope is to galvanize academic and community-based knowledge into social change'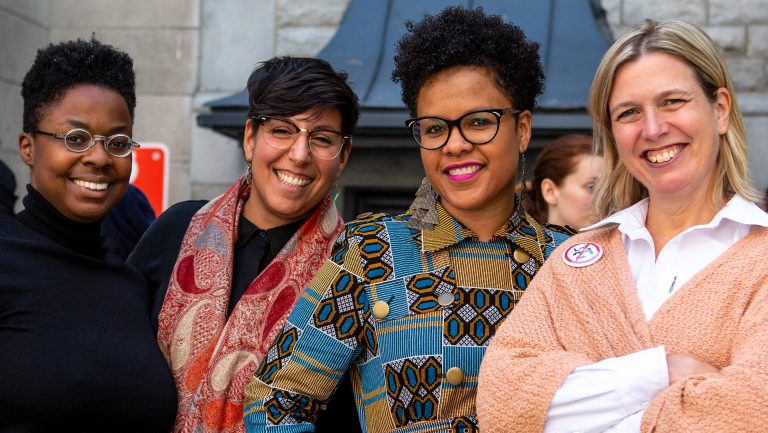 The Simone de Beauvoir Institute is home to one of the first university women's studies programs in Canada. Now it is offering a Major in Interdisciplinary Studies in Sexuality.
Housed jointly by the Faculty of Arts and Science and the Faculty of Fine Arts, the new program allows students to dig more deeply into the topic of human sexuality.
"This major is another example of the curriculum innovation that characterizes the Faculty of Arts and Science," says André Roy, dean of the Faculty of Arts and Science.
"We are proud to offer this truly interdisciplinary program with the Faculty of Fine Arts. It gives students the means to think critically and creatively about the emerging and complex field of sexuality studies."
Rebecca Duclos, dean of the Faculty of Fine Arts, notes that having the Simone de Beauvoir Institute move forward with this major is exciting for her and many others in her faculty.
"Tom Waugh, our distinguished professor emeritus of film studies and interdisciplinary studies in sexuality, cinema, must be particularly thrilled. He spearheaded the first course on AIDS (one of the first in North America), originated the sexual representations class, and led queer cinema classes through the Mel Hoppenheim School of Cinema," Duclos says.
"Tom's courses opened people's eyes and provided a space where sensitive materials could be coherently engaged and discussed."
Natalie Kouri-Towe, the program's director, emphasizes the in-depth nature of the major.
"Our program draws on interdisciplinary approaches to the study of sexuality as not only a set of behaviours and identities, but also as a site of cultural production, politics and social change. It's an approach that makes us unique in Quebec and Canada," she says.
The major builds on the minor of the same name, established in 1998.
"In today's world, ideas about sexuality are in a constant state of transformation," says Kimberley Manning, principal of the institute. "We need to equip students with the skills to confront discrimination and bring real awareness to the depth of diversity in this area.
"We are thrilled to give students an opportunity to grapple with the complex questions surrounding sexuality through a truly interdisciplinary approach that places real-world community engagement at its core."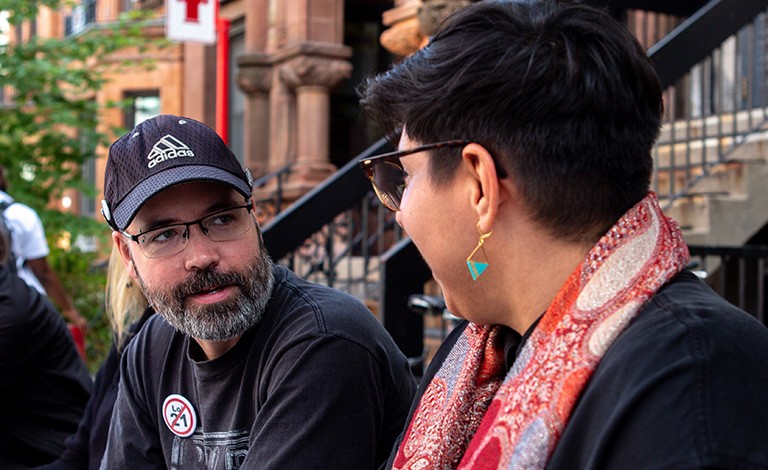 From left: Hugo Vaillancourt and Natalie Kouri-Towe.
'Our hope is to galvanize academic and community-based knowledge into social change'
As part of the new major, Marlihan Lopez joined the institute this year as undergraduate program and internship coordinator. Lopez mentors students, builds relationships with organizations working around sexuality issues and coordinates community outreach events.
"Having Marlihan, truly a trailblazing leader in the community, is an invaluable asset to our students and to the university. Her connections to local organizations working in a number of areas will support students in engaging in community-based knowledge and building bridges between academia and the community," Manning adds.
Lopez also assists students in finding a local organization to complete their practicum, a requirement of the program.
"The practicum placement gives students the chance to apply their academic skills outside of the classroom," she says.
"Students will acquire new knowledge, broaden their networks and collaborate on projects identified by the community organization that relate to sexuality. Through these collaborations, our hope is to galvanize academic and community-based knowledge into social change."
'I knew this program was for me'
Hugo Vaillancourt, one of the first students to enroll in the major this fall, has been a youth, addiction, family and housing worker for the past 15 years. He hopes to apply what he learns in the program to a career in sex education.
"From the moment I heard years ago that a Major in Interdisciplinary Studies in Sexuality was in the works, I knew this was the program for me," Vaillancourt says.
"The fact that it has queer studies and sexual diversity as part of its DNA aligns with my interests and values. I believe it will help me become a better educator and build my own brand of sex education — one that is frank, inclusive and goes far beyond what is taught in secondary school."
He adds that he is complementing his studies with a Major in Human Relations, with the aim of working in program development and implementation for non-profits and government in areas of sexual health and well-being.
The new major's areas of focus are expansive. They include the study of lesbian, gay, bisexual, transgender, transsexual, intersex, queer, asexual, heterosexual, pansexual, monogamous, non-monogamous and polyamorous lives at the intersections of feminism, gender, race, class, politics, culture and more.
Courses highlight Indigenous, Black, migrant, diasporic, transnational, decolonizing, postcolonial, disability and other critical frameworks through art history, film, biology, religion and sociology, among other disciplines.
"This major can shape the role and kinds of work graduates pursue after their studies," Kouri-Towe says.
"From working in community organizations to media and cultural events, students can integrate their knowledge of sexuality into a wide array of career paths. Many students will be interested in pursuing professional programs after completing their BA, bringing their knowledge of sexuality to the fields of law, health, social work and beyond."

Learn more about Interdisciplinary Studies in Sexuality at Concordia's Simone de Beauvoir Institute.

---