A Concordian is one of the world's 100 Most Influential People of African Descent Under 40
Simone de Beauvoir Institute coordinator Marlihan Lopez will be recognized in New York City following the opening of the 74th UN General Assembly
Marlihan Lopez arrived at Concordia's Simone de Beauvoir Institute in 2019 to begin her role as undergraduate program and internship coordinator for the Major in Interdisciplinary Studies in Sexuality, which officially launched this year.
And now the Black feminist activist and community organizer has arrived internationally, too.
Lopez was named one of this year's 100 Most Influential People of African Descent (MIPAD) Under 40.
When she learned about her inclusion on the list, Lopez says, "I was definitely surprised. There's a lot of people doing a lot of important work here in Quebec."
The MIPAD list was introduced in 2017 to help commemorate the International Decade for People of African Descent, 2015-2024, as declared by the United Nations. It celebrates high achievers in the public and private sectors around the world.
Lopez was selected in the humanitarian, activism and religious category; the other groupings are politics and governance, business and entrepreneurship, and media and culture.
She will join fellow recipients on September 27 at MIPAD's annual ceremony in New York City, in conjunction with the opening of the 74th United Nations General Assembly. That week Lopez will participate in a roundtable discussion, hosted by MIPAD, lauding Canada for recognizing the International Decade for People of African Descent.
"We'll be addressing discrimination and the systemic barriers that Black communities face in Canada, and addressing the need for government to adopt public policies that target issues affecting our communities," she says.
Lopez joins an impressive group on the 2019 MIPAD list, including Canadians Sandy Hudson, founder of Black Lives Matter – Toronto, and R&B and hip-hop artist The Weeknd.
Since 2017, MIPAD honourees have hailed from 60 countries and include music megastars Drake, Beyoncé and Rihanna and athletes P.K. Subban, Lewis Hamilton and Tiger Woods.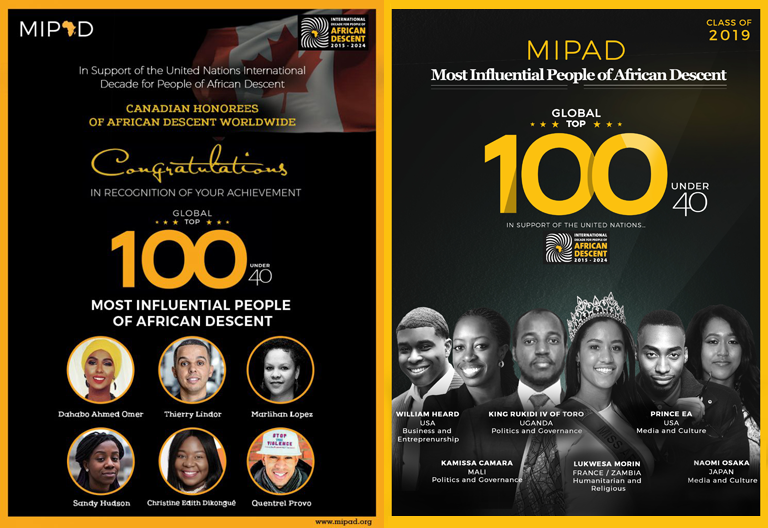 Activist, feminist and more
Lopez's MIPAD selection stems from her professional and volunteer contributions.
She is vice-president of the Fédération des femmes du Québec, where she has served since 2017. "The federation historically is the most important women's organization in Quebec," Lopez says.
"It brings together a number of women's groups and individual members throughout the province and does a lot of advocacy work throughout the province."
She was also president of the Fondation Paroles de femmes, a feminist organization for women of colour. "Our objective was creating a platform for racialized women to be able to express their experiences and needs."
Lopez has been able to bridge her social activism and work life. Prior to coming to Concordia, she was liaison agent and coordinator for the Quebec Coalition of Rape Crisis Centres.
"I worked with women's community organizations around issues relating to sexual violence. A lot of those organizations work with populations facing structural risk, such as LGBTQ people, immigrants and Indigenous people," she says.
"I also lobbied with other community and feminist groups for a law addressing sexual violence in universities and CEGEPs," she adds, referring to Bill 151: An Act to prevent and fight sexual violence in higher education institutions. "I had to work closely with various universities in Quebec."
When Lopez's contract ended earlier in 2019, she learned of the Simone de Beauvoir Institute position. "It included creating relationships with community organizations — and those organizations were the ones I already had relationships with at my previous job," Lopez says, which allowed her to hit the ground running when she started at Concordia.
Among other responsibilities, she advises students, does outreach with community organizations and builds relationships with organizations that work around sexuality.
"Marlihan Lopez is playing a central role in the transformation of the Simone de Beauvoir Institute," says Kimberley Manning, associate professor of political science and the institute's principal.
"Widely known and respected for her path-breaking leadership, she frequently gives talks at community and academic events and is connecting the institute with a multitude of local organizations. Perhaps most exciting, Marlihan is developing a vision of the next-generation university: open, accessible and centered in community-based knowledge."
Learning from motherhood
Lopez was born in Puerto Rico and raised in mainland United States. She headed north to pursue a master's in international studies in gender and development at the Université de Montréal.
After graduating, she moved to Cuba but returned to the city in 2015. "I came here the first time to do my graduate studies. I came back as a single mother, so it was different," Lopez says.
Motherhood has only strengthened her commitment to social justice, Lopez adds.
"I'm the mother of a young Black kid on the autism spectrum who has already faced a lot of discrimination. I think my experience as a mother plays a big role and has shaped the way I approach the work I do."

Learn more about Concordia's Simone de Beauvoir Institute and the new Major in Interdisciplinary Studies in Sexuality.
---