Concordia takes a modern — and modular — approach to temporary classrooms
The moveable learning space will meet faculty and student needs during renovations to the Henry F. Hall Building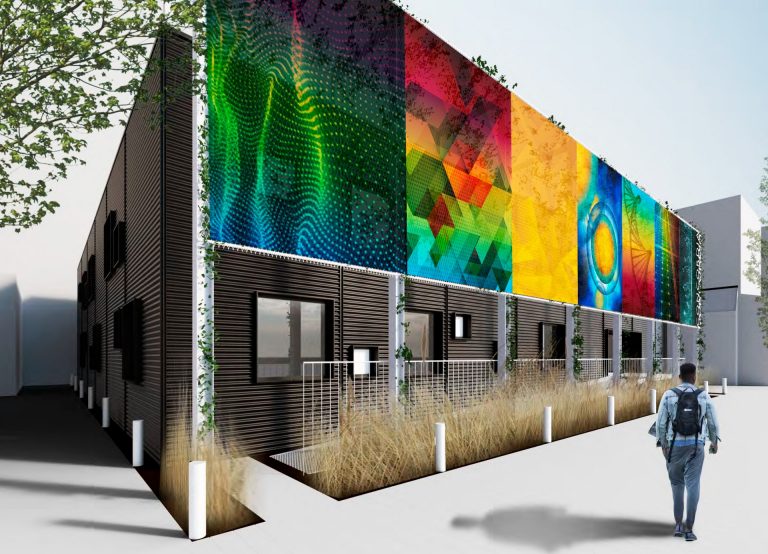 Concordia is getting ready to breathe new life into an old parking lot. Instead of cars, it will be used as a space for classrooms for hundreds of students and their professors.
In early 2020, the lot at 1535 De Maisonneuve Boulevard West will become the temporary location of the Learning Square. The facility will feature modular units tailored to the space but able to move to a new location, on Concordia land or elsewhere.
The Learning Square will serve students and faculty during five years of larger scale work on the Henry F. Hall Building. The effect of that work is a reduction in the number of classrooms available for courses.
"We are renovating four floors of a key downtown building, transforming it from its 1960s state into a brighter, more open space, better suited for modern teaching," says Anne Whitelaw, interim provost and vice-president, Academic.
"During that period, we need to ensure that students and instructors have the space they require."
The Montreal architecture firm Lapointe Magne & associés, which also reimagined the Grey Nuns Reading Room, is behind the design of the structure. It will have all the amenities of regular, modern classrooms and be integrated into the neighbourhood with a Concordia look and a green entranceway.
"The Learning Square will provide needed space and also act as a reminder that Concordia is a creative and adaptive community," Whitelaw says.
"We deal with urban issues by thinking outside the box — even if it means designing a cutting-edge box to resolve planning and engineering challenges."
Savings in cost and time
"The installation of the modular classrooms is a rethinking of how we undertake major projects," says Roger Côté, vice-president of Services.
"It will allow us to redesign entire floors of the Hall Building in one go. It may surprise some people, but designing and building the Learning Square will save us money and time — an estimated 18 months."
Work on the Hall Building goes far beyond improving the appearance and functionality of classes. Plumbing, electrical and mechanical infrastructure will also be upgraded.
However, that kind of work can lead to service interruptions which can potentially inconvenience students, staff and faculty.
"Modernizing the Hall Building is a complex and time-consuming process. Since we don't have classrooms sitting empty, we had to find new ways of ensuring that students and faculty have the spaces they need," Côté adds.
Before commissioning a design for the structure, the university researched the availability and cost of renting downtown spaces for classrooms. Given time constraints and high demand, building a temporary structure was found to be most cost-effective.
Furthermore, it was the only scenario that guaranteed access to suitable spaces and proximity to other Sir George Williams Campus buildings.
Meeting classroom needs, wherever they may be
Concordia's population has grown since the opening of the John Molson (MB) Building, its last major classroom addition, in 2009. At the same time, essential renovations mean space is tighter.
Many departments depend on access to Hall Building classrooms, so several are already feeling the squeeze. By early 2020, modular classrooms will bring some relief.
Once renovations to the Hall Building are complete, Concordia will decide on the fate of the modular units. The structure has been designed to be taken apart, moved and reassembled. That will allow the university to reuse it in a different location or sell it to another institution.
Because the current focus is on providing students with the space they need now, decisions about next steps will come later.
"We went into this process knowing it would provide us with options. The Learning Square gives us short-term agility," Côté says.
"I think it shows again how we really are a next-generation university."

Learn more about Facilities Management and service notices for the community.
---