Concordia grad student wins Canada's Three Minute Thesis Competition
Newsha Arezi takes top honours for her presentation on her research into the on-demand delivery of anti-cancer drugs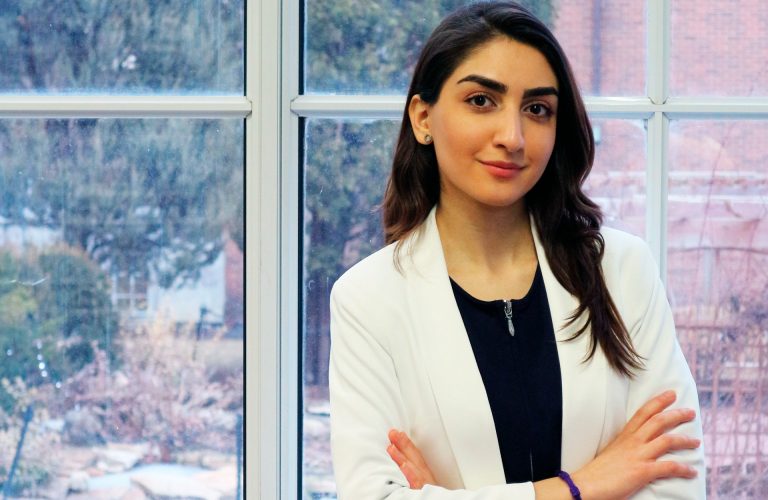 Concordia MSc student Newsha Arezi has won the national Three Minute Thesis Competition (3MT).
The annual contest, sponsored by the Canadian Association of Graduate Studies, challenges graduate students to summarize their complex research in easy-to-understand language, in just three minutes, in front of a live audience.
"The calibre of the candidates this year was truly impressive," said 3MT judge Nicola Luksic, a producer of the CBC radio program Ideas.
The other three judges on the panel were Alejandro Adem, chief executive officer and scientific director of Mitacs; Valerie Walker, vice-president, Talent and Skills with the Business Council of Canada; and Tom Howell, also a producer of Ideas.
They selected Arezi as the winner out of 12 finalists, who were in turn chosen from hundreds of participants from across Canada.
"Canada's 3MT was not a competition to me. It was an amazing, friendly challenge which gave me the opportunity to think outside of the box in order to explain my research project in simpler terms." says Arezi, who is completing her master's degree in the Department of Chemistry and Biochemistry.
"Every step of the 3MT journey was a learning opportunity, and helped with broadening my knowledge in many different fields of research, from history and psychology to computer science and biology."
In addition to a cash prize of $1,500, Arezi will attend the CAGS annual conference in Halifax in November 2019. Shruthi Budnar Subramanya, a master's student at the University of Alberta, finished in second place and will receive $1,000 for her presentation.
CAGS has yet to announce the People's Choice winner, which includes a $500 cash prize.
'Newsha communicated her passion'
Arezi's presentation, Deliver it to the right address, highlights her research into the development of smart polymeric micelles for on-demand delivery of anti-cancer drugs.
Today, cancer treatments involve unpleasant side effects because the delivery system used cannot distinguish between healthy and unhealthy cells. Arezi is developing a system of intelligent nano-carriers that target only cancer cells, minimizing the unpleasant side-effects of cancer treatments.
"We are so proud of Newsha and her great accomplishment," says Racha Cheikh-Ibrahim, coordinator of Academic Programs with Concordia's School of Graduate Studies.
"I believe that there is nothing more important for a graduate student than the ability to communicate their research effectively. Newsha was able to deliver her message and communicate her passion successfully, touching the heart of her audience."
"I would like to congratulate all the great participants this year, with their brilliant presentations, and I would like to thank the amazing GradProSkills team and the School of Graduate Studies at Concordia for all their guidance," she says.
The Iranian-born Arezi, an international student, adds, "I have to thank my parents, Marjan and Mohsen, because without their endless help and support I would not have made it this far."

Learn more about Concordia's GradProSkills and School of Graduate Studies.
---