Concordia researcher Newsha Arezi is a finalist in Canada's Three Minute Thesis competition
VOTE NOW: The grad student who wants to improve treatment and quality of life for cancer patients is also up for the 3MT People's Choice Award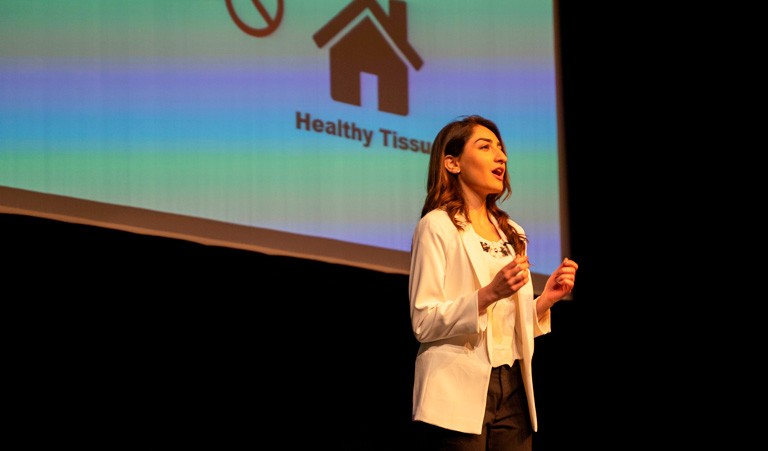 Every year, the Canadian Association for Graduate Studies challenges contestants to present their thesis research to a live audience in just three minutes.
Twelve presenters from competitions across the country were chosen as finalists — and Concordia's Newsha Arezi is one of them. They're also up for the 2019 3MT People's Choice Award, given to the student who receives the most online votes for their presentation video.
Voting is open until May 26.
Arezi, who is completing her master's degree in chemistry in the Department of Chemistry and Biochemistry, was inspired to compete after attending the 3MT competition at Concordia in 2018.
"I remember thinking to myself that it would be impossible for me to summarize my thesis in under three minutes and in easy-to-understand terms for a non-specialist audience! But I love challenges, so I decided to give it a shot in 2019!" she says.
"The 3MT competition proved to me that nothing is in fact impossible. It was a great exercise which helped me think about the bigger picture and the potential impact of my research on society. It taught me how to explain a complex scientific idea in a very simple way, by using every-day examples that everyone can relate to."
Arezi studies the development of smart polymeric micelles for on-demand delivery of anti-cancer drugs.
Today, cancer treatments have unwanted and unpleasant side effects because the delivery systems of cancer-killing drugs are unable to distinguish between healthy and unhealthy cells.
Arezi is developing a system of intelligent nano-carriers that target only the cancer cells, ignoring healthy cells and subsequently minimizing the unwanted side effects of cancer treatment.
This will result not only in more effective cancer treatments but also better quality of life for cancer sufferers.

Her 3MT presentation, "Deliver it to the right address," was the master's winner at Concordia and placed third in the Eastern Regional 3MT finals. The winner of Canada's 3MT competition, and the winner of the People's Choice Award, will be announced in early June.
---