From edible insects to the art of medical scans: Concordia's 2017 3MT competition
Meet the university's 5 winners — and find out who's going to regionals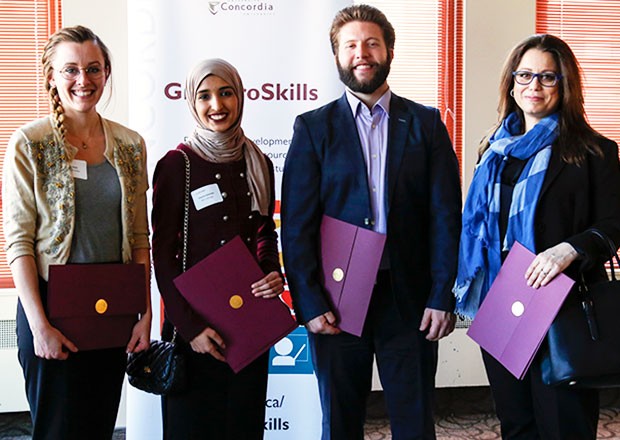 From left: PhD winner Darian Stahl, master's and People's Choice winner Deema Galambo, master's runner-up Jonathan Leclerc, PhD runner-up Nadia Naffi (absent: PhD People's Choice winner Laura Shine).

Imagine you had only three minutes and one slide to explain a complex research subject to a general audience. How would you do it?
Ask the graduate students who participated in Concordia's Three-Minute Thesis and Project Competition on March 23.
This year's edition saw 27 students from Concordia's four faculties and the School of Graduate Studies present their research to members of the university community. For the first time, the competition was also live-streamed on Facebook, allowing people to attend remotely.
"We thought it would be great to make the event more accessible," says Kristy Clarke, coordinator of GradProSkills, who hosted the event.
"We had a lot of international students participating, so this was an opportunity for their friends and family to watch them from home."

'We felt like we were in it together'
Darian Stahl, a PhD student in humanities, placed first in the doctoral competition for her presentation, "Life to Scans: The Intersection of Person and Pixel." She will represent Concordia at the Canadian Eastern Regional 3MT competition in Fredericton, New Brunswick on April 20.
"My research investigates how a fine art reinterpretation of medical scans can not only benefit a patient's agency and self-identity, but also create empathetic exchanges between them and their doctor," Stahl explains.
She credits the bonds she formed with the competition's other participants for her success.
"We felt like we were in it together. We had been through these coaching sessions as a group and it really felt like a small family of support."
The runner-up for the PhD portion of the competition was Nadia Naffi, educational technology student and one of Concordia's 10 Public Scholars.
She will represent Concordia with her presentation on depictions of migrants in social media at Ma thèse en 180 secondes, organized by the Association canadienne-française pour l'avancement des sciences (ACFAS). The competition takes place at McGill University on May 4.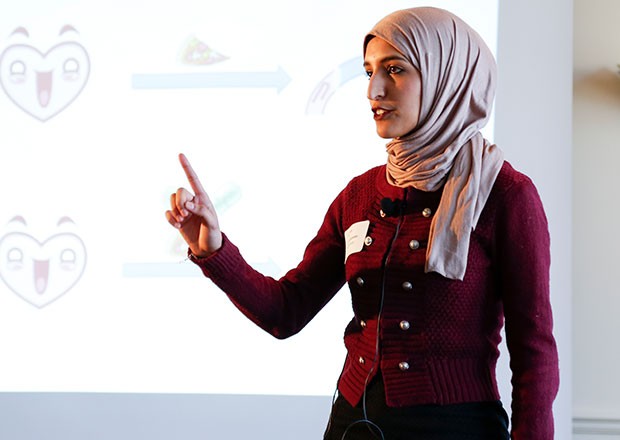 Deema Galambo: "3MT is a form of training that I would not get anywhere else."

'The public needs to know about my research'
Deema Galambo, a graduate student in biology, placed first in the master's competition and was given the People's Choice Award for her presentation, "The Molecule that Could Save Your Life."
For Galambo, taking part in the 3MT competition was not a spontaneous decision.
"I wanted to be in it for years," she says. "It's a form of training that I would not get anywhere else. It improved my communication skills and helped me convey what I am doing to the public."
Galambo's research into alleviating blood vessel blockages that cause heart attacks resounded with audience members and judges alike.
"Despite the work that has been done over the decades to prevent or treat cardiovascular diseases, heart attacks remain the number-one killer," she says.
"They account for 33 deaths every minute. I decided to take a different route in studying the disease by focusing on arresting the key stage of the disease's progression. I think that what I'm doing is really important and that the public needs and has the right to know about it."
The runner-up in the master's competition was marketing student Jonathan Leclerc for his presentation: "The Double-edged Impact of Emotion Expressions on Mate Attraction and Mate Selection."

'Think about your research in a different light'
Laura Shine, a PhD student in Humanities, won the People's Choice Award at the doctoral level for her presentation: "Edible Insects: From Foe to Food." She learned to set aside the fine details of her research while developing her three-minute presentation on the adoption of edible insects in non-traditional cultural contexts.
"Effectively communicating the main ideas of what you're working on is always a great skill to have," says Shine, before adding that anyone who's thinking about taking part in a 3MT competition should give it a try.
"You're going to benefit from it, even if it's just thinking about your research in a different light."

Watch all five winning Concordia 3MT presentations on the Concordia University Youtube channel.
---