StartUP Nations brings youth from 10 Indigenous communities to Concordia
Budding entrepreneurs will learn how to build a successful business relevant to their own social economies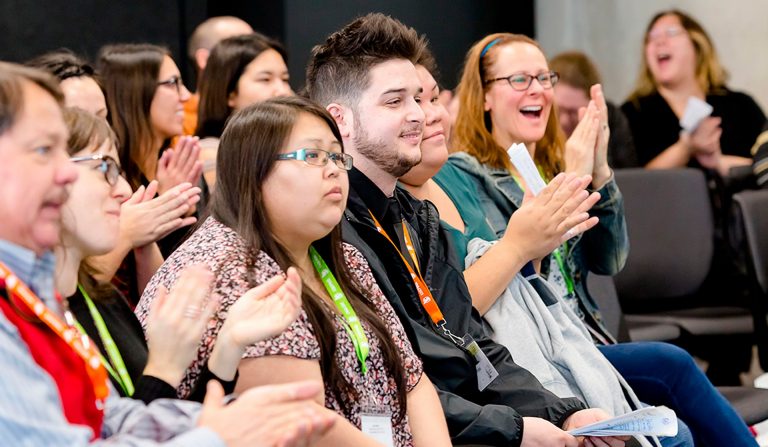 More than 50 Indigenous youth from across Quebec will come to Concordia to learn the tools for succeeding as entrepreneurs in their communities at the second edition of StartUP Nations.
The event, to be held at the university from May 23 to 25, aims to teach Indigenous teens and young adults about social and collective entrepreneurship and support them in becoming economic engines in their own contexts.
"We want to work with youth to develop some different projects that can help their communities," says Karine Awashish, the social economy advisor at the First Nations of Quebec and Labrador Economic Development Commission (FNQLEDC) and the event's founder.
"When I started developing StartUP Nations, it was to promote the social economy and to help youth learn the path to develop a project and the tools they need."
Teams of three to five students and their coaches will come from the Quebec, Manawan, Ekuanitshit, Pessamit, Mashteuiatsh, Mistissini, Uashat-Maliotenam and Listuguj communities to participate in the event. All the teams will be ready with ideas for projects they would like to pursue.
Indigenous role models
During the event, participants will learn about financing their ideas, communication and marketing, management skills and developing a business plan.
Discussion circles will be held with Viviane Chilton, an Atikamekw collective entrepreneur from Wemotaci; Mickel Robertson, the executive director of the FNQLEDC; Louis-Karl Picard-Sioui, an anthropologist and Wendat collective entrepreneur from Wendake; and Brooke Rice, an entrepreneur and community organiser from Kahnawake whose work focusses on food sovereignty and cultural preservation.
Rice is also vice-president of the Concordia University First Peoples Studies Members Association.
Concordia faculty were involved in helping to develop the StartUP Nations curriculum. Awashish says it was crucial that the program's teachers be Indigenous.
"It's important to have specialists from First Nations communities because the context and realities are different," she says. "And we wanted to give the youth different role models."
The participants will also get to show off the skills they learned on the final day, during the Rocket Pitch.
"We want to see if they have the skills and the ability to communicate their project," Awashish adds.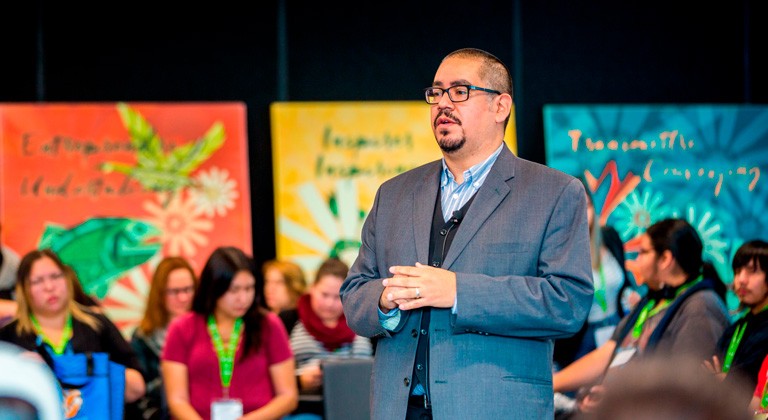 Kam'ayaam/Chachim'multhnii (Cliff Atleo, Jr.) delivered the keynote address at the event in 2017. | Photo: Emily Gan
Ongoing support
While the event is only three days, the participants will continue to receive support from the FNQLEDC after it concludes.
"StartUP Nations is just one of the steps in developing a project. It's an occasion to have the motivation to push things forward," Awashish says.
"A project might take one year to develop. It's important to have links to give more information or help the groups develop their ideas."
Concordia's Office of Community Engagement (OCE) is coordinating logistics, outreach to local partners and hiring Indigenous Concordia students to play a mentoring role.
"It will be an opportunity for students to give the participants a bit of help and welcome them on campus," says Geneviève Sioui, Indigenous community engagement coordinator for the OCE.
"The youth are coming from outside of Montreal, and some are coming from pretty far away. It will be nice to make them feel comfortable and at home."
'A great partner'
The university first got involved with StartUP Nations for its inaugural event last year. Anna Kruzynski, associate professor at the School of Community and Public Affairs, met Awashish and suggested hosting the event at Concordia.
"From the first day we had a very good relationship," Awashish says. "Concordia is a great partner."
Natasha Blanchet-Cohen, associate professor in the Department of Applied Human Sciences, will collaborate with both the First Nations of Quebec and Labrador Youth Network and the CDEPNQL to document examples of Indigenous youth entrepreneurship at StartUP Nations.
She is a recent recipient of a $1.1-million grant and a Youth Network Chair from the Fonds de recherche du Québec – Société et Culture (FRQSC) and the Secrétariat à la Jeunesse de Québec.
Concordia's involvement as a host sponsor fits in with one of its nine strategic directions, going beyond for members of its community. It is also in line with the Indigenous Directions Action Plan to decolonize and Indigenize the university. StartUP Nations is also made possible through support from the Chantier de l'économie sociale, the Secrétariat à la jeunesse and the Réseau Jeunesse des Premières Nations du Québec et du Labrador.
"We also want to use StartUP Nations as a recruitment opportunity. The youth will be able to make connections while they're here," Sioui says.
"One of the goals of the Action Plan is to recruit and retain more Indigenous students at Concordia, which ties in with our other priorities, like building out our Indigenous content."

Find out more about StartUP Nations.
Read Concordia's Indigenous Directions Action Plan.
---