Concordia hosts Sustainability in the City and Beyond, a free conference open to the public
A new partnership with the Institute for Urban Futures incorporates art into shaping a more just future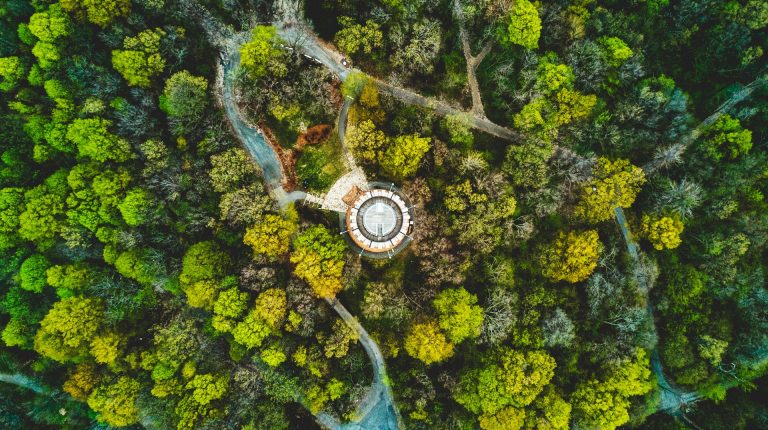 The world's population is concentrating more and more into urban areas — by 2050, 68 per cent of people will live in cities.
The Loyola College for Diversity and Sustainability and the Loyola Sustainability Research Centre in Concordia's Faculty of Arts and Science are exploring a path forward with their annual conference, Sustainability Across Disciplines, taking place March 19 to 21. This year's theme is Sustainability in the City and Beyond.
Now in its third year, this cross-faculty conference includes researchers and graduate students exploring a variety of topics related to sustainability. A university-wide collaboration since its inception, this year marks a new partnership with the Institute for Urban Futures.
"I'm continually impressed with the breadth of perspectives that the Concordia community brings to this conference," says Raymond Paquin, principal of the Loyola College for Diversity and Sustainability and interim director of the Loyola Sustainability Research Centre.
"This is truly a space for the community to engage with Concordia's research related to sustainability in a dynamic and inspiring setting."
The role of art in sustainability
Shauna Janssen, director of the Institute for Urban Futures, agrees.
"This conference is a great platform for building cross-disciplinary exchanges between faculty and students," she says.
"Our artist researchers are engaging with sustainability issues like climate justice, waste, the ecological commons, socioeconomic sustainability and practices of urban care through the arts."
In addition to Concordia scholars, the conference also includes representatives from the Nature Conservancy of Canada, the David Suzuki Foundation, Vivre en Ville and the Communauté métropolitaine de Montréal.
The event takes place on the Loyola Campus on March 19 and 21 and on the Sir George Williams Campus on March 20.
Conference coordinators Rebecca Tittler and Alex Tigchelaar offer this handful of highlights:
Performance/storytelling
Tuesday, March 19 (two performances: 11 a.m. and 3:15 p.m.)
Suzanne Kite
Lakota-Sys (L-Sys), Listener, 2018. Digital video
Loyola Campus
In this science fiction performance piece, a woman wanders alone in the future, receiving transmissions from the Far Place on her listening devices. During the live performance, Kite uses a hair-braid with sensors to control sound and video to explore how a Lakota understanding of hair can affect technology design and what a Lakota data visualization interface could look like.
Discussion
Wednesday, March 20, 9:30 a.m.
With Jochen Jaeger, Naghmeh Nazarina, Mehrdokht Pourali and Craig Townsend
What is Urban Sprawl and Why Does it Matter?
This panel discussion examines how urban sprawl in Montreal and Quebec City has been a rapidly growing problem since the 1980s. In Montreal, urban sprawl has increased exponentially in the last 30 years, doubling every 15 years. Current decisions on urban development, panellists explain, will lock future generations into a city structure that will affect their quality of life and automobile dependence, as well as the state of the natural environment, availability of agricultural land and more.
Discussion + workshop
Wednesday, March 20, from 10:30 to 11:30 a.m. and from 11:45 a.m. to 12:45 p.m.
Panel Discussion and Workshop on Urban Sprawl in Montreal
The main goal of this discussion and workshop is to bridge the gap between Concordia researchers, government agencies and local NGOs in order to find better ways to work together to address the issues of urban sprawl and its consequences. Each participant will briefly present how their current work is related, or is affected by, urban sprawl. Through their presentations, the participants will create a mind map to identify the connections between urban sprawl and the presenters' practical work and research, revealing opportunities for collaboration.
Discussion
Wednesday, March 20, 2 p.m.
Facilitated by Shauna Janssen and Alex Tigchelaar
Long Table: The Role of Art in Shaping Environmental and Social Sustainability
Sir George Williams Campus
The Long Table brings people together on an even playing field to engage in public conversations on important issues. Attendees are invited to participate in a collective discussion on the potential and critical role that art and artists play in shaping environmental and socially sustainable practices.
Keynote addresses
Thursday, March 21, 11:30 a.m.
Carly Ziter, assistant professor of biology
Effects of Landscape Structure, Historical Land-use and Biodiversity on Urban Ecosystem Services
Loyola Campus
Ecosystem services are defined as the myriad benefits that humans gain from the natural environment and healthy ecosystems. In this period of rapid urban growth, the ecosystem and ecosystem services are changing. In this keynote, Ziter looks at how we can work toward more sustainable, liveable cities through understanding where there are opportunities to support ecosystem service provision.
Thursday, March 21, 2 p.m.
Marc Johnson, University of Toronto Mississauga
The Importance of Preserving and Enhancing Nature in the Urban Jungle
Loyola Campus
We are living in an increasingly urbanized world, with 82 per cent of Canadians and more than half of the world's population living in urban areas. In this talk, Johnson examines how urbanization alters our environments and answers three specific questions: Can we make cities kinder on the environment? Can we make cities healthier for humans? And, finally, what can we do to help promote healthier urban environments for all life?
Artmaking
Tuesday, March 19, 3:30 p.m.
Art Hives: Public Practice Arts for Sustainable Cities
Loyola Campus
Come play and experiment with creative reuse materials at this pop-up art hive presented as part of the conference. Attendees can prototype the sustainable city of their dreams at the sand table and share ideas with others as they engage in a collective creative process.

Admission to Concordia's Sustainability in the City and Beyond conference is free but registration is required. View the full schedule and register here.
---