U.S. National Academy of Inventors honours first-ever Quebecer
Concordia researcher Muthukumaran Packirisamy will be elected a Fellow of the prestigious American organization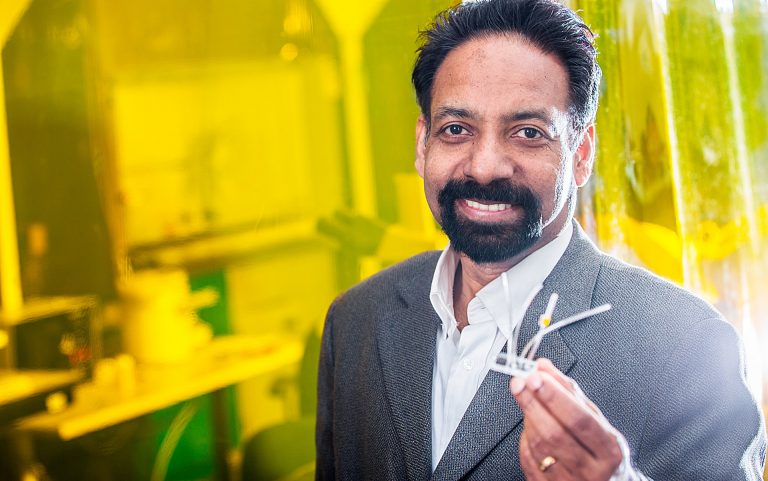 The US-based National Academy of Inventors (NAI) is honouring a prolific Concordia researcher for his innovative life's work with an induction into its esteemed scientific academy.
Muthukumaran Packirisamy, a professor in the Department of Mechanical, Industrial and Aerospace Engineering at Concordia's Gina Cody School of Engineering and Computer Science, will become a NAI Fellow at a formal induction ceremony on April 11 at Space Center Houston in Houston, Texas.
Packirisamy will be the 11th Canadian researcher to join the Academy, and the first from Quebec.
"As one of the few Canadians to become a member of the National Academy of Inventors, I feel this is a great honour and a privilege," says Packirisamy.
Packirisamy heads the Optical-Bio Microsystems Laboratory, ConSiM (Concordia Silicon Microfabrication facility) and Micro Nano Bio Integration at Concordia, working primarily in micro and nanotechnologies.
His work focuses specifically on Lab-On-a-Chip (LOC) technology, which miniaturizes and integrates several functions traditionally completed in a laboratory onto a tiny physical platform that can fit comfortably in a person's palm.
There are significant real-world applications for his research, spanning a broad range of industries. With roughly 20 patents to his name, Packirisamy says LOC technology involving microfluidics, micromechanics and microphotonics can be used for physical, biological and chemical applications.
Among them is the "bringing hospital to home" concept. Using LOC, patients in remote locations can use sensors on one of his chips to take critical health readings and send the data to doctors who cannot reach them easily. Another equips drones with sensors to measure air pollution in different parts of a city. Still more look at converting blue-green algae into electricity via photosynthesis or developing aircraft nanomaterials.
"Professor Packirisamy is a leading innovator not only within Concordia but among all Canadian universities," says his nominator Meyya Meyyappan, the chief scientist for exploration technology at NASA's Ames Research Center and the recipient of an honourary doctorate from Concordia this past June.
"He has successfully transferred many of his inventions from the lab to big and small companies in Canada and elsewhere. The mission of the National Academy of Inventors is to promote innovation and commercialization from academia. Thus, Professor Packirisamy richly deserves this recognition based on his achievements."
"Our faculty members at the Gina Cody School of Engineering and Computer Science are focused on achieving excellence in teaching, research, discovery and innovation," says Amir Asif, dean of the Gina Cody School.
"Packrisamy is a perfect role model who excels in all aspects of being a university professor. Receiving a Fellowship from the National Academy of Inventors is a further testament to his contributions for the betterment of society through industrial collaboration, responsible innovation and knowledge transfer to solve everyday problems."
A passion for invention
Packirisamy credits Concordia for continued support and its Office of Research for helping him successfully make his inventions a reality.
"An invention begins with an idea that has value for society, as well as potential commercial value," he says. "The Partnerships and Innovation unit of the Office of Research is instrumental in bringing the invention along the path to patenting and finding partners for commercialization."
On a personal level, his election to Fellow of the National Academy of Inventors means a great deal to Packirisamy.
"I love to invent," he says. "I get great happiness from affecting society in a positive way. If my inventions help companies in Canada and Quebec become successful, I will really feel good."

Find out more about the Department of Mechanical, Industrial and Aerospace Engineering at Concordia.
---