'The highest honour': 2 Concordians join the Canadian Academy of Engineering
The CAE inducts researchers Muthukumaran Packirisamy and Radu Zmeureanu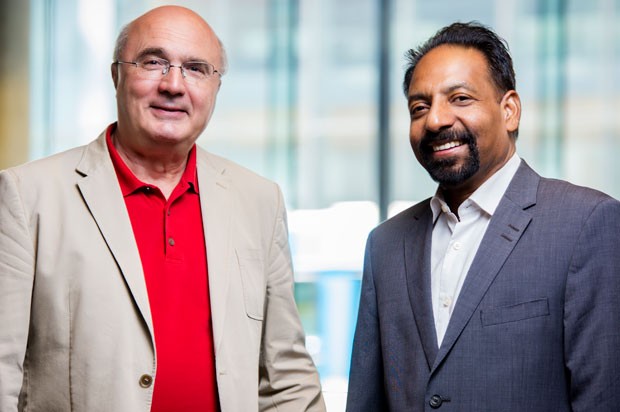 From left: Radu Zmeureanu and Muthukumaran Packirisamy

Researchers Radu Zmeureanu and Muthukumaran Packirisamy are the most recent Concordians to become fellows of the Canadian Academy of Engineering (CAE).
They were inducted during CAE's annual meeting last night, June 26, in Ottawa.
The academy elects its members to honorary fellowship based on their distinguished achievements and career-long service to the engineering profession. All fellows have made significant contributions in new and developing fields of technology.

An authority in building energy analysis
"I am honoured by the vote of members of the CAE," says Zmeureanu.
"The CAE plays an important role providing expert advice to government," he adds. "As a new fellow, I will be able to contribute to the academy's activities, debates and planning on issues of critical interest to Canadian society."
The engineer, researcher and teacher has published almost 300 peer-reviewed papers and supervised the research of more than 40 graduate students.
A professor in Concordia's Department of Building, Civil and Environmental Engineering, Zmeureanu is considered an authority in the energy analysis of buildings. His contributions include developing sophisticated computer modelling software for several major buildings both in Canada and around the world.
Hydro Quebec, Natural Resources Quebec, Bell Canada, and the City of Montreal have all used his modelling techniques. Internationally, Zmeureanu has collaborated with organizations such as the United Nations and the World Bank on developing national energy strategies.
He is also a life member with the American Society of Heating, Refrigerating and Air-Conditioning Engineers (ASHRAE) and a fellow in the International Building Performance Simulation Association (IBPSA).

A pioneer in photosynthetic energy
"I am highly delighted to be receiving this award, the highest honour for an engineer,"" says Packirisamy, a professor in the Department of Mechanical, Industrial and Aerospace Engineering, who is being recognized for his pioneering work in nanobiotechnology.
"Not only do I feel privileged to be named a fellow, I am also humbled by the professional stature of this elite club," he says. "I am deeply touched and I thank my nominator, supporters and the academy for their trust in me."
After an eight-year career in the aerospace turbine industry, Packirisamy turned his attention to microsystems and nanobiotechnology, establishing the world-class Optical-Bio Microsystems Laboratory at Concordia.
He has received a lot of attention for his work in energy harvesting from algae through micro photosynthetic power cells. His research has also been commercialized through patents and successful startup companies.
Packirisamy has previously received fellowships with the Royal Society of Canada's College of New Scholars, the American Society of Mechanical Engineers (ASME), the Canadian Society for Mechanical Engineering (CSME) and The Institution of Engineers (India) (IEI).
Zmeureanu and Packirisamy join a distinguished list of Concordia faculty who are CAE fellows, including Osama Moselhi, Nabil Esmail, Theodore Stathopoulos, Robin Drew and Andreas Athienitis. Honorary doctorate recipients Pierre Lassonde and Bernard Lamarre also hold membership.

Learn more about the departments of Mechanical, Industrial and Aerospace Engineering and Building, Civil and Environmental Engineering at Concordia.
---