Concordia researchers create a miniaturized cancer killer
Professor Steve Shih and his team developed a method to fight the disease at the genetic level — one that may lead to a revolution in patient care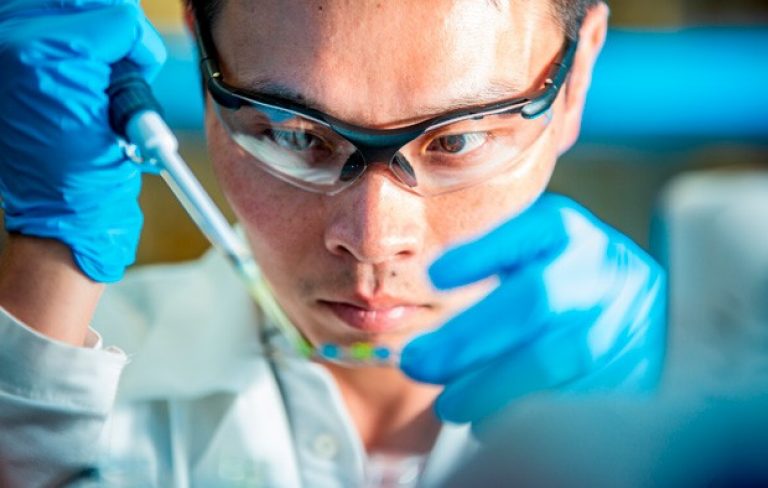 Steve Shih is not afraid to think big — even if it means operating at the tiniest possible level of gene editing.
His goal is nothing less ambitious than eradicating cancer. And he thinks he and his students have discovered an important way to get one step closer to achieving it.
Shih, an assistant professor of electrical and computer engineering in Concordia University's Faculty of Engineering and Computer Science and with a cross-appointment in biology, is also the founder of the Shih Microfluidics Laboratory.
His team created a system that integrates the automation of complex biology experiments to find genes that are related to cancer and kill them before they develop into the disease.
The system is described in a paper published last July by the journal Lab on a Chip.
"Finding genes related to cancer is already very difficult," he says.
"It's like finding a needle in a haystack, especially with current methods. But hopefully, with this new method, we can expedite the whole process and rapidly find the culprit genes."
Finding the genes is one thing. Preventing them from causing cancer is another.
To do that, Shih's team uses CRISPR—"Clustered Regularly Interspaced Short Palindromic Repeats"—a genetic engineering technique that uses a Cas9 protein (essentially a pair of 'programmed genetic scissors') to find a cancer-causing gene and essentially snip it out of the DNA and replace it with a healthier one.
"Once both ends of the gene are snipped, it degrades to the point where we won't have it anymore," says Shih.
"Now that gene won't be able to go through pathways that cause cancer. To be able to do that on a typical platform is very difficult, because we're dealing with very static, very manual techniques," he continues.
"By doing this in an automated way, and by also miniaturizing the scale which we're working on, we're able to expedite the whole process. Instead of looking at this process as a matter of weeks, we can look at it in a matter of days."
The paper's authors — Hugo Sinha, Angela Quach, Philippe Vo and Shih, all affiliated with Concordia's Centre for Applied Synthetic Biology — created the first digital microfluidic method that automated arrayed gene editing in mammalian cells.
This involves using tiny amounts of fluid to culture lung cancer cells for up to six days, while at the same time automating gene transfection and knockout procedures.
The whole automation and miniaturization process that they have developed has not only saved them lots of time, but it has also slightly increased the efficiency of the knockout procedure itself.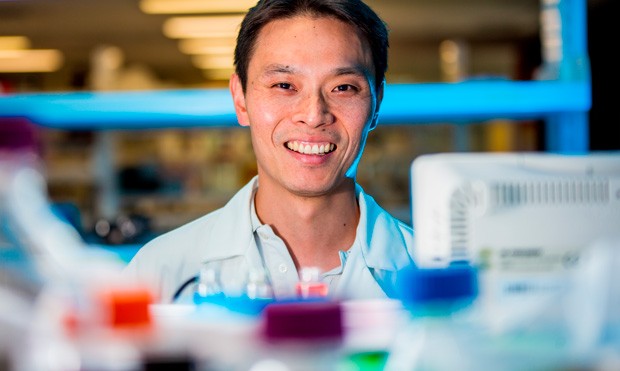 Making it personal
For Shih, the quest to kill cancer has a personal aspect, and he believes his work will have direct material benefits for people diagnosed with cancer.
"I know a couple of people with breast cancer, which is far too many," he says.
"But the treatments they get are essentially the same. One person with breast cancer might be able to handle the treatment well, but for another, the treatment won't work."
He hopes his project will contribute to the development of personalized platforms for treatment based on their genetic makeup. That platform would be easily transferable and can be set up in any kind of lab or hospital.
In fact, Sinha has since graduated and has started a company called DropGenie that will create gene-editing platforms to bring this idea to fruition.
CRISPR is not new (though it remains controversial in the research community), nor is the field of microfluidics. But Shih believes we are only now beginning to tap into its benefits.
"There still isn't a killer application for microfluidics, but I think we've found it," he says.
"I think we found that we can use these miniaturized platforms for something that can really save people's lives down the line. That's why I say it can be a killer app: because hopefully, we'll be able to eventually kill all cancer cells."
Partners in research: The study was made possible thanks to funding from the Natural Sciences and Engineering Research Council, the Fonds de Recherche Nature et technologies and the Canadian Foundation of Innovation Funding, with assistance from Concordia University's Undergraduate Student Research Award.

Find out more about synthetic biology research at Concordia.
---