Design challenge to make Montreal more accessible culminates today in public showcase
Over the past 3 months, 10 teams of activists, engineers, designers worked to address specific disability-related mandates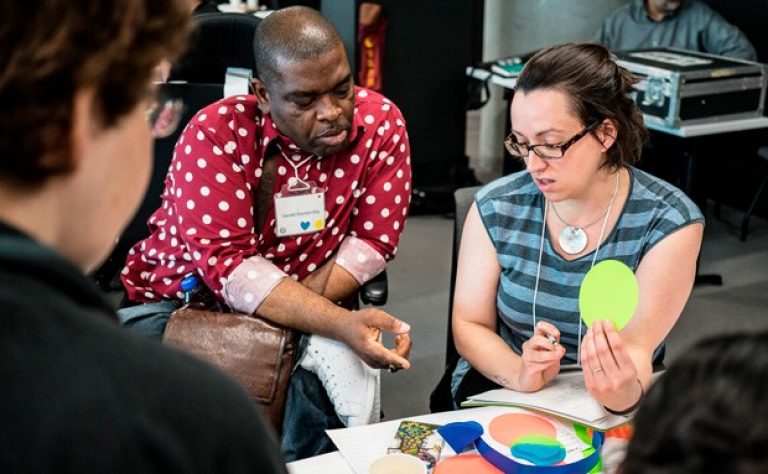 Dozens of participants in Enable Montreal, a non-competitive design challenge, are unveiling their solutions to some of the obstacles faced daily by people living with disabilities.
Enable Montreal was launched in March by Concordia's Office of Community Engagement in partnership with the Maison de l'innovation sociale (MIS), SHIFT (Concordia's social innovation hub), the Critical Disability Studies Working Group, Independent Living—Montreal and District 3.
The challenge culminates today with a public showcase at Concordia. The university's president, Alan Shepard, and Rosannie Filato, the city council executive committee member responsible for social and community development, will both speak at the event.
Over the past three months, 10 teams — composed of disability rights activists, engineers, designers, professionals and Concordia student and faculty — worked on prototypes designed to address specific disability-related mandates.
These include:
Educate municipal officials about the importance of accessibility

Inspire future leaders to build an accessible city

Make restaurants and cafes more accessible to people with limited mobility

Ensure that people living with physical disabilities will be able to escape a building safely and rapidly during an emergency

Improve the city travelling experience for people living with disabilities, including hearing loss

Facilitate campus navigation for people living with physical disabilities

Make the job market more accessible and inclusive

Identify fully accessible Montreal businesses more easily
Ideas that go beyond campus
For many of the participants, Enable Montreal will not end with the unveiling of their solutions.
The Office of Community Engagement and MIS have committed to providing the projects with financial and resource support through to October 2018. This support will help the solutions find markets after the exhibit. The hope is to expand the projects to give them universal applicability.
Shawn Wilkinson, a lecturer in Concordia's Department of Applied Human Sciences, and his team developed a multi-platform, part-digital, part-physical system that would make the university's campus more accessible to people living with physical disabilities.
"I believe education should be a basic right for all individuals and that's what piqued my interest around campus accessibility," Wilkinson says.
"Post-secondary institutions can play a major role in helping to revolutionize the way we view accessibility and how we create accessible spaces."
Other solutions on display will include a system of guiding tools installed in the Montreal Metro for people with hearing and vision impairments, using Vendôme metro station for a pilot project; an inclusive dining club for people with disabilities who will be assisted by an "accessibility host"; building evacuation plans printed in braille, and more.
Members of the media are invited to a private tour of the showcase beginning at 11:30 a.m. Participants will deliver brief pitches of their solutions and will be available for interviews.
What: Enable Montreal
When: Friday, June 8, 12:30 p.m. – 2:30 p.m.
Where: Room MB-9 in the John Molson (MB) Building (1450 Guy)
Find out more about Enable Montreal or watch a video of Enable Montreal participants and organizers discussing their experiences.
---