Canadian Space Agency awards $200,000 to Concordia team to create and launch satellite
Khashayar Khorasani leads team of 10 professors and 25 students in Canadian CubeSat Project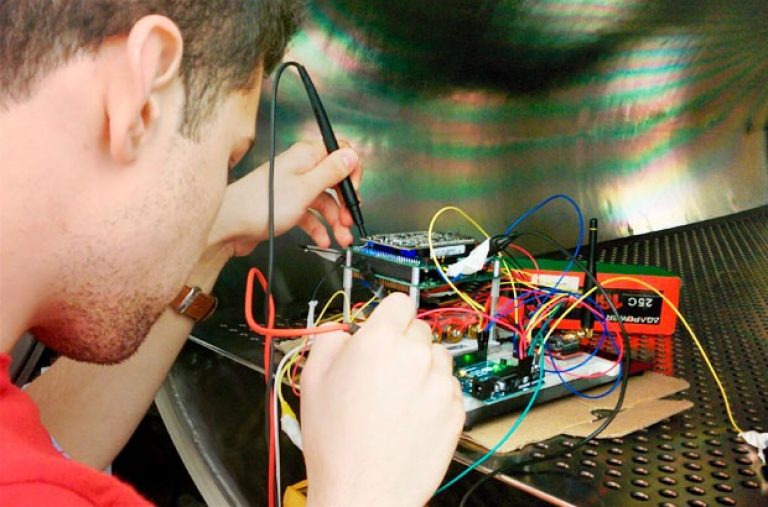 Concordia's engineering and computer science students who have always dreamed of taking part in a real space mission now have an opportunity to make it happen.
As part of the Canadian CubeSat Project (CCP), the Canadian Space Agency (CSA) has awarded $200,000 to Concordia engineering professor Khashayar Khorasani to lead a team of 10 professors from across the Faculty of Engineering and Computer Science and over 25 graduate and undergraduate students from Space Concordia through the process of creating and launching a satellite.
The announcement was made today at the University of Manitoba in the presence of Jenni Sidey, a Canadian astronaut. The CSA awarded 15 grants, ranging from $200,000 to $250,000 each, to post-secondary institutions across the country.
Next-generation space leaders
The goal of the CCP is to give engineering trainees the opportunity to gain hands-on aerospace experience and to develop skills that will make them stand out when they enter the job market.
"This is once-in-a-lifetime opportunity for Concordia students to take part in a real space mission," says Khorasani, who is also a Concordia University Research Chair in Electrical and Computer Engineering.
"Through the CubeSat Project, the Canadian Space Agency is giving students the chance to push boundaries, innovate, and advance science excellence, positioning them to become the next generation of space innovation leaders."
A CubeSat is a tiny satellite made up of 10 cm x 10 cm x 10 cm blocks. Once tested and ready for space, the 15 CubeSats will be launched and deployed from the International Space Station in 2020 and 2021. Throughout the three-year project, experts in the Canadian space industry will guide teams through each CubeSat mission and help them succeed.
The Concordia CCP project has two main objectives. The first is to test an imaging instrument to collect data on dust measurements and study the effect of climate change in the Kluane Lake region. The second goal is to evaluate the viability of a new electronic component that shows better resistance to the harsh conditions of space that could improve the cost effectiveness and performance of future CubeSat computers.
"This opportunity will ultimately prepare students to transition into the Canadian space industry and its workforce, effectively training us as the next generation of space engineers and scientists," says Zaid Rana, one of the participating students and a member of Space Concordia.
"It's pivotal for fostering various soft skills as well as technical developments that will advance our careers. It also places considerable merit in developing lines of communication across the Canadian and international space community."

Learn about research and teaching initiatives in aerospace at Concordia.
---