Equipment and Video Depot
Room: EV 6.621, Telephone: 514-848-2424 ext. 5946

The Equipment and Video Depot on the 6th floor of the EV Building is the hub of IMCA's facilities. The depot is overseen by IMCA coordinator Benoit Chaussé, and staffed by workstudy students who provide technical assistance with student projects, equipment and editing. IMCA students can access video cameras, audio recorders, including lighting kits and other equipment to realize their projects.
Book a room
Download the booking policy
Production Studio
Students have access to the 6th floor IMCA Production Studio for video and sound production, as well as performances and critiques. The production studio measures 1300 square feet and contains an extensive grid, professional lighting and grip equipment. Green screen (chroma-key), large white paper backdrop and black velvet curtain backdrops are available. The green screen includes a built-in cyclorama.
Editing Suites
IMCA's seven private video editing suites support video production classes and student projects. Extended-hours access is granted to all students enrolled in a video production class.
Analog Suite / Dub & Transfer
The Analog Suite supports students in working with older video formats such as mini dv, vhs, hi-8 and even betacam. A range of specialized and classic equipment is on hand to digitize older formats for regular non-linear editing, or for students to try their hand at analogue video mixing.
Hybrid Lab
The hybrid lab classroom supports the study of electronics, programming and screen-based digital art practice. The lab is equipped with computers, basic electronics gear and soldering equipment for each student.
Electronics Lab & Individual Studios
Staffed by technician Roby Provost Blanchard, the Electronics lab is a shared space where student can work and present their work in electronics, programming or robotics. The Electronics Lab includes a large ceiling grid, an industrial sink and a compressed air regulator. Four individual studios, including a screening and a black room, and a soldering workshop are are also available for students enrolled in IMCA classes.
Edit suite. Photo by Anne-Renée Hotte.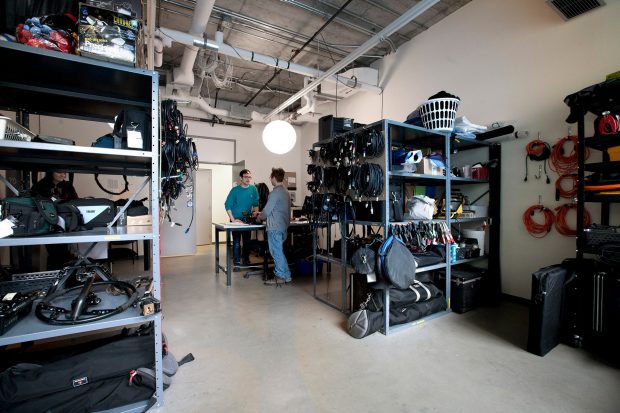 Equipment depot. Photo by Anne-Renée Hotte.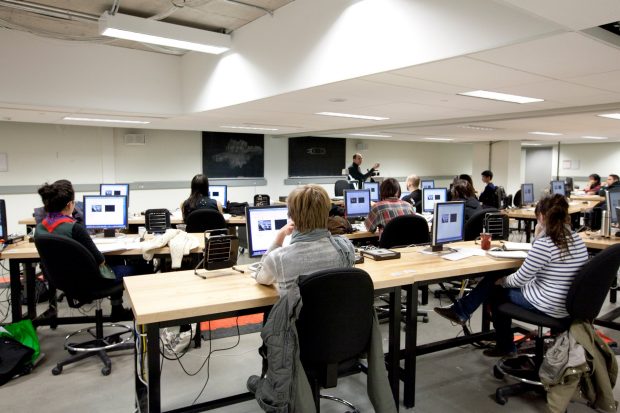 Hybrid Lab. Photo by Anne-Renée Hotte.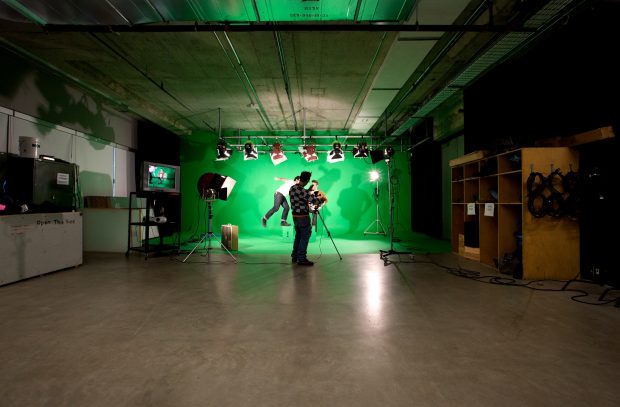 Production studio. Photo by Anne-Renée Hotte.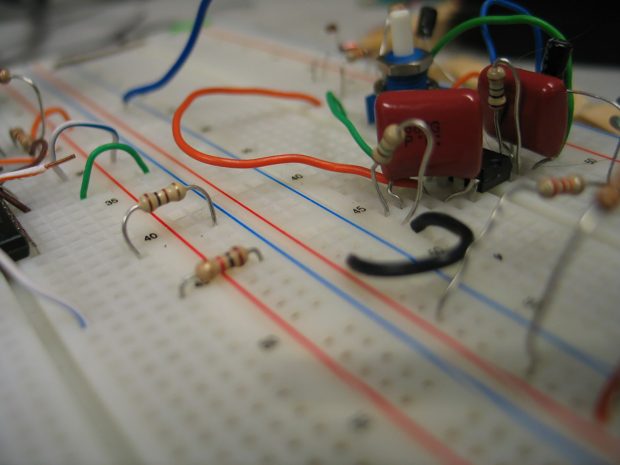 Electronics for artists, circuit on breadboard. Photo by Anne-Renée Hotte.