'Ken's generosity is making a significant difference in the lives of our students'
New gift of $1 million to the Campaign for Concordia bolsters Kenneth Woods Portfolio Management Program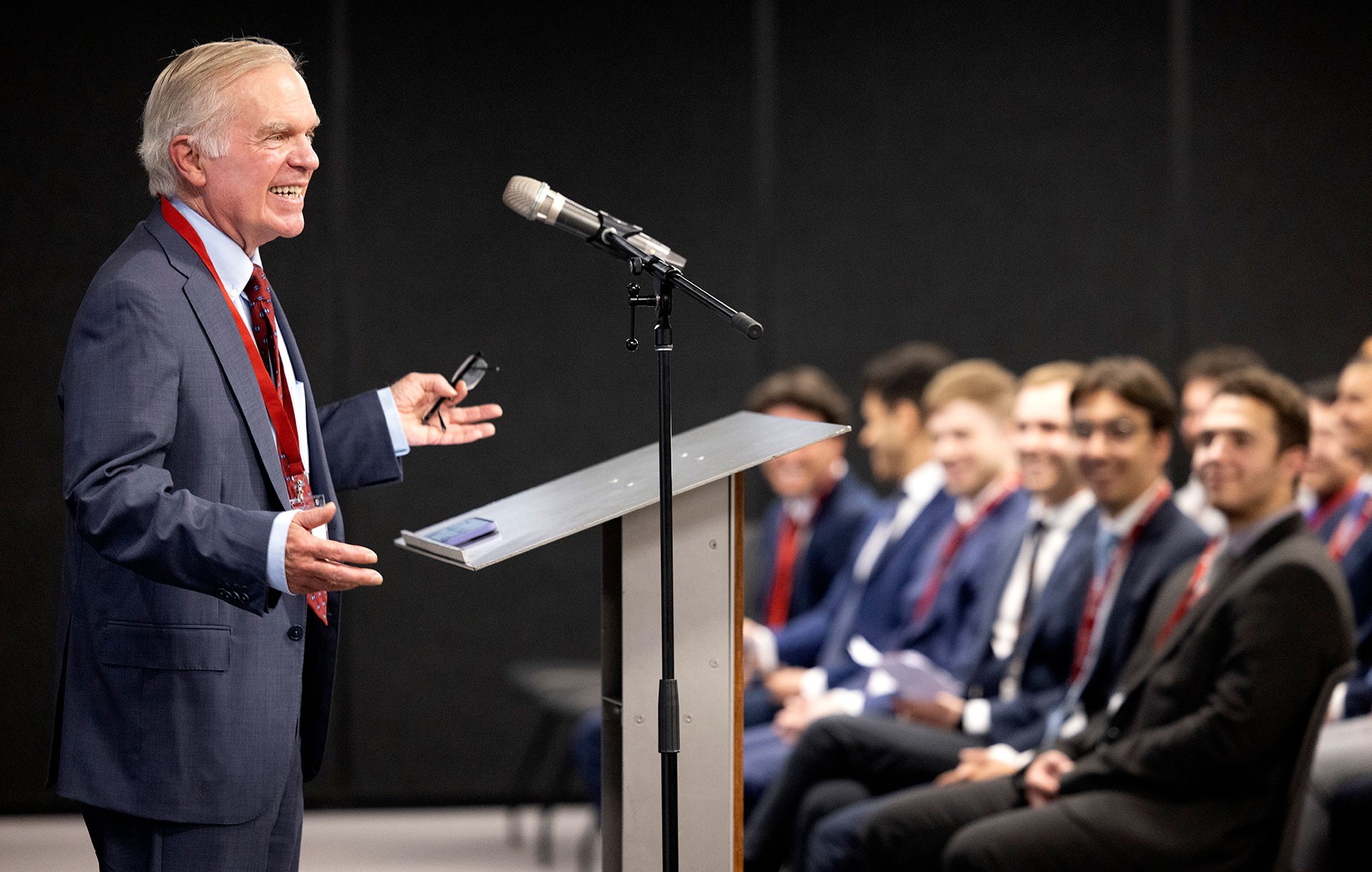 Kenneth Woods, MBA 75, LLD 17, attended his namesake program's graduation event in May 2022.
More than two decades after he helped shape finance education at the John Molson School of Business, Vancouver-based graduate Kenneth Woods, MBA 75, LLD 17, has bolstered his legacy at his alma mater with a new gift of $1 million to the Campaign for Concordia: Next-Gen Now.
Thanks to the new round of support from the investor and philanthropist, the portfolio managed by finance students enrolled in the two-year Kenneth Woods Portfolio Management Program (KWPMP) now stands at more than $5 million.
"The Woods program is a tremendously effective and innovative example of experiential learning in action," says John Molson dean Anne-Marie Croteau. "Ken's vision and wisdom have benefitted more than 150 John Molson students who have come through the program, and our community takes pride in how this standout alumnus has empowered the next generation of finance professionals."
KWPMP director Sukyong Yang is grateful for Woods's continued, hands-on involvement.
"This new gift will enable us to enhance the portfolio-management learning experience through enrichment and special initiatives. In addition, each research associate and fund manager, so long as they meet the program's requirements, will now receive $6,000 in financial support over their tenure in the program.
"Once again, Ken's generosity is making a significant difference in the lives of our students as they seek to embark on meaningful careers."
After a remarkable career that began at Touche Ross, the accountancy firm that later became Deloitte & Touche, and culminated at T.A.L. Global Asset Management, Woods helped establish the KWPMP in 2000 with an endowment of $1 million.
A first in the province of Quebec, the program had two goals in mind: to give a handful of select students the opportunity to manage a portfolio of investments, with guidance and mentorship from an experienced client committee, as well as valuable internship experiences to help meet a demand for more entry-level professionals in finance.
Members of the rigorous program have been named Rhodes Scholar finalists and John Molson valedictorians, and have excelled on the case-competition circuit. Graduates of the KWPMP, known as Calvin Potter Fellows in honour of Woods's mentor at Concordia, have also gone on to distinguish themselves at top firms on Bay Street, Wall Street and beyond.
"What I find unique about the Woods program is that it went beyond just the techniques of analysis and philosophy-based investment," Donald Walcot, a respected investment industry veteran and former client committee member, once remarked. "It actually went into the management side of it. So what I think is so fantastic about the program is that we've had a steady group of absolutely top-notch finance students doing actual, real-world portfolio management and risk management."
Adds Paul Chesser, BA 94, GrDip 97, vice-president of Advancement: "Ken Woods is an exemplary alumnus and donor. Over the course of more than two decades, he and his wife Anne have encouraged our finance students with generous financial support. Ken has also given hundreds of hours of his time to mentor students and help guide the portfolio management program that bears his name. We thank the Woods family for their advocacy, leadership and long-standing commitment to Concordia."
---