Author Patterson Webster plants thoughtful seeds in Autobiography of a Garden
Concordia experience 'really made a difference in my life' says the creative writing alumna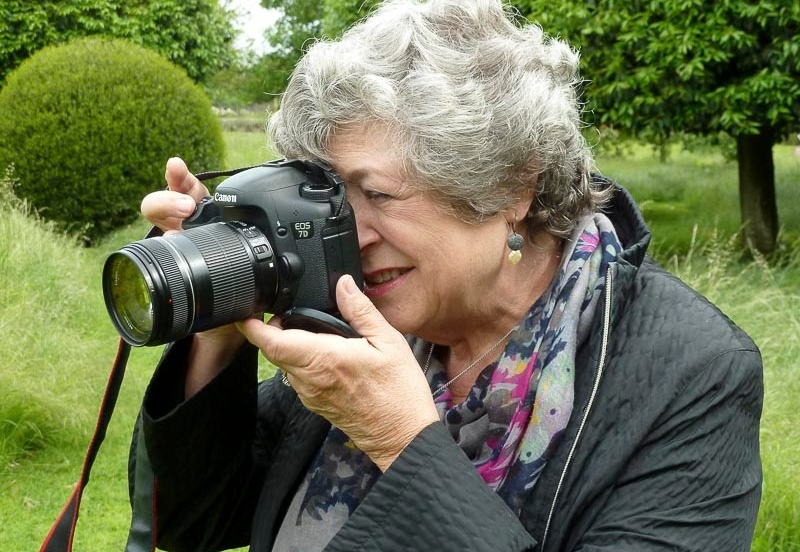 Patterson Webster, MA 98, is a visual artist, author and seasoned gardener.
Gardens grow, at least for the lucky gardener who manages to get things right. They change throughout a season, morphing with alterations in temperature and sunlight, moisture and the presence of predators.
Astute gardeners are aware of this, and also become aware of how they themselves are changed by their work with the soil.
"Gardens are not permanent creations," writes Patterson Webster, MA 98, in her lavish, seminal work Autobiography of a Garden, a detailed story of her more than 25-year journey to transform her family's 750-acre parcel on the shores of Lake Massawippi in Quebec's Eastern Townships. Over the years, Webster has created a series of installations that go well beyond an ordinary garden, incorporating plants, landscaping and art to recount the rich history of the land and those who have lived on it, dating to when the Abenaki were its first inhabitants.
Her book tells not only the story of how this sprawling garden evolved, but how Webster's extraordinary life changed, both before she had plunged her neophyte hands into the earth, and after.
Gardens "change daily, seasonally, annually, becoming more or less in tune with the gardener's desires, as the gardener herself changes," she writes. "This used to bother me; it bothers me no longer. The notion that, once created, a garden will forever remain as it is flies in the face of reason."
Webster sought to create sentinels to the past, but also about time and death. "It took years for me to fully realize that what I wanted was to create an environment that explored ideas — ideas about history, yes, but also ideas about art, architecture and garden design; ideas about the passage of time, about aging and death. A garden with meaning."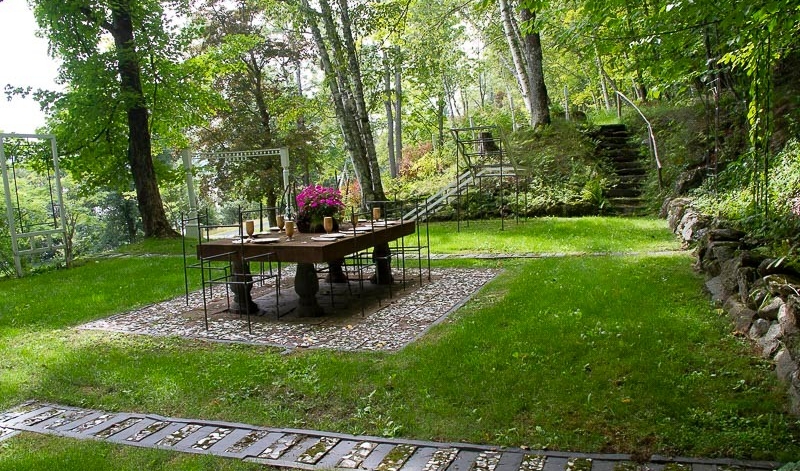 Patterson Webster's China Terrace is featured on her family's 750-acre land in Quebec's Eastern Townships.
Webster, whose late husband Norman served as editor-in-chief of both the Globe and Mail and Montreal Gazette newspapers, says she was surprised how her perspectives changed. And she was surprised that the more she thought about the history of the property — known as Glen Villa, for the short-lived resort hotel built there in 1902 and destroyed in a 1909 blaze — the more she wanted to tell it.
But other events also brought changes. One was living with Norman in China, from 1969 to 1971, during Mao's cultural revolution. Working for the Globe, Norman was one of three foreign correspondents in Beijing (then Peking) at the time.
"All we had seen and learned had changed who we were," Webster writes. "The Beatles had disbanded and we no longer knew where the centre of the universe could be found."
'Really good' student years
Another major event was studying at Concordia.
Webster had gone back to university to study English, drawn to Concordia's Creative Writing program, scratching an itch she'd had to be a writer.
"Concordia really made a difference in my life. This is real," she says emphatically. "The urban nature, the grittiness of Concordia, was real. I loved it; That's what I was looking for.
"Concordia suited me. There I was, this sort of 'old person,' not yet 50, but in relation to the other undergraduates, old. And I had to shift my ideas about how you were, how you looked, how you dressed, how you acted, how you spoke, how you did everything. That was fabulous! Those years were really, really good.
"That was the beginning of a change of perspective in an adult way."
Webster, born in Maryland and raised in Virginia, holds a BA in philosophy from Randolph-Macon Woman's College in Lynchburg, Virginia. She is a founding member of Canadian Parents for French, and has been recognized by Canada and France for that work, and with honorary doctorates from Laurentian University and the University of Prince Edward Island. She is also a founding member of Blue Metropolis, Montreal's international literary festival.
She was married to Norman, who died in 2021 after battling Parkinson's disease, for 55 years. They had five children and 11 grandchildren. Most are represented, in one way or another, at Glen Villa, through installations or tree-plantings.
The garden is private, open to the public only on Open Garden Days. Dates vary from year to year and are posted annually. All proceeds of the $25 admission fee go to the Massawippi Foundation, of which Webster is a former board chair.
Any advice for would-be gardeners? Webster writes: "The trick in gardening (and in many other parts of life) is knowing when to stop."
---