Take pride! John Molson School Day returns November 22
The celebration will feature a hybrid event, showcase talented speakers and offer more chances to win great prizes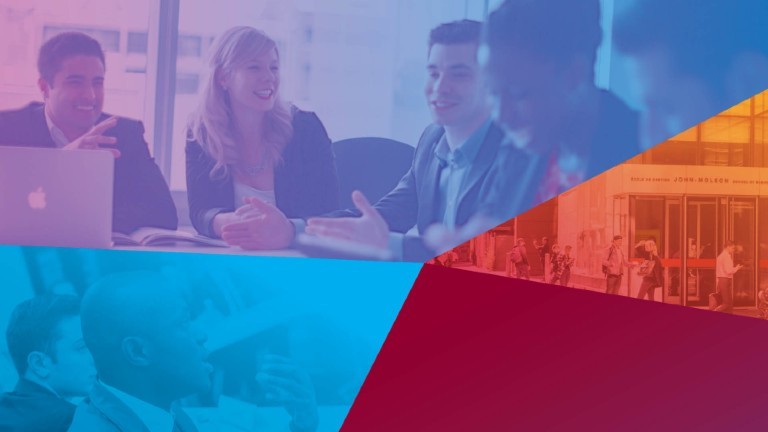 Following a successful inaugural celebration in 2021, John Molson School Day returns on November 22 in a hybrid format.
Launched as a way to take pride in the outstanding students, alumni, faculty and staff from the John Molson School of Business, the day also serves as an opportunity for community members to reconnect and tell the world what the school means to them.
With more than 10,000 students and 61,000 alumni globally, John Molson is one of the largest faculties of its kind in Canada and is increasingly a top destination for business education.
Among its many rankings, the school placed sixth in Canada in Bloomberg Businessweek's latest Best B-Schools survey, and the John Molson MBA program finished in the top three in Canada for return on investment in the QS Global MBA 2022 survey.
"Around the world, our talented alumni, researchers and students are making their marks across sectors, challenging the status quo to bring about positive change in business and society," says Anne-Marie Croteau, dean of the John Molson School of Business.
"I take great pride in these achievements and look forward to celebrating with our exceptional community on November 22."
That #JohnMolsonSchool feeling
Throughout the day, the John Molson community will be encouraged to show its pride on social media using the hashtag #JohnMolsonSchool. Students and alumni who use the hashtag will be entered into a draw to win one of eight digital gift cards valued at $100.
How can you participate online?
Post a video explaining why you're proud to be part of the John Molson community
Share an accomplishment or favourite memory from your time at the school
Give shoutouts to John Molson faculty, students, staff or alumni who inspire you
Highlight the work of one of the many student associations and clubs at the school
Hybrid event
Starting at 5:30 p.m. on November 22, the entire John Molson community is invited to attend this year's hybrid event: For the betterment of business and society.
As the school's students, alumni, faculty and staff continue take on society's most pressing challenges — from tackling the climate crisis to exploring the delivery of mental-health services — this event will feature four John Molson standouts. Each will share their vision for harnessing the power of business to create a better world.
For speaker Shannon Lloyd, associate professor in the Department of Management, John Molson School Day is an opportunity to celebrate and think about what the community wants to accomplish in years ahead.
"I will discuss my research that explores the disconnect between stated corporate climate action and actual decarbonization," she says.
"This disconnect indicates that, as we look to the future, we need to radically reimagine the role of business and business education in achieving a just transition to low-carbon societies."
Lloyd will be joined at the event by Ian Selvarajah, BComm 07, executive director of management consulting at KPMG Canada, Ghalia Shamayleh, GrDip 15, MSc 19, PhD candidate in the Department of Marketing and Concordia Public Scholar, and Romain Germond, undergraduate student and co-president of the John Molson International Business Association.
The evening will be hosted by Nura Jabagi, MBA 14, PhD 21, and will also celebrate the school's most recent MBA Award winners, Luc Bisaillon, MBA 93, and Karna Gupta, BComm 77, MBA 79.

For more information, visit the John Molson School Day webpage. You can also register to attend the virtual event in person or online.
---