Alumni return to Concordia for Homecoming 2022
Annual fall festivities back on campus after two-year hiatus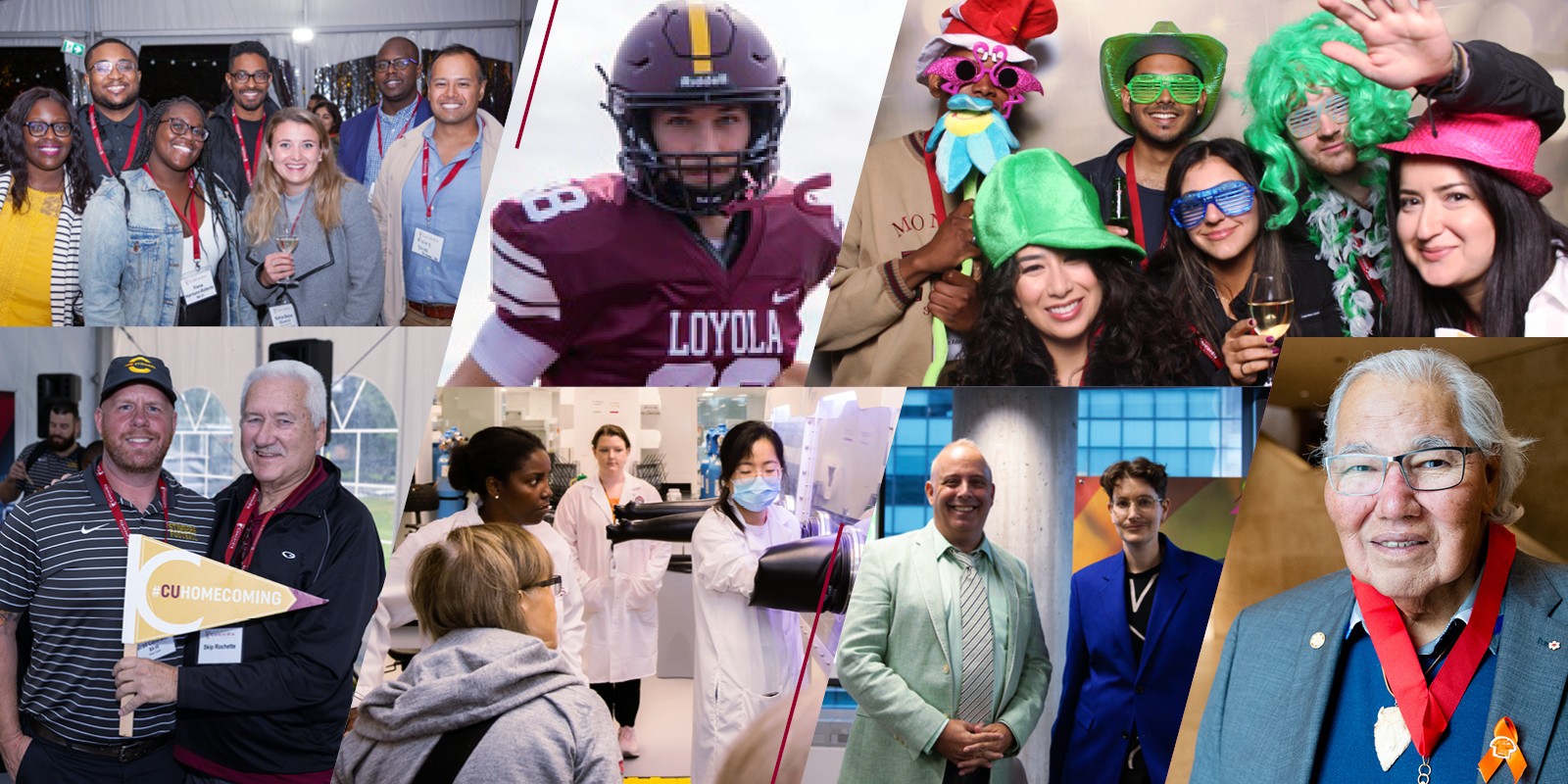 Concordians reunited on campus and online for a slew of events celebrating Homecoming 2022.
Concordia community members returned to campus for Homecoming 2022 — the university's first in-person edition since the onset of the COVID-19 pandemic — from September 14 to 17.
Read on for a recap of this year's programming and activities.
Queer Homecoming
Homecoming 2022's opening event — now in its fifth year — featured Montreal journalist Richard "Bugs" Burnett, BA 88, in conversation with acclaimed artist JJ Levine, BFA 10, MFA 18, whose most recent exhibition, Queer Photographs, was presented by Montreal's McCord Museum. View photos.
35 years of Executive MBA
That same evening, an intimate celebration of the 35th anniversary of Quebec's first Executive MBA program — attended by students, alumni and John Molson School of Business supporters — featured remarks by President Graham Carr, John Molson dean Anne-Marie Croteau and program director Rahul Ravi. View photos.
Public Scholars reunion
Alumni of Concordia's Public Scholars program — designed to help PhD candidates share research with a broader community through media partnerships — gathered to reconnect and welcome the 2022 cohort, which includes 10 talented doctoral students. The event was hosted by Effrosyni Diamantoudi, Concordia's interim dean of Graduate Studies. View photos.
Loyola Medal Ceremony
Around the world, hundreds tuned in virtually to watch the Honourable Murray Sinclair, LLB MSC IPC — former senator, judge and chair of Canada's Truth and Reconciliation Commission (TRC) — receive the Loyola Medal, the university's most prestigious non-academic honour. The ceremony was livestreamed from the Winnipeg Art Gallery on September 15.
"When one thinks of public service in our country, there are few more poignant examples than Justice Sinclair, who devoted six years of his life to chairing the Truth and Reconciliation Commission," said Concordia President Graham Carr.
"Demonstrating incredible person strength, conviction, perseverance and leadership, he challenged all Canadians to learn, reflect upon and confront this country's long history of oppression, violence and discrimination against Indigenous people."
Following the medal presentation was a conversation with Sinclair, moderated by Allan Vicaire, BA 09, senior advisor of Indigenous Directions at Concordia. View photos.
Exploring our campus
To mark the Webster Library's 30th anniversary, alumni and friends gathered for tours of its next-generation facilities, including the technology sandbox, zero-noise room and collaborative workspaces on September 16. View photos.
The Applied Science Hub tour on September 17 showcased the university's newest LEED-certified research facility located on the Loyola Campus. The $63.1-million state-of-the-art facility officially opened in December 2020. View photos.
Cooler fall weather didn't deter alumni and friends from gathering on the grounds of the university's Grey Nuns Residence for the Homecoming Garden Social, hosted by President Graham Carr. Guests were treated to music by DJ Chris Tan, BFA 11, of music duo Royce & Tan, live illustrations by artist Andrzej Pijet, BFA 09, MA 13, a fun photo booth, and a surprise flash mob by students in Concordia's Faculty of Fine Arts. View photos.
Loyola College and football reunions
Graduates of Loyola College, one of Concordia's founding institutions, reconnected and honoured the rich history of their alma mater at the afternoon Loyola Alumni Reunion on September 16. Attendees received a Loyola College commemorative booklet. View photos.
That evening, the Football Alumni Dinner celebrating championship teams of the past brought back players from the 1962, 1968 and 1972 Loyola College teams, as well as the 1982 Concordia Stingers, all marking milestone anniversaries this year. Georgians football alumni also attended, keen to reconnect in-person after several virtual reunions in recent years.
"It's important to understand that former players from our two founding institutions were the building blocks of Stingers football," said Stingers long-time assistant coach Pete Regimbald, BA 73, a member of Concordia's Sports Hall of Fame. View photos.
Stingers victory caps off Homecoming 2022
Our Stingers hosted crosstown rival McGill on September 17 at the Homecoming football game. Concordia players wore throwback Loyola College football uniforms to honour the legacy of Loyola College's football program. Following a resounding 42-16 Stingers victory over the Redbirds, fans reconnected at the Alumni Zone. View photos. The win was followed by a post-game reception. View photos.
Mark your calendars for Homecoming 2023: September 20 to 24
---