Alumni affinity way, way up, new survey suggests
Majority of respondents 'feel Concordia is part of who they are'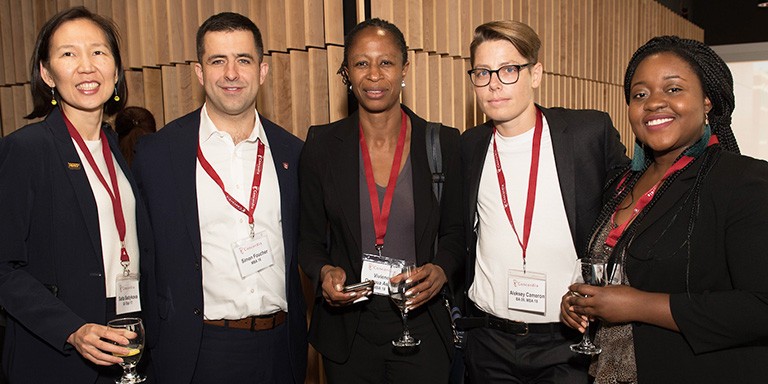 Concordia alumni gather at a 2019 Homecoming event.
The results of a recent survey of Concordia alumni are in and the data is conclusive: graduates report a stronger sense of affinity compared to a similar survey conducted in 2014.
That's not the only important takeaway. The results also suggest that the increased goodwill alumni feel towards Concordia compares favourably to other Canadian universities.
"This survey was designed to take the pulse, so to speak, of our worldwide community of 235,000 alumni and we're thrilled with the results," says Leisha LeCouvie, senior director of Alumni Relations. "They indicate that our efforts to address certain alumni needs expressed through the 2014 survey — whether it's more targeted events or more personalized outreach initiatives — have paid off."
LeCouvie, who oversaw the project for Concordia, was pleased by one data point in particular.
"More than 90 per cent of respondents feel a lifelong relationship with Concordia is worth maintaining. That's incredible."
It's all the more incredible given what's transpired over the last two years, says independent market researcher Jerold Pearson. A pioneer in the university survey space, Pearson conducted both the 2014 and 2021 surveys.
"It was great to see the needle move — and move so consistently — in the right direction in spite of the challenges imposed by the pandemic."
This isn't necessarily the norm, adds the former director of market research at Stanford University.
"I did a follow-up survey for another institution at around the same time and a lot of their numbers went the wrong way. I was a little concerned that the negative results might have been due to the pandemic. Because survey results don't happen in a vacuum. If you're feeling miserable, it can certainly colour the way you respond to any question asked.
"A week later I analyzed the data for Concordia and saw the opposite — on many measures, things were much more positive. So if the pandemic has coloured people's responses in any way, Concordia alumni have overcome that in a big way. This is very, very encouraging. Whatever the alumni relations team is doing seems to be working."
What the alumni relations team did, most notably throughout the pandemic, was collaborate with various teams across the university to launch initiatives like CU at Home and CU Cares that strengthened engagement and affiliation, and demonstrated the Concordia community's capacity for volunteerism.
"You have only to look at the recent outpouring of support for Nadia Chaudhri to comprehend how Concordians feel about their alma mater," says LeCouvie. "There's an overwhelming sense that this is a special time for the university, especially as we approach our 50th year."
LeCouvie stresses that the work's not done.
"Our focus on alumni satisfaction is more resolute than ever. We're going to continue building on all of this positive momentum."
Here are some highlights from the 2021 survey of approximately 2,000 Concordia degree holders:
Graduates feel that the university values its alumni — 72 per cent, compared to figures that range from 57 per cent to 76 per cent at six other Canadian universities.
53 per cent are very satisfied with their student experience — compared to figures that range from 43 per cent to 48 per cent at the other universities.
65 per cent take great pride in their Concordia degree.
71 per cent of all alumni say Concordia's diversity, equity and inclusion initiatives are important to them.
Almost six out of 10 alumni (58 per cent) read or heard something in the past year or so that made them proud of Concordia.
---