'Concordia is family for us — it was very important to be able to give back'
Maria Diamantis and Dimitris Ilias — opera singers who are partners in life, music and philanthropy — support Department of Music students with planned gift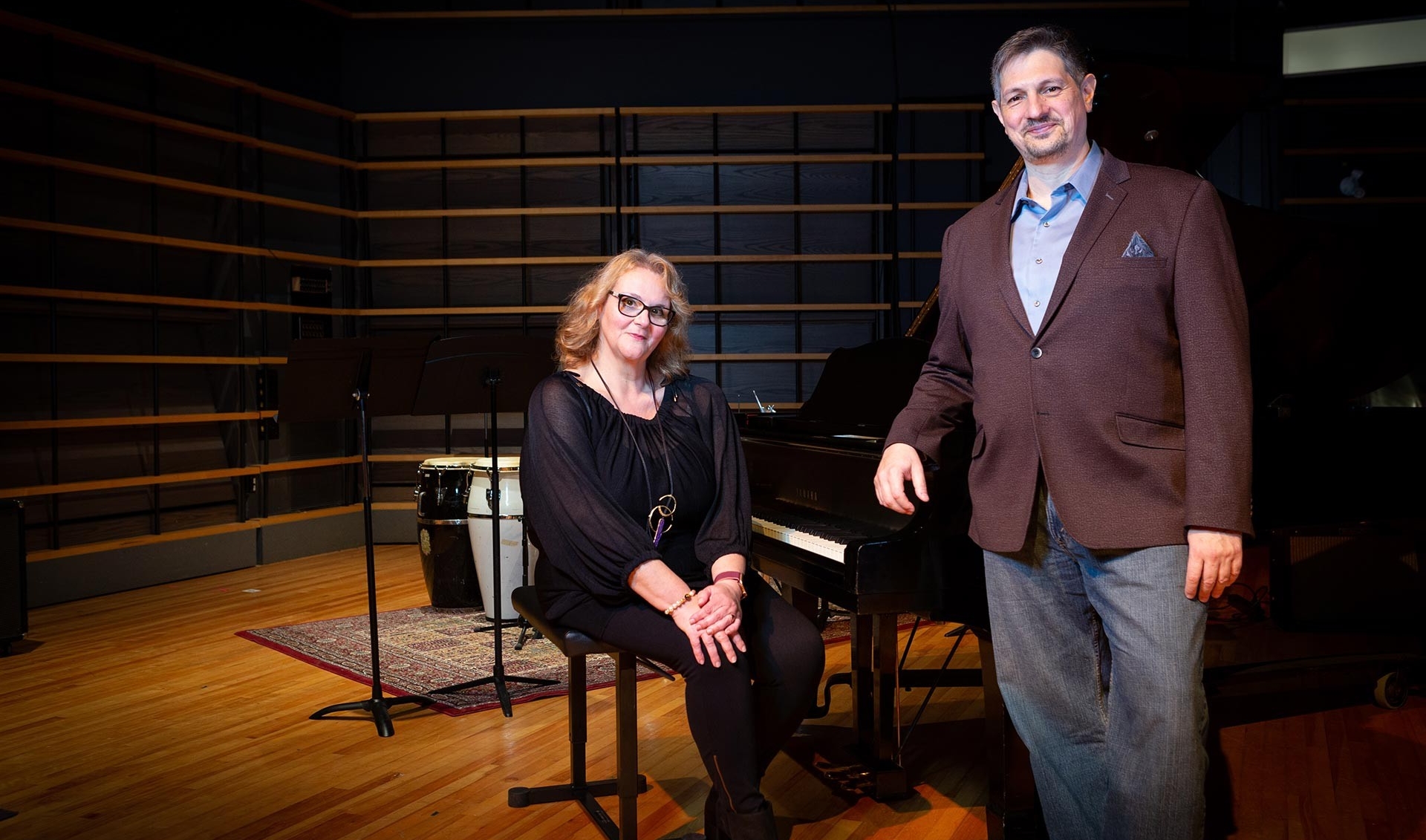 Oscar Peterson Concert Hall is a second home to Maria Diamantis and tenor Dimitris Ilias, BFA 92, GrDip 99.
United through music — and with a little help from Concordia — soprano Maria Diamantis and tenor Dimitris Ilias, BFA 92, GrDip 99, have built a life and created a community together.
As the co-founders of Chroma Musika, the opera singers and musicians have put on performances, organized seminars and recorded albums in Montreal and beyond devoted to ancient Greek music and contemporary music from Canada and Europe.
They have employed scores of local musicians as a result and, what's more, given thousands of Quebec schoolchildren an opportunity to discover and make symphonic music through special recitals, concerts and educational programs — many of them facilitated by members of the Concordia community.
These accomplishments, as well as the couple's dedicated support of Montreal's Hellenic community, earned them the Medal of the National Assembly of Quebec in May 2021.
More recently, Diamantis and Ilias decided to make a generous planned bequest to Concordia's Department of Music.
In an interview at Oscar Peterson Concert Hall on Loyola Campus, the Campaign for Concordia: Next-Gen Now donors described why they were inspired to give back.
What is so significant about this stage?
Dimitris Ilias: Oscar Peterson Concert Hall is our second home. Not only did I perform a solo for the hall's inaugural concert in 1990, this is where Maria and I have done the majority of our productions.
This hall has seen thousands of our children singing in different projects. We love it. Every time I come here, I feel such warmth and hospitality and fondly remember my student days. It's a magnificent place and I'm very honoured to have been a part of it for so long.
You also met each other through Concordia, correct?
Dimitris: Yes! I was auditioning to get into the music department in both violin and voice and Maria was recommended to accompany me on the piano.
Maria Diamantis: I remember being excited to meet you because you were also of Greek descent and a musician to boot.
Dimitris: So yes, we met because of the music department. It was destiny — and kind of like an opera!
What did you most enjoy about your undergraduate experience in the department?
Dimitris: I had the opportunity to study with great performers and musicians. I had access to an incredible library where I could research all this music and had professors who were so supportive and encouraging. Being a smaller department, we all felt like family.
I will never forget one of the courses I did with Mark Corwin, which paired music engineers with performers. I learned so much. And now the project we do with children, when they come here and record, they get a crash course on sound theory from Mark.
The fact that I got to collaborate with a lot of different musicians, technicians and engineers — this isn't necessarily the norm at other universities and it really prepares you for the outside world.
Community plays a big role in your lives. Can you talk a bit about that?
Maria: A strong sense of community is so critical. I always felt like I had sort of a duty to give back, musically, to my community. And it was my privilege to do so. So I was part of community choirs, I would conduct the church choirs, accompany them on the piano. I would help coach them.
Dimitris: These kids from all different backgrounds we have coached and taught over the decades — we remember all of them. We have these common adventures, musical adventures, that we share. Many of them are recent immigrants and new citizens to Canada and we all come together because of music. It's very powerful.
Maria: The children motivate us. We feed off their excitement and learn just as much from them as they do from us.
Dimitris: It's priceless, the way some of these kids light up when they hear a live orchestra play for the first time. It's something like awe.
What prompted your decision to make a planned gift to Concordia?
Maria: Concordia is family for us. And because we decided not to have children of our own and won't be here forever, we just felt it would be important to give back and build a legacy in this way.
Dimitris: We knew intuitively that a planned gift to Concordia's music department was the best way to go. For myself, it was very, very important to be able to give back to the university that gave so much to me. It's the least I can do.
It's really gratifying to know that for as long as Concordia is around, one music student will receive a scholarship every year through this gift. It's just a tremendous feeling to be able to do something like that.
---