John Molson's Executive MBA program at 35 and beyond
Looking forward after more than three decades of growth and transformation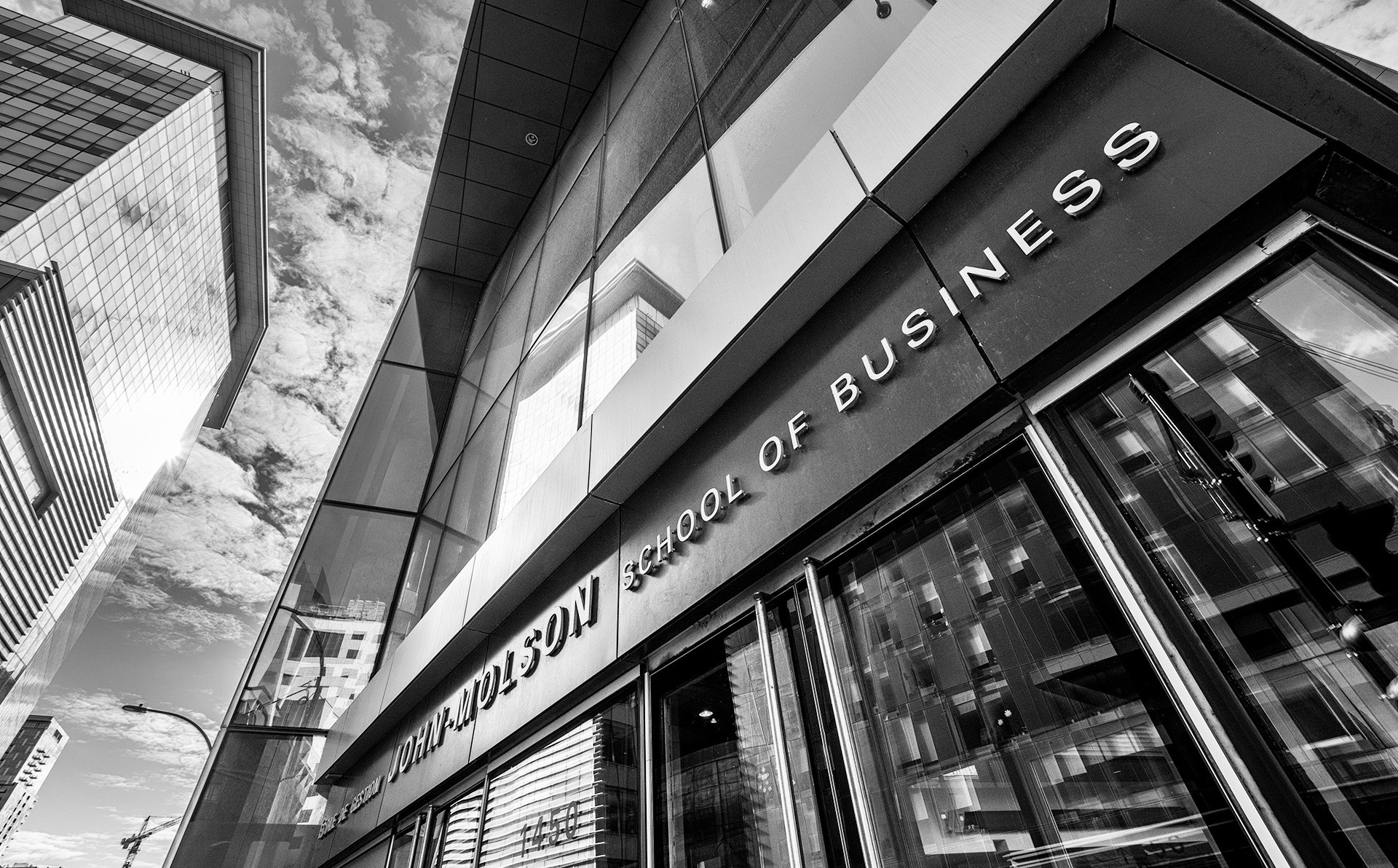 The past year marked a milestone for the John Molson School of Business: its Executive MBA (EMBA) program celebrated its 35th anniversary.
Founded in 1985, "[it] was the first of its kind in Quebec and ushered in a new era of higher education tailored specifically to executives, entrepreneurs and professionals with considerable business experience," explains Rahul Ravi, director of the EMBA program.
"Since its inception, the EMBA has transformed the landscape of executive education in Montreal and Quebec." The program's roots, however, date back even further, beginning with founder Steven Appelbaum.
Upon completing his PhD in Ottawa in 1972, Appelbaum accepted a teaching position at Pace University in New York. The role was unique: he was teaching Wall Street leaders in an Executive MBA program who, despite their senior positions, needed more education. The Pace EMBA was one of only two or three such programs in the United States at the time.
In 1979, Appelbaum moved to Montreal to join Concordia's Faculty of Commerce and Administration. Within a year, he was appointed chair of the Department of Management, and then dean of the faculty just over a year later, positioning him to make some important recommendations.
"Creating our own Executive MBA program was one of the first things I did as dean," he explains. There was pushback from the faculty's internal community, many of whom felt the program would never work, was too expensive and too specific. "'Canadians are cheap,' they'd tell me. 'No way this can fly.'
My perspective was that Canadians will invest in quality education, and this is what we can offer them," Appelbaum says.
Despite internal doubts, Appelbaum asked local corporations if they were willing to invest in the tuition required to offer employees the opportunity to earn their MBA. Hoping to sign on 10 to 15 businesses, Applebaum drew interest from a total of 35.
Knowing the market was there, he, along with colleagues Christopher Ross and Dale Doreen, the program's first director, established the foundation for Concordia's EMBA. Unlike other academic programs, the EMBA's faculty consisted of industry professionals, rather than career academics.
"We needed real working experts from industry to teach working students who wanted to learn by example," says Appelbaum. This instructor profile remains a key aspect of the two-year EMBA program today.
In addition, the courses take place on alternating Fridays and Saturdays, allowing students to better balance their academic, family, personal and professional priorities. Appelbaum taught in the EMBA until 2016 and continues to be an integral part of the program.
Going abroad
While changes to curriculum and content are constant, the EMBA remains relevant and reflective of the current world thanks to some vital additions. In 1992, it introduced its inaugural international study trip, which would become an annual student experience. During the first eight-day course abroad, students studied topics such as immigration, joint ventures, business practices, and import and export issues, all while analyzing real cases.
Since then, EMBA students have travelled to more than 20 countries, including Brazil, China, India, Australia, Thailand, Colombia and Poland. Today, the course is a flagship of the program.
The full package
Concordia's EMBA prides itself on developing leaders who are committed to continuous learning, personal and professional development and making a positive contribution to their communities. It integrates coaching, health and wellness, as well as direct contact with high-level executives for closed-discussion sessions.
With supporting modules like Healthy Executive, Leadership Effectiveness and Development, Executive Coaching and Executives Connect, the complete executive program offers support to help develop a comprehensive and successful executive. "We recognize that it takes a motivated candidate with a healthy mind and body, receiving a high-quality education, to grow into a well-rounded, formidable business leader," says Ravi.
Thirty-five years on, one aspect of the EMBA program remains consistent: the calibre of its student cohorts. "We are constantly learning from our students," says Appelbaum. "It is a true exchange — a real-world experience where we're all in it together. Instructors become mentors and adapt their teaching style. Students don't simply show up and take notes; they share real work experiences as cases to review and work on in class. Everyone learns and grows," he adds. "It is a community."
Where can an EMBA degree take you? Hear from some of the program's successful alumni.
---