'I was interested in being a voice for marginalized communities'
Journalism grad Sudha Krishnan on her path to becoming CBC Montreal's newest anchor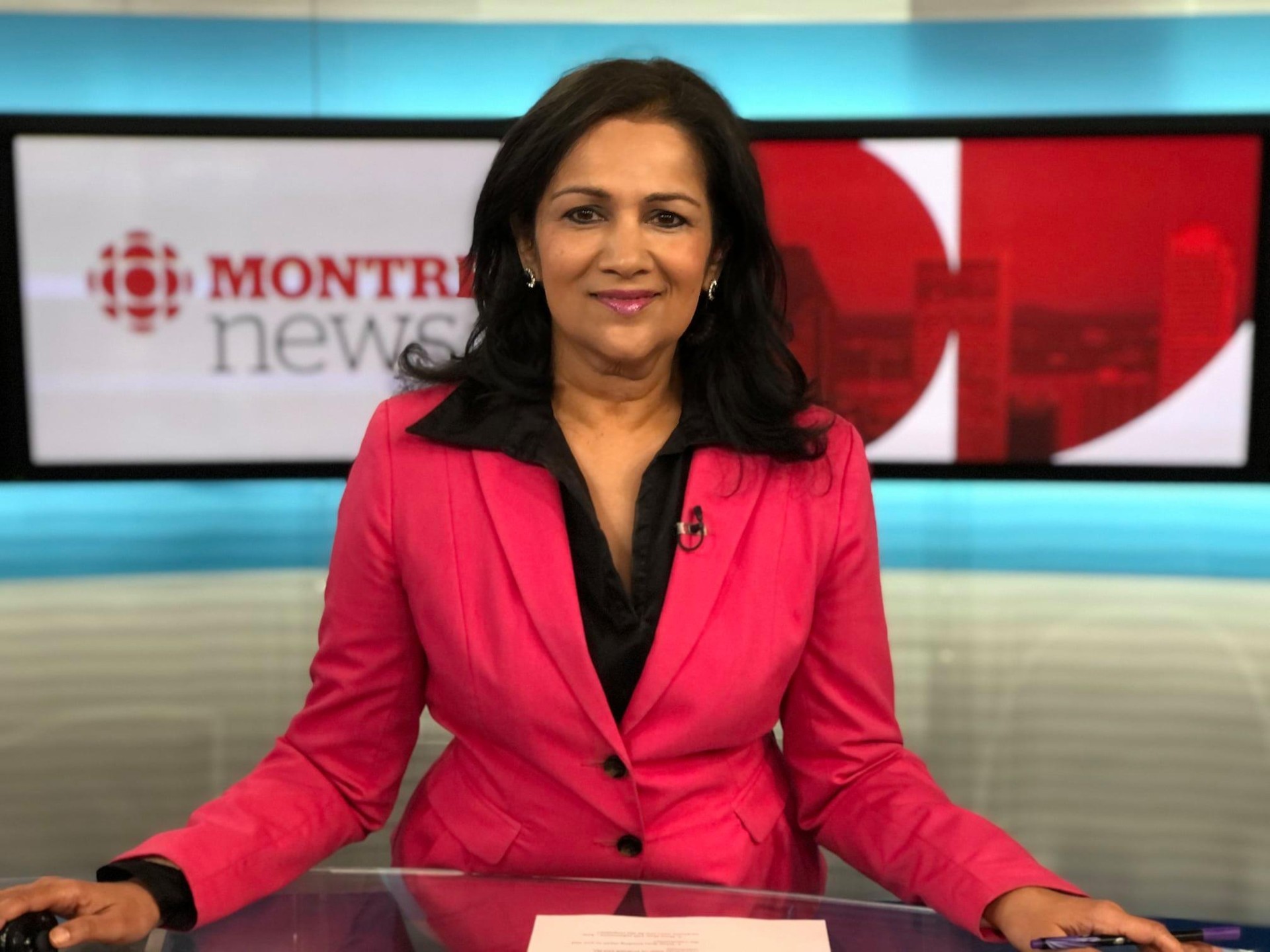 Sudha Krishnan was named as a late-night anchor for CBC Montreal News in February 2021. | Photo: Simon Martel
It wasn't a given that Sudha Krishnan, BA (journalism) 99, would one day become one of the newest anchor of CBC Montreal News at 11.
"I studied science all my life," she says. When she was younger, growing up in Montreal, she thought she'd either be an engineer or go to medical school.
The seeds of her 25-year career as a journalist were never far, however. Krishnan found herself gravitating towards public-facing interests such as Indian classical dancing, theatre performance and public speaking — for which she won several competitions.
Those passions steered her towards journalism when they collided with a new interest, sprung from volunteering at Montreal's South Asian Women's Community Centre, which provides resources to people from places like Sri Lanka and Bangladesh.
"I was interested in people's stories and especially being a voice for visible minority women and marginalized communities," she says. "That's how I applied to journalism school."
In Concordia's Department of Journalism, she heeded crucial advice she received from faculty members. "They ingrained in you that you can't just learn the tools, you have to keep writing, you have to keep telling stories," Krishnan says. She quickly joined The Concordian student newspaper, where she helped cover the university's board and senate meetings.
In her second year, Krishnan had an article published in the Montreal Gazette about a support group for teen moms in Little Burgundy, a neighbourhood in southwest Montreal. By her third year, Krishnan interned at CTV National News, and later worked for Pulse News.
A full circle moment
Over the course of the next 12 years, Krishnan strung together an impressive resume. She worked in Montreal for CBC and Global before moving west to spend 10 years in Alberta and Saskatchewan representing Global, CityTV and Omni. She worked in a variety of roles from senior reporter to full-time anchor and also reported for OMNI News: South Asian Edition.
In 2012, Krishnan returned to Montreal. In between jobs, she was considering her next steps when she was offered the opportunity to be a lineup editor for CBC Montreal News at 11. "I wasn't 100 per cent sure," Krishnan says, since it was not an on-air role like her previous jobs. Still, it presented an opportunity to influence the direction of the show, which meant continuing to do what she loved: telling people's stories. She took the job, which also allowed her to do some hosting, radio newsreading and reporting.
Since then, Krishnan served News at 11 by covering the 2017 floods in Quebec and the ongoing toll of the COVID-19 pandemic, among others. "Then all of a sudden this opportunity came up," she says of the anchor position — it was a full circle moment. "I had a role to play in putting this show together and now I'm hosting it."
Krishnan now has her eye on the road ahead, not only for the opportunity to help influence what gets covered on News at 11, but to be the one to share it directly with audiences. Twenty-five years into her career and the importance of journalism is not lost on her. "There are always going to be new situations that expose new stories, as well as the people whose stories need to be told," she says.
And as Krishnan's LinkedIn profile makes clear, she still feels strongly about sharing them. It reads: "Have a story to tell? Let me know."
Know a Concordia grad with an interesting story? We'd love to hear it. Email us at magazine@concordia.ca.
---