Concordia's Kristy Franks wins a Prix Relève étoile Paul-Gérin-Lajoie
The Fonds de recherche du Québec recognizes the PhD candidate for her outstanding doctoral research project co-created with Cree youth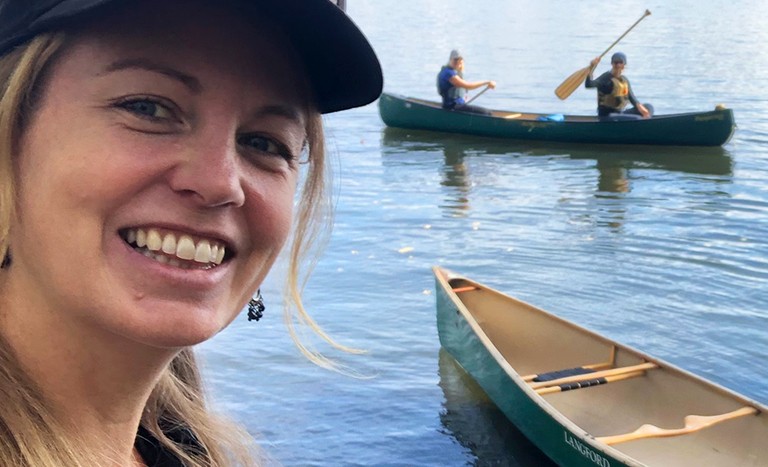 Kristy Franks: "To address the challenges humanity faces right now, we need to work interculturally."
Kristy Franks, a PhD candidate in the Department of Geography, Planning and Environment, has been awarded the July 2023 Prix Relève étoile Paul-Gérin-Lajoie. The prize is for her documentary Wemindji Water Wonders that she co-created with Cree youth as part of her doctoral research.
The Fonds de recherche du Québec (FRQ) awards three Relève étoile prizes of $1,500 every month. Eligible research projects are categorized by Society and Culture, Nature and Technology, and Health.
For the past two years, Franks has been working on a variety of environmental projects at the regional level with the Cree Nation Government, including several remediation projects such as cleaning up waste from development projects and military communication sites. She also organizes educational trainings to increase capacity in the communities with skills related to environmental monitoring and waste management.
Franks's documentary film centres around water, water-related concerns, how to care for water access and quality and how water can bring people together in intercultural cooperation. The film follows the experiences of nine young people from the Cree Nation of Wemindji in Northern Quebec. It also features representatives from three different first nations in Australia, two water research groups and a film production company.
"I went through a process of asking myself, 'What is the most important thing to me?' Then I realized the question was not about what was most important to me, but rather what's most important, period," Franks says. "I came to water as the source of all life. To ensure survival of life, we need to come together as humans, learn from our various knowledge systems and learn from water itself as an intelligent being with agency."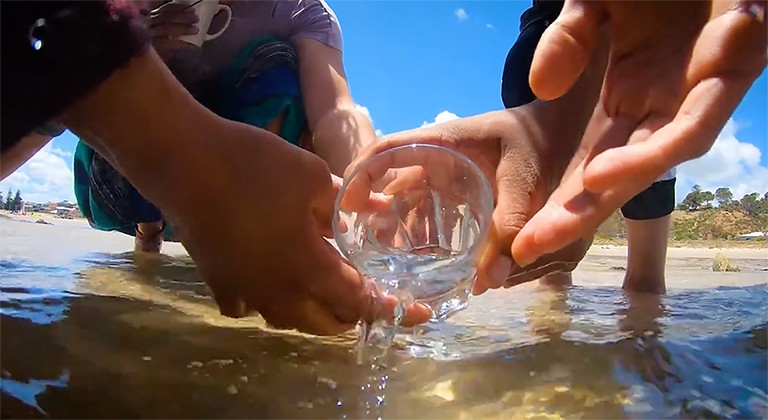 Video still from Franks's documentary film,
Wemindji Water Wonders
, which centres around water and water-related concerns.
'Humanity is stronger with a more complete tool kit of knowledge'
Throughout her time in Northern Quebec and South Australia, Franks engaged in field activities such as swimming, surfing, kayaking, scuba diving, participating in water ceremonies, as well as visiting water-related infrastructure, including a hydro-electric dam and a desalination plant. She was also able to conduct interviews with Indigenous nations and non-Indigenous scientists.
When she proposed a project focused on water and Indigenous youth to prospective partners, Franks says they were instantly interested. In her quest to prioritize and value Indigenous knowledge systems such as oral history and storytelling, Franks decided film would serve as an appropriate medium to mobilize knowledge related to water.
"To address the challenges humanity faces right now related to all environmental and water concerns, we need to work interculturally in ways that are relevant to everyone, rather than within exclusive circles like academia," Franks says. "Humanity is stronger with a more complete tool kit of knowledge."
Through her work on the documentary, Franks was able to facilitate opportunities for Indigenous youth to share their stories and perspectives as their cultures are so closely linked with water.
"I have received glowing feedback from Kristy's Indigenous partners about the benefits and impact of her project," says Monica Mulrennan, Franks' supervisor. "In addition to connecting Indigenous youth and Elders around a shared interest in and concern for water, the youth learned valuable skills in documentary filmmaking and community-based research practices. Through the video documentary they have been given a platform to speak about the sacred place of water in their lives and in the lives of their communities."

Find out more about Concordia's Department of Geography, Planning and Environment.
---