Concordia names Savvy Papayiannis as the new director of student recruitment
'It's just great to create connections from all over the world'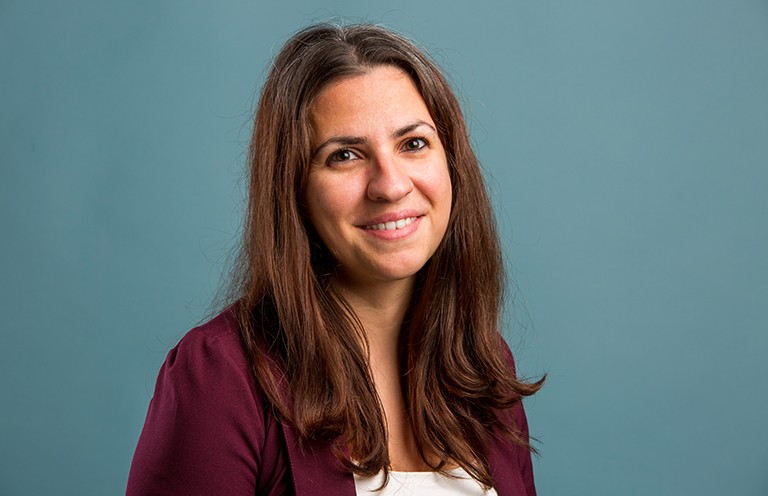 Savvy Papayiannis: "It's an exciting time — we're moving away from the pandemic with the tools we've developed."
Savvy Papayiannis, BA 05, is Concordia's new director of student recruitment. In the role, she will helm the undergraduate recruitment team as well as the staff of the Welcome Centre.
"For the past year, and especially since Matt Stiegemeyer's departure last July, Savvy has been the sole manager in the unit and she's been an important support for the Enrolment Services leadership team," says Stephanie DeCelles, Concordia's registrar and executive director of enrolment services.
"She ensured the continuation of the recruitment plan for the year and, in fact, she's largely responsible for the success of Open House held in October."
Papayiannis, a Montreal native, began her career in recruitment at Concordia while she was an undergraduate in psychology. She led student tours and met with prospects as a student ambassador.
After graduating in 2005, Papayiannis applied for a recruitment officer position and was hired the following year. Recruitment at Concordia has been her home ever since.
The unit looked different in those days. The Welcome Centre was located on the eighth floor of the Faubourg Building — not exactly at the campus crossroads as it is today — and the Office of Student Recruitment's outreach efforts were mainly focused on Canada.
Over the course of her career so far, Papayiannis has had a front-row seat for the university's expansion and evolution. She has served as a recruitment manager since 2012.
Supporting students on their journeys
"It's an exciting time because we're moving away from the pandemic with all the lessons and tools we've developed. There is so much more that we can do to attract students internationally, so many additional touch points," Papayiannis says.
"We have virtual tours, daily virtual appointments and live webinars. These are all tools we didn't have before. If anything, the issue right now is time. We have so much more we can do, so how do we schedule all of it in?"
Papayiannis adds that she finds satisfaction in supporting students through an important transition in their lives.
"It's that time when they might be leaving home, going on this adventure that will have a major impact on their life," she notes. "They'll be meeting new friends, life partners, business partners. It's just great to create connections with students from all over world at this stage of their lives."
Having been such a longstanding part of the recruitment team, Papayiannis expresses appreciation for its tight-knit community. "I'm biased of course, but we have one of the best teams at Concordia," she says.
"We're involved in a lot of exciting projects, and we get to collaborate with so many units around the university. It's a group of people who really care."

Learn more about Concordia's Office of Student Recruitment.
---