Concordia's first Pow Wow is taking place on Loyola Campus this fall
The university community is invited to celebrate the 30th anniversary of the Otsenhákta Student Centre on September 16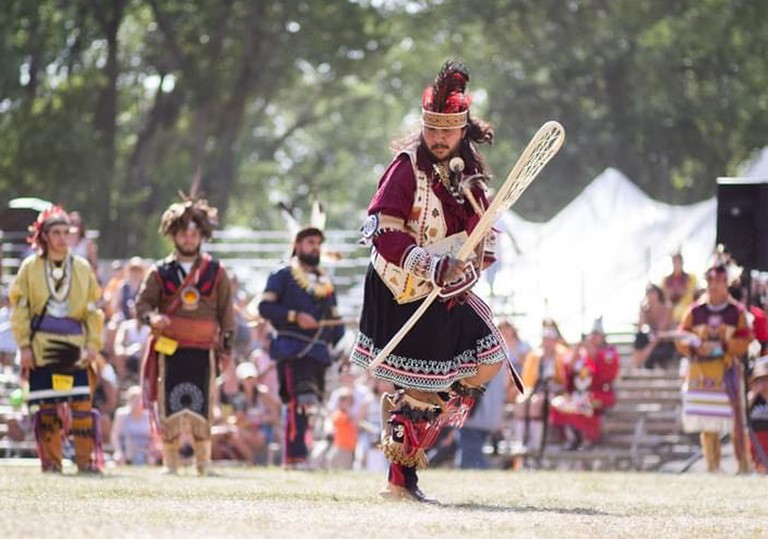 Owen Skahionhiio Mayo dancing at the Kahnawà:ke Pow Wow. | Photo courtesy Owen Skahionhiio Mayo
Concordia's Loyola Quad will be transformed into a place of feasting, dancing and singing on September 16. The university will host its first-ever Pow Wow, to kick off the 30th anniversary celebrations of the Otsenhákta Student Centre (OSC).
Open to all nations, this is an opportunity for the entire university community to discover how Indigenous cultures celebrate together, share knowledge and create new bonds of friendship.
The event was conceived not only to celebrate the history of the OSC but also the success of past, current and future First Nations, Inuit and Métis students at Concordia.
Katsistohkwí:io Jacco, the OSC's interim coordinator, sees the Pow Wow as an important catalyst to Indigenizing campus. "The Indigenous Directions Action Plan is looking at ways of bringing Indigenous life to Concordia, so a Pow Wow makes sense," Jacco says.
"It's important for students, staff and faculty to know that Indigenous people have been a part of Concordia since the founding of the university. The Pow Wow is a chance for the wider community to celebrate the many different cultures and Indigenous nations that are present at Concordia."
Indigenous entrepreneurs will also be on site selling handmade crafts and natural products.
'A symbol of cultural resilience'
Manon Tremblay, senior director of Concordia's Indigenous Directions, explains that the Pow Wow is a celebration of Indigenous culture that originated in the 19th century. Through the years, it has been adapted to suit the needs and the cultures of various Indigenous people.
"A Pow Wow can be a rather private, community celebration but it can also be an international gathering of nations. For many decades, Pow Wows were forbidden by the Indian Act, to suppress our cultures and discourage large Indigenous gatherings," Tremblay reports.
"It is only in the 1950s, when Indigenous people started to petition government authorities for more cultural and religious freedoms, that Pow Wows started to be held again," she adds.
"Today, Pow Wows are held all over Canada and the United States, and they are, in many ways, a symbol of cultural resilience. What better way to celebrate the 30th anniversary of the Otsenhákta Student Centre than by organizing one?"
A proud and successful history
The OSC was launched in 1992 as an important on-campus resource for First Nations, Inuit and Métis students. Every year around 250 students access the centre.
At its core, the centre helps students succeed and achieve their highest academic potential by working with them to make the most of the many resources available at Concordia.

The Otsenhákta Student Centre Pow Wow will take place on September 16 at the Loyola Quad (7141 Sherbrooke St. W.) from 11 a.m. to 4 p.m.
---