Ned Goodman (1937-2022): a trailblazer in business education at Concordia and across Canada
'We must all be on a program of perpetual learning. Don't wait for someone else to hand you an education — go and get it yourself' — Ned Goodman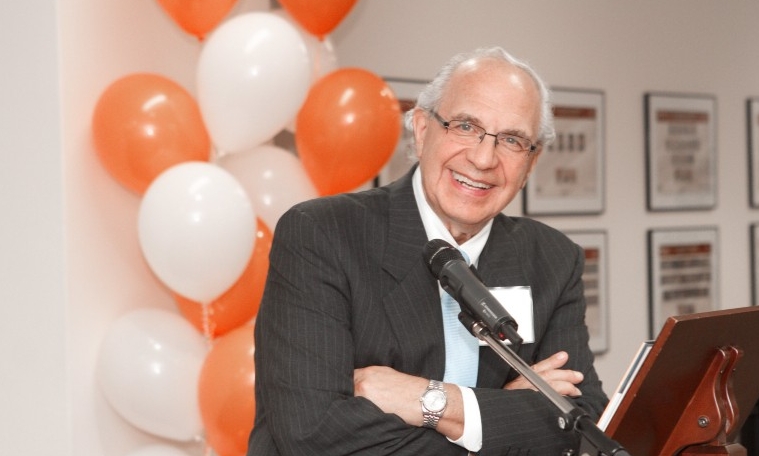 Ned Goodman, LLD 97, during a celebration at the John Molson School of Business.
Ned Goodman, LLD 97 — a champion of Concordia, member of the Order of Canada and architect of Canada's modern investment management industry — passed away on August 7. He was 85.
"Ned was a remarkable businessman, philanthropist and friend of higher education," says Concordia President Graham Carr. "He was a towering figure in Canadian investment circles and he inspired countless students at our John Molson School of Business. He left an undeniable mark on our university and our country."
After decades of business success, Goodman partnered with Concordia to create the world's first joint MBA-CFA program in 2001 — the Goodman Institute of Investment Management.
"After many fruitful years as an investment professional, it was clear to me that the conventional business-school approach had not been preparing graduates for the real world of investment management," he once said.
With evening and weekend courses offered in both Montreal and Toronto, students work full-time while completing their studies and typically go on to excel at the world's pre-eminent investment management firms.
The hallmark of Goodman's legacy at Concordia has been the exceptional performance of the Goodman Institute's students, who consistently score more than double the global pass rate on the CFA Level I exam.
"When you compare the CFA pass rates of Goodman students with the world average, the difference tells you the success story of the program," says friend and colleague Richard Renaud, BComm 69, LLD 09. "Graduates are the best paid in the country and the most influential people in the financial services business. That was Ned's goal: to create the next generation of top money managers."
The philanthropist also funded the Ned Goodman Chair in Finance at Concordia. Research topics have included the impact of alleged financial misrepresentations on market prices, and the rate of return and capital structure of regulated utilities.
The university recognized Goodman's impact in finance and investment management with an honorary doctorate in 1997. He was also distinguished by the Concordia Alumni Association (CUAA) with an Honorary Life Membership in 2012.
"Ned Goodman was a visionary," says Anne-Marie Croteau, dean of the John Molson School of Business. "To have his name attached to one of our programs lent tremendous prestige. He was a savvy, generous man who cared for Concordia. We are forever grateful for his support over the years."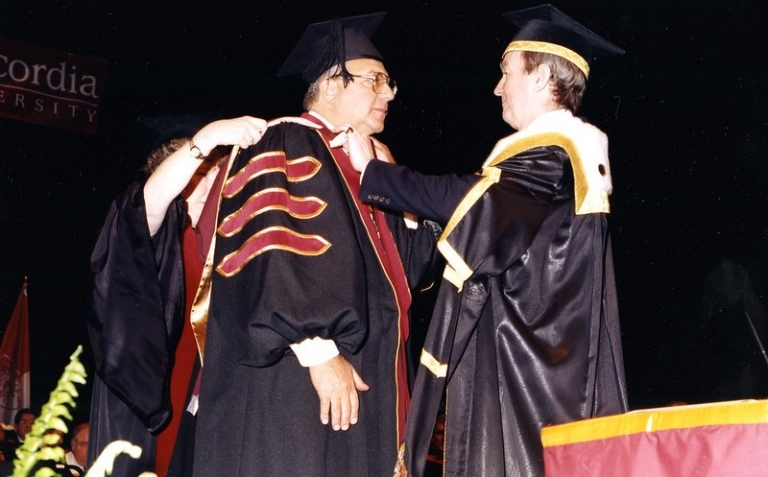 Ned Goodman receives his honorary degree by former Concordia chancellor Eric Molson in 1997.
Beyond Concordia
A native of Montreal, Ned Goodman received a BSc in geology from McGill University in 1960 and an MBA from the University of Toronto in 1962. He obtained his CFA charter later in the decade.
As co-founder of the influential firms Beutel, Goodman & Company and Dundee Corporation, Goodman served in such roles as president, CEO and chairman throughout his career. He helped build several successful mineral and extraction-based firms — notably International Corona and Kinross Gold — and helped boost many others with his investment counsel.
Goodman was inducted into the Canadian Mining Hall of Fame in 2012. In 2016 he was appointed to the Order of Canada.
He supported a number of causes, namely as governor of Junior Achievement Canada and vice-chair of the Heart and Stroke Foundation of Ontario.
He also served as chancellor of Brock University from 2007 to 2015. In 2012, Brock's business faculty was renamed the Goodman School of Business after a transformational gift from the Goodman family. The Goodman School of Mines at Laurentian University was also named in his honour.
"With the support of his wife and family, Ned Goodman's philanthropy boosted the profile of Concordia and the John Molson School of Business. On behalf of all our students and graduates of the Goodman Institute of Investment Management, we convey our sympathies to the Goodman family," says Paul Chesser, BA 94, GrDip 97, vice-president of Advancement.
Ned Goodman is survived by his wife, Anita Silver, BA 77, sons Daniel, David, Jonathan and Mark, who remain active with the GIIM, as well as 16 grandchildren and two great-grandchildren.

Visit our Flickr album to view photos of Ned Goodman at Concordia throughout the years.
---