An evening of good fortune and recognition
Concordia pays tribute to standouts at 21st Alumni Recognition Awards Banquet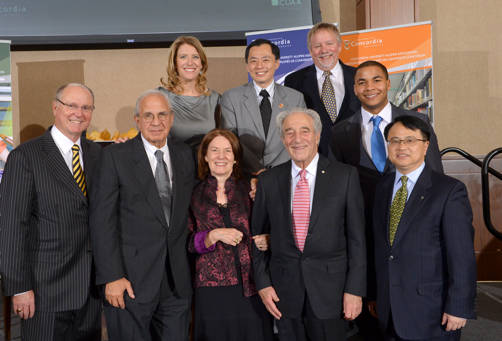 Fortune cookies proved to be the evening's unexpected theme as seven outstanding Concordia community members and two university icons were celebrated at the 21st Alumni Recognition Awards Banquet at Le Westin Montreal on May 17.

The awards acknowledge valuable contributions to the university and the Concordia University Alumni Association (CUAA) by alumni, students, faculty members, staff and supporters.

CUAA president Philippe Pourreaux served as emcee while Marie Claire Morin, Concordia's vice-president of Advancement and Alumni Relations, offered heartfelt introductions to the first six recipients.

Concordia student Marvin H. Coleby, who's completing a BA in political science (honours) and philosophy, received the Outstanding Student Award. The former president of the Concordia Caribbean Student Union is accomplished far beyond his 20 years. He said that the most important thing he learned at university is "we have a duty to enrich other people's lives and contribute to society."

Jang-Hwan Kwon, GrDip 96, MCSc 03, manager of administrative systems for Concordia's Instructional and Information Technology Services and chair of the Concordia Shuffle's advisory committee, was handed the Outstanding Faculty/Staff Award. He recounted how in 2008 he opened a fortune cookie that said, "You will receive some great honour." He wondered for four years what that would be. "Tonight, I finally got my answer," Kwon said.

Concordia applied human sciences Assistant Professor James Conklin, MA 04, PhD 09, was bestowed the Alumni Award for Excellence in Teaching. He quoted a Latin proverb: "By learning you teach and by teaching you learn"; therefore, he added, "teaching is its own reward because learning is my greatest joy."

Global Montreal's Evening News anchor Jamie Orchard, BA 91, was named Alumna of the Year. Orchard recounted how she never stopped appreciating her days in the university's Department of Journalism. "I need to love something in order to learn it, and I loved my time at Concordia," she said.

The Benôit Pelland Distinguished Service Award was given to Dennis Y. Chan, BComm 77, CEO of Standard Corporate Advisory Limited in Hong Kong. He is also co-founder of the CUAA's Hong Kong chapter and senior vice-president and treasurer of the Concordia University Hong Kong Foundation. Chan spoke of why he has supported the foundation and of its key role in sending many students from China and Hong Kong to Concordia: "Education can really help improve lives."

Renowned investment advisor Ned Goodman, LLD 97, received the association's Honorary Life Membership Award. He is founder and benefactor of the Goodman Institute of Investment Management at Concordia's John Molson School of Business. Goodman recounted how he and Professor of Finance Alan Hochstein pushed the Chartered Financial Accounting (CFA) Institute to allow Concordia to offer the world's first joint MBA CFA program, which finally began in 2000. "Today, 157 others universities offer that course, and Concordia is the leader," he said.

Dominique McCaughey, associate vice-president of Advancement and Alumni Relations, warmly introduced honouree John F. Lemieux, BA 66, and presented him with the Humberto Santos Award of Merit. Lemieux is a senior counsel at the national law firm Fraser Milner Casgrain in Montreal. He co-chaired the successful $4-million Loyola Refectory Restoration Campaign that resulted in the opening of the Loyola Jesuit Hall and Conference Centre in December 2011. Lemieux described the reason he has lent so much time to Concordia: "No battle is ever won by spectators."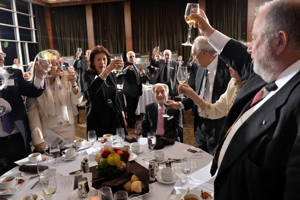 The evening wrapped up with a special tribute to Concordia President and Vice-Chancellor Frederick H. Lowy and his wife, Mary Kay Lowy. They first arrived at the university in 1995 and Frederick spent the next decade leading Concordia to new heights in enrolment, academic programs, research, building projects and endowments. He returned to the same position in January 2011 for an 18-month term.

David Graham, Concordia's provost and vice-president, Academic Affairs, delivered a moving accolade. "Mary Kay and Fred, we'd like to express our sincere appreciation for your unparalleled service to Concordia and for the legacy of excellence you're leaving at our university," he said.

Mary Kay Lowy told the audience that she was overwhelmed by the honour and how much the university has meant to them. "We will always be members of the Concordia family," she said.

Frederick Lowy added: "We love this place and we feel the love in return."

Graham presented the Lowys with a special offering: a silver fortune cookie imbedded with a large "thank you." He explained that the original fortune cookies included thank-you notes — which was an appropriate segue from Kwon's anecdote as well as a very fitting gift to a remarkable couple.
Concordia University held its 21st Alumni Recognition Awards Banquet at Le Westin Montreal on May 17. Seven outstanding Concordia community members were honoured. Concordia President and Vice-Chancellor Frederick H. Lowy and his wife, Mary Kay Lowy, also received a special tribute. This is an excerpt from the acceptance speeches by several of the recipients as well as the tribute delivered by Concordia Provost and Vice-President, Academic Affairs, David Graham:
---