Concordia partners with Radio-Canada to offer 2 new paid internship positions
Students will gain hands-on experience in podcast and radio production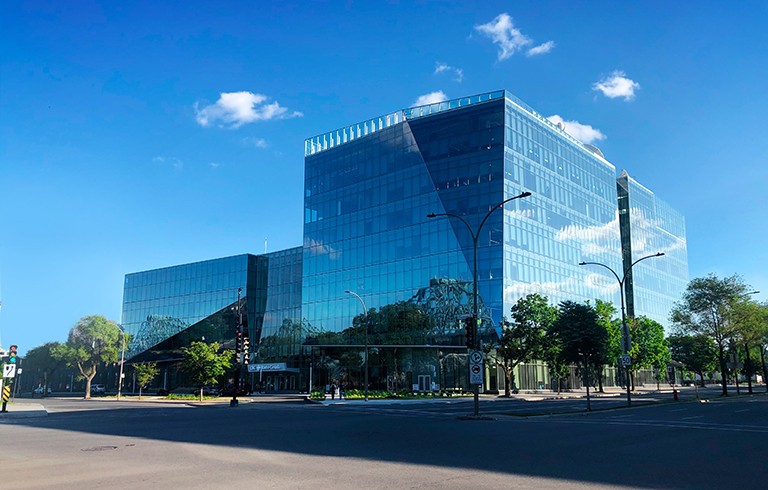 Two Concordia students will gain valuable newsroom experience this summer thanks to paid internships with Radio-Canada, the result of a new agreement between the national broadcaster and the university. The French-language internships, based in Montreal, will offer 12 weeks of hands-on podcast production for Radio-Canada's OHdio platform and research for its news and entertainment radio network, ICI PREMIÈRE.
"We're so proud to offer our students the chance to work with Radio-Canada," says Nadia Bhuiyan, vice-provost of partnerships and experiential learning. "What a golden opportunity to learn up close what it takes to produce the top-quality content consumed by millions of listeners across the country."
The internships are open to current undergraduate students who have completed at least one year of a bachelor's program in journalism, communications, film production or any other relevant discipline.
"Radio-Canada OHdio is an incubator of talent that provides a dynamic learning environment where ideas and projects abound," says Natacha Mercure, lead director of digital audio for Radio-Canada.
"We are extremely happy to partner with Concordia University and offer this professional internship, which we hope will allow a student to acquire further knowledge as well concrete experience in podcast production,"
The first-ever Concordians to undertake the new internships are film production undergraduate student Lola Mael, and Romy Kieffer, an undergraduate student in sociology and human environment.
"I was beyond thrilled!" says Mael, who was awarded the internship in podcast production.
"I could barely hear the person at the end of the line and cried instantly. I've concentrated all my recent efforts in my studies doing sound design and music for film. I had developed quite an interest in podcasts and was already planning to pitch one in the summer. It's my dream job, so interning at Radio-Canada is a huge achievement for me."
Kieffer grew up watching journalist Patrice Roy anchor the nightly evening newscast Le Téléjournal, so it's a special thrill to know she'll be reporting for work in the same building where the show is broadcast.
She says working in radio for ICI PREMIÈRE is a valuable chance to gain her first professional experience and put her research skills to work. "My major in sociology really trained me to go after good sources, and follow my curiosity, and keep digging, trying to portray society as it really is."
'Leave your mark'
Working at Radio-Canada is an incredibly valuable experience no matter what your professional trajectory turns out to be, says veteran journalist Tania Krywiak (BA 97). An internship with Radio-Canada in Vancouver set her on the road to becoming supervising news editor with CTV News Montreal.
"Your ability to focus becomes razor sharp," Krywiak shares. "When you get used to working in such a demanding, fast-paced environment, with unforgiving deadlines, you develop serious agility."
"It takes a lot to bring a program to air — or publish it on a podcasting platform — but it's such a big reward to see the results."
One of Radio-Canada's goals in offering the internships is to discover new talent. Krywiak believes Concordia students have a lot to offer. "The Concordians I've come across are very open-minded, they have an excellent work ethic and they will dig to go and get the story. Plus, they tend to pitch creative stories that are original, with an interesting angle."
Krywiak's advice for media interns? Leave your mark, she says. "Come to meetings with story ideas, including who you could talk to. Research your audience and show you really know what the show is. At the same time, don't be afraid to bring a different point of view."

Find out more about Concordia's Department of Journalism, Department of Communications and the Mel Hoppenheim School of Cinema.
---