Concordia's Board of Governors approves food services contract
Returning provider Aramark's new deal includes increased use of local producers, more plant-based meal options and more job opportunities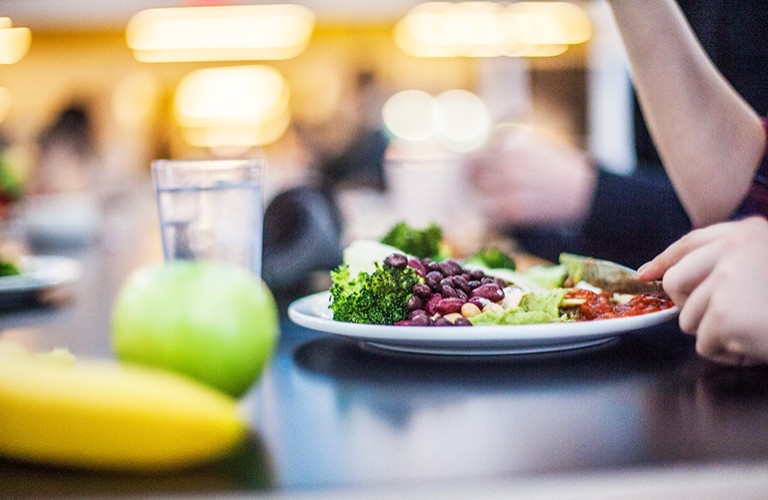 Concordia's Board of Governors approved a new food services contract with Aramark on April 14. The contract will run from June 1, 2022, to May 31, 2026, with an option for a two-year extension.
While this marks a continuation for the food services provider on campus, the contract itself will be very different, going further in meeting the university's local purchasing and sustainability targets.
"One of the more interesting aspects of our new contract is that it will allow a lot more freedom in terms of choosing our own suppliers and meeting our local and sustainability targets," says Sabrina Lavoie, Concordia's executive director of budget planning and business development, and chair of the university's Food Advisory Working Group.
Choosing Concordia's new food services provider
Last year, with the collaboration of the Food Advisory Working Group, Concordia held a survey and several focus groups targeting students, faculty and staff to gather information about the ever-changing food expectations on campus.
The working group's mandate is to provide opportunity, visibility and a voice to all groups interested in food on campus, and explore all aspects of the Concordia food system.
Meetings include discussions on food projects on campus and reviews of major initiatives such as the recent renewal of the existing food services provider contract, which led to the review of the Request for Proposal (RFP) criteria.
The working group is a dynamic cross-section of the university community and consists of students, the dean of students, Concordia's sustainability and quality food services administrator, and representatives from student residences, Health Services, university staff, and Concordia Food Services.
"We looked closely at our community's evolving food needs, commitments to sustainability, and preferences to carefully develop the criteria for the RFP," says Lavoie. She adds that the voices of students, faculty and staff contributed to the drafting of the RFP and the conditions of the contract.
The information gathered was incorporated into the RFP for a food services provider, given the current contract was set to end. The RFP was launched in December 2021 and the selection process ended this past March.
After receiving four bids, during a timeframe that has been very turbulent in the food services industry, a selection committee consisting of representation from students, staff, faculty and an external expert chose Aramark.
"Aramark won the tender based on both quality and price, and they've shown their willingness to work with us moving forward in a way that respects Concordia's commitment to sustainability while also meeting the preferences of our community," says Lavoie.
New considerations
As the main food services provider on campus, Aramark is responsible for providing the meal plans in Concordia's residences, as well as for serving food on campus in five retail locations. Other campus food options include student-run cafés such as the Hive, Reggie's, catering and vending machines.
"With this new contract, the people at Aramark have fully bought into our updated considerations and vision," says food services manager Oliver de Volpi. "They are willing and able to provide the best overall offer for students and all Concordians."
Under the new contract, Aramark has committed $40,000 a year, to be increased in future, for student support, including for bursaries, emergency meal plans other community initiatives.
Other highlights of the new contract include:
Increased purchasing of local and sustainable food, and reduction of greenhouse-gas emissions-intensive foods — meat and dairy products
More plant-based meals in residence and across campus
An annual full-day training course for culinary staff in plant-based meal preparation
Ongoing work with La Tablée des Chefs culinary camps and active participation with the Solidarity Kitchens food-security initiative
Maximizing fair-trade products and initiatives to support the university's FairTrade campus designation, with the goal of obtaining a silver status
A new partnership with local fair-trade coffee provider FARO Coffee
Greater focus on waste reduction, including single-use packaging
Emphasis on offering healthy and freshly made eating options
Updating and improving current retail locations, including by stocking fresh, sustainable local products
Hosting sustainable food events twice a year
Hiring four student food ambassadors to help with student engagement and other activities such as tabling for sustainability events
De Volpi adds that an important consideration is that more than half of Aramark's employees on campus are students. Since most of them — about 70 per cent — work more than 20 hours a week, they can tap into Aramark's employee benefits.
The students also present a valuable public face to the community, he says. "These employees represent Concordia students every day at each of the residence and retail dining spaces. They are bright lights, with diverse perspectives."

Learn more about Concordia Food Services.
---